FURTHER BACK AND FASTER
Ceramic
2022
26" x 24" x 1"
Steward

Private Collection

Image Credit

Myrica von Haselberg
"When working on my show for THE DUST THAT MAKES MUD at The Shed Gallery in New Orleans, I started considering my first associations with "shed."
I found myself deep in memories of my youth, being in pole buildings filled with rusted metal projects. These ceramic works are mined from those memories."

- Brit Krohmer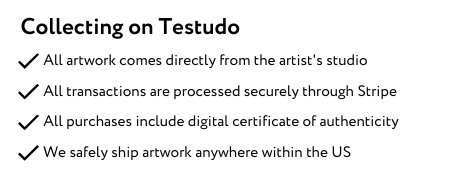 $1,000
Sold on April 26, 2022
Brit Krohmer
b. 1990 Rockford, IL
Brit Krohmer is a Milwaukee-based interdisciplinary artist and educator. Krohmer received her MFA from University of Illinois Urbana-Champaign in 2017. Recent solo exhibitions include The Shed Gallery in New Orleans, Louisiana. Recent group exhibitions include Real Tinsel, in Milwaukee, Wisconsin, Woman Made Gallery, in Chicago, Illinois and The Front, in New Orleans, Louisiana.
View Artist Profile
Questions about the artwork, purchasing, or shipping?