Holding Pattern (Sawhorse 2)
Found sawhorse
2021
27" x 42" x 16"
"This sawhorse was painted black when I found it. After whittling it down, vestiges of paint are still visible around the hardware and in the joints. Generally speaking, wherever knots are left in these objects, it's because they remain integral to the structural integrity of their respective boards."
- Travis Morehead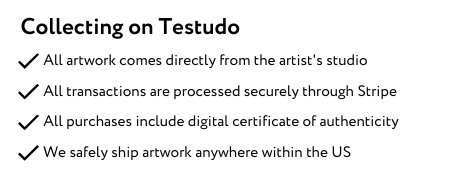 $5,000
Please login to purchase.
Travis Morehead
Born in Seattle, WA; based in Chicago, IL
In laboriously carving found wood, Travis Morehead transforms utilitarian objects into delicate and skeletal sculptures. Morehead scavenges adirondack chairs, pallets, chaise lounges, and sawhorses, which were originally manufactured to support or transport people or possessions. The histories of these goods are inscribed on their forms; the artist retains any existing chips, cracks, and scuff marks even as he rhythmically pares them down with a knife. A caregiver by nature, Morehead painstakingly attends to his source material—refining the wood while gingerly avoiding its collapse.
Morehead whittles down these functional items to the point where they are rendered functionless. Reduced to their joints and bones, they can no longer bear weight. Through this metamorphic act, Morehead frees his sculptures from the burden of operation—liberating them to exist for aesthetic and cerebral contemplation. His anatomical-like works become animated through the process, drawing closer to the human body.
View Artist Profile
Questions about the artwork, purchasing, or shipping?
More from Travis Morehead