OF GAS AND DUST
Sawdust Clay, Pen Ink, LED Light
2021
96" x 27" x 27"
Steward

Original Artist

Image Credit

Myrica von Haselberg
"This large form functions as a light but could be seen as a protector, sharing the light to help with travel.
The resulting form feels almost antennae-like - a device to capture a signal with an understructure carved of foam, covered in sawdust, and dyed black."
- Brit Krohmer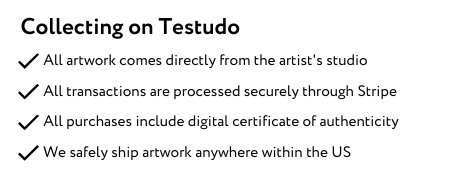 $4,000
Please login to purchase.
Brit Krohmer
b. 1990 Rockford, IL
Brit Krohmer is a Milwaukee-based interdisciplinary artist and educator. Krohmer received her MFA from University of Illinois Urbana-Champaign in 2017. Recent solo exhibitions include The Shed Gallery in New Orleans, Louisiana. Recent group exhibitions include Real Tinsel, in Milwaukee, Wisconsin, Woman Made Gallery, in Chicago, Illinois and The Front, in New Orleans, Louisiana.
View Artist Profile
Questions about the artwork, purchasing, or shipping?