Templo Sagrado
Oil on Linen
2020
50" x 36"
"Sacred Temple is a painting that alludes to sights that I saw in the Mayan grounds North of Petén, Guatemala. The heaviness of the structure is meant to allude to Mayan architecture. The color expresses the temperature and freshness of the environment. The texture is a process linked to meditation and labor as devotion to my land."

- Luis Emilio Romero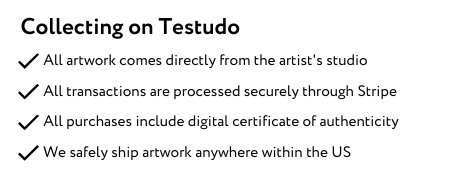 $6,000
Please login to purchase.
Luis Emilio Romero
​Luis Emilio Romero (b. 1996, Guatemala, raised in New Jersey) is an artist primarily focused on painting. Throughout his career, Luis Emilio has exhibited work in many places in New Brunswick during his four years of undergraduate at Rutgers University. This includes the Office of the Senior Vice President and General Counsel 2018 and Make a Wish Foundation Gala collaboration with Rutgers and The Rutgers Club, New Brunswick 2017. He also presented his work in group shows at Princeton NJ, of an ongoing exhibition called Art Jam in 2019. Luis Emilio is currently studying at Hunter College in New York City to receive his Masters in Studio Art.

View Artist Profile
Questions about the artwork, purchasing, or shipping?
More from Luis Emilio Romero