Ablutions
Acrylic, Watercolor and Paper on Canvas
2022
72" x 60"
Steward

Original Artist

Image Credit

Emile Askey
"When making this work I was thinking about the tiny bathroom attached to my childhood bedroom with its jungle wallpaper. Bathrooms are sites where I often find my mind wandering while I perform tasks that trigger perfectionism, like trimming my nails and cuticles and picking at the skin on my face."
- Katita Miller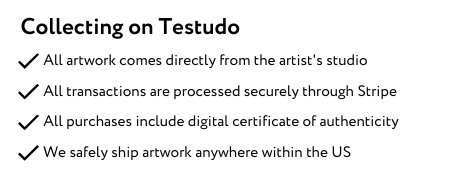 $6,000
Please login to purchase.
Katita Miller
​Katita Miller (b. 1994, Santa Fe, NM) is an artist currently living and working in New York, NY where she recently completed the MFA program at Hunter College. She grew up primarily in Fort Worth, TX and graduated in 2016 from Wake Forest University in Winston-Salem, NC with a B.A. in Studio Art and Spanish.

View Artist Profile
Questions about the artwork, purchasing, or shipping?