Belts for Being Together Apart, Set of Three
Fabric, Wood Armature
2021
75" x 12" x 1"
Steward

Original Artist

Image Credit

Susan Stainman
"Zippable belts that allow participants to stay at a distance of six feet from one another. Made during the early days of the pandemic, the belts can be zipped together to create an ever-enlarging connected circle of participants, in which each person can feel the other's movements."

- Susan Stainman

This piece includes the three belts shown and wooden armatures for displaying on a wall when not activated.
These artworks are sold in sets of two or more. The series is a total of ten. Please enquire about additional belts in the series.
The total dimensions of this artwork are (H)75" x (W)12" x (D)1", the dimensions for each belt are (H)37" x (W)12" x (D)3" when displayed on the wall.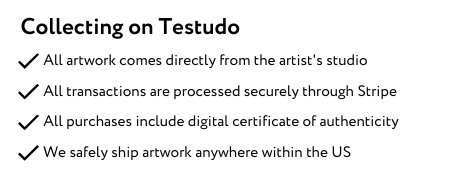 $6,500
Please login to purchase.
Susan Stainman
Susan Stainman is an interdisciplinary artist, focusing in sculpture, installation, and social practice. She is a graduate of Brown University with a degree in American Studies and the Slade School of Fine Art in London for Sculpture. Her current artwork stems from her decade-long Buddhist meditation practice and work as a meditation teacher merging with her sculptural education. She has had solo exhibitions at AIR, Point of Contact, Lock Haven University and Black and Graze in New York City. Her group exhibition history ranges from Smack Mellon in Brooklyn to SUNY Potsdam and Studio 44 in Stockholm, Sweden. She received a fellowship from A.I.R. Gallery in 2013 and has been a New York Artist with the gallery since 2014. She has attended residencies at Atlantic Center for the Arts, Jentel Foundation, Virginia Center for the Creative Arts, CAC at Woodside, and Vermont Studio Center. Her work is held in universities and private collections nationally and internationally. Stainman lives and works in Brooklyn, NY.

View Artist Profile
Questions about the artwork, purchasing, or shipping?