CABINET OF WONDER
Birch, Pine, Paint
2021
48" x 44" x 19"
Steward

Original Artist

Image Credit

Myrica von Haselberg
"This cabinet came to me in a dream. I kept imagining what an interdimensional vessel that could carry objects would look like in my waking life. I created CABINET OF WONDER initially to hold objects.
Over time I developed a behavior of always reading a list from bottom to top. I deeply contemplated why this felt more comfortable for me and how that could enter into my work.
What happens if I make the display structure first and then forms to occupy this space are created specifically to fit those voids or ledges? How will that influence how I make an object? How will this change their relationship?"
- Brit Krohmer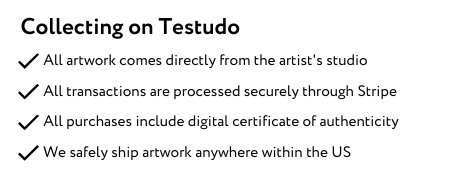 $2,500
Please login to purchase.
Brit Krohmer
b. 1990 Rockford, IL
Brit Krohmer is a Milwaukee-based interdisciplinary artist and educator. Krohmer received her MFA from University of Illinois Urbana-Champaign in 2017. Recent solo exhibitions include The Shed Gallery in New Orleans, Louisiana. Recent group exhibitions include Real Tinsel, in Milwaukee, Wisconsin, Woman Made Gallery, in Chicago, Illinois and The Front, in New Orleans, Louisiana.
View Artist Profile
Questions about the artwork, purchasing, or shipping?