Close to the Sun
Resin, repurposed textiles, fabric, paint, wool
2022
17" x 12" x 4"
" I recently started to make my own paint and discovered a very intense yellow pigment. I mixed a supersaturated paint and decided against modulation or dilution. I could feel the glow as soon as I mounted this sculpture on the wall."
- Allan Rosenbaum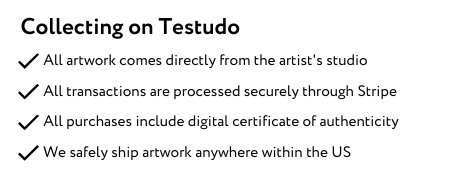 $2,500
Please login to purchase.
Allan Rosenbaum
Allan Rosenbaum is a studio artist and former Professor at Virginia Commonwealth University. Rosenbaum's practice is materially based and utilizes a range of analogue processes to investigate intersections between craft, painting and sculpture. Allan has received Individual Artist Fellowships from the Virginia Commission for the Arts in both Craft and Sculpture, three early career project grants from the Wisconsin Arts Board and he is a Fellow of the Virginia Center for Creative Art. His work has been exhibited nationally and internationally and is represented in public collections including the Renwick Gallery of the Smithsonian American Art Museum, the Taipei Yingge Ceramics Museum, the City Museum of Varazdan, Croatia, Arkansas Museum of Fine Arts, Madison Art Center in Wisconsin, the Museum of Arts and Sciences in Macon, GA, the Montgomery Museum of Fine Art and the Mobile Museum of Art in Alabama, the City of Richmond Public Art Commission, and the Kamm Teapot Foundation.

View Artist Profile
Questions about the artwork, purchasing, or shipping?
More from Allan Rosenbaum