Dark Matter/Mother
Ink, colored pencil, and watercolor on paper
2023
11" x 14"
"This is a drawing for everyone experiencing disruptive change. A mountainous dachshund cuts grass off herself, eliminating its veil from her true naked form. Blood drips into a placid pool below her, breastfeeding a violent geyser above. Her tongue is a 'Crimson Tide Echeveria' of succulent strength, wielding the energy of the sun. While it appears to be severed, it has actually managed to grow in antipodal territories: North and South. Though grown from the same matter—the same mother—it struggles to communicate and digest itself. Like the tongue of Kali, it presents as a weapon: a tool of forceful disruption and change where necessary."

- Sarah Grass
This work comes framed in a natural maple frame with UV protective acrylic. The framed dimensions are 12" x 16".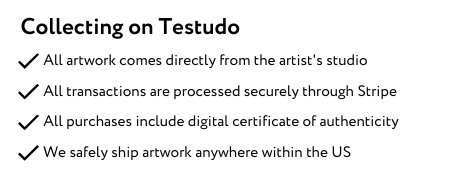 $1,400
Please login to purchase.
Sarah Grass
Born in Somers, NY; based in Ridgewood, NY
Sarah Grass draws allegorical creatures in psychedelic scenes of material violence, bodily disarticulation, and perverse joy. With ink, colored pencil, and watercolor on paper, the Chilean-American artist treads complex regions of human consciousness. Her characters symbolize hidden meanings buried within ourselves—exposing the impressions that life events leave on our souls.

The Phallic Female series, which Grass began in 2020, centers on a female dachshund whose form resembles a phallus. This semi-erotic pet has become the signature protagonist of the uncanny world that Grass builds across her compositions. The dog appears in psychologically intense situations that surface human feelings and issues of identity. Throughout this body of work, the animal experiences physical disintegration, environmental disassociation, and emotional misconnection. Femininity and masculinity, suffering and healing, anguish and ecstasy hang in the balance in these vignettes. The dachshund assumes fluid states of being—operating both within and outside of the patriarchal systems and social boundaries to which her human counterparts are subjected.
View Artist Profile
Questions about the artwork, purchasing, or shipping?