Don't Have the Time for Another Lie
Acrylic & Oil on Canvas
2019
16" x 14"
Steward

Private Collection

Image Credit

Emile Askey
"A conflation of time, putting the classical in an electronic context. Digital erasure reflects the physical erosion of the sculpture from enduring years of existence."
- Paul Anagnostopoulos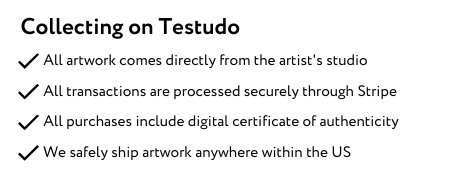 $1,500
Sold on April 21, 2022
Paul Anagnostopoulos
Paul Anagnostopoulos (b. 1991 Merrick, NY) is an artist working in acrylic and oil painting. He graduated Summa Cum Laude from New York University in 2013 with his BFA. He interned at the Peggy Guggenheim Collection in Venice, Italy during the 2013 Biennale. Paul has completed 10 acclaimed artist residencies in the states and abroad, most notably the Vermont Studio Center (Johnson, VT), the Wassaic Project (Wassaic, NY), and the Association of Icelandic Visual Artists (Reykjavík, Iceland). He presented solo exhibitions at the Leslie-Lohman Project Space (New York, NY), GoggleWorks Center for the Arts (Reading, Pennsylvania), and 405_Gallery (online). Paul's work is in the collection of the Museum of Modern Art Archives and Library, the Leslie-Lohman Museum of Art, Rhode Island School of Design, and Yale University. His work has been featured in Artnet News, VICE, and Friend of the Artist. Paul is currently pursuing his MFA at Hunter College in New York, NY.
View Artist Profile
Questions about the artwork, purchasing, or shipping?
More from Paul Anagnostopoulos