DREAM DREAM
Ceramic
2022
13" x 27" x 1"
Steward

Original Artist

Image Credit

Myrica von Haselberg
"When creating these ceramic works, I looked at metal detector findings on eBay and some artifacts were so mangled and distorted from pressure and time.
I wove together these tiny strips of clay and used a rolling pin to flatten them- making them seem like time and stress had been applied to these works."

- Brit Krohmer
---
Building a contemporary art collection is a lifelong journey that is made more accessible with Testudo. Whether you are just learning about art collecting or have already started your collection, we invite you to talk with us!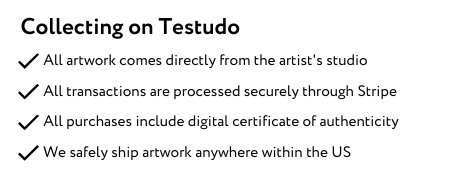 $1,000
Please login to purchase.
Brit Krohmer
b. 1990 Rockford, IL
Brit Krohmer is a Milwaukee-based interdisciplinary artist and educator. Krohmer received her MFA from University of Illinois Urbana-Champaign in 2017. Recent solo exhibitions include The Shed Gallery in New Orleans, Louisiana. Recent group exhibitions include Real Tinsel, in Milwaukee, Wisconsin, Woman Made Gallery, in Chicago, Illinois and The Front, in New Orleans, Louisiana.
View Artist Profile
Questions about the artwork, purchasing, or shipping?