Harvesting the Medicine
Porcelain, stoneware, glaze, gold luster
2021
45" x 52" x 3"
Steward

Original Artist

Image Credit

Alan Wiener, courtesy of Jane Hartsook Gallery 2022
"I think art and life are inseparable and I utilize my work to better understand who I am, my place in the world, the things I am dealing with, and my history. Through my work I also pursue a desire to understand the relationship between images, objects, narratives, and the unseen world. The resulting groups of tiles can be arranged and rearranged creating new narratives through their relationships and proximity. Is the culmination of these tiles that which creates a narrative? Aspects of the self which create an identity? Our familial and genetic histories which creates our personality? Our organs, microbiomes, skin, and skeletons the composition of our physical selves?

Who and what we are is all of the aforementioned phenomenon but we can also locate the self in the empty space in between our organs, the moments between thoughts, in the void, and in the breath. A clay outline, a ceramic vessel, an experience, an encounter with an animal, a ritual, or a moment in nature frames and points its fingers at what cannot be described."

- Judd Schiffman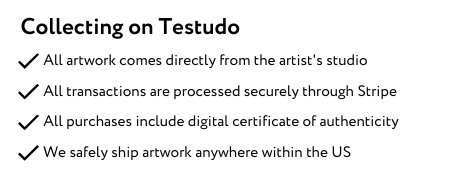 $7,000
Please login to purchase.
Judd Schiffman
Born and based in Providence, RI

Meticulously sculpted and psychologically charged, Judd Schiffman's ceramic wall works intermix life experiences, cultural references, and historical imagery to probe how narratives are shaped. Drawing with clay, Schiffman makes glazed porcelain and stoneware tableaus with lively figures, fauna, and flora—each of which are installed on the wall as respective parts of a whole composition. The artist culls these eclectic motifs from children's stories, modern art history books, YouTube cartoons, medieval manuscripts, and other sources that he encounters as a husband, father, and professor. The installations address layered themes ranging from myth-making to humanity's relationship with nature.

The forms remain moveable within the frame that encircles each scene. Schiffman invites rearrangement of these pieces, which shifts the stories that his works tell: "The framed narratives open up a common ground where the viewer can enter into dialogue as a participant among the characters, objects, and landscapes," as the artist explains. Schiffman's embrace of ceramics and collaboration bridges earlier art movements: the reclamation of craft in the 1960s and '70s by artists who rejected stereotypical notions of pottery and textiles as domestic, feminine, or lowbrow; and the emergence of relational aesthetics in the 1990s as a genre of social art that empowers the viewer to take part in the work. Indeed, Schiffman integrates approaches from across 20th-century art history while meditating on the contemporary human condition.

View Artist Profile
Questions about the artwork, purchasing, or shipping?