Hot Dog Tree
Preserved onion, banana pepper, and potato stir, gravestone dust, mosaic tile, sand,teddy bear preserved in wax, paint, plastic, resin, wood, rock
2019
46" x 20" x 16"
"To make this work, I saved take out food containers that I ate out of including any leftover food. I carefully tiled over the container with small mosaic tiles using tweezers. I preserved the leftover food including onion, banana pepper, and potato stix in resin and placed those bits between the tiles."
- Sidney Mullis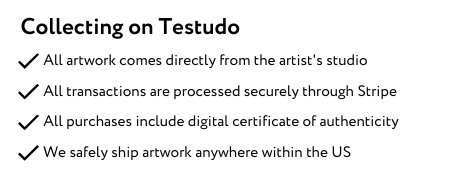 $2,500
Please login to purchase.
Sidney Mullis
​Lives in Pittsburgh, PA

Sidney Mullis constructs uncanny and materially rich sculptures that ruminate on childhood. Her art memorializes the facets of identity and behavior that are left behind as we grow up. Mullis reimagines adolescent toys, food, and substances with highly original techniques. For example, the artist whisks together colorful construction paper and gravestone dust (collected from a professional carver) to concoct a playdough-like pulp with which she builds shapes. Mullis also applies a playground sand mixture to found items, inserting candles into the resulting art objects. The experimental nature of her process means that some of these works will gradually change and fade—aligned with the artist's fixation on the passage of time.

Evocative and eerie, the artist's forms would equally arise in a kid's daydreams and an adult's nightmares. Her practice resonates with that of American sculptors like Robert Gober who in the 1970s began reconstructing and defamiliarizing domestic objects to probe the human psyche. Like Gober, Mullis also presents her discrete sculptures in immersive installations. In those invented landscapes, childlike attitudes and reveries are resurrected. The ways in which Mullis transforms objects parallel mortal transitions: from infancy to maturity; from innocence to intimacy; from birth to death. The artist intermingles the moods—humor and gravity; playfulness and profundity; whimsy and solemnity—that are associated with separate life stages. Mullis wrestles with the coming-of-age traditions that condition us to "tamp down our quirks and stifle our sillies," in her words.

View Artist Profile
Questions about the artwork, purchasing, or shipping?