I Do Nothing but Think of You
Acrylic & Oil on Canvas
2018
24" x 18"
Steward

Original Artist

Image Credit

Emile Askey
The figure's inner turmoil is visualized as a lava field with surreal pyramid structures- a nod to 90s video games. The hot internal gradient contradicts the cool natural environment the figure inhabits.
- Paul Anagnostopoulos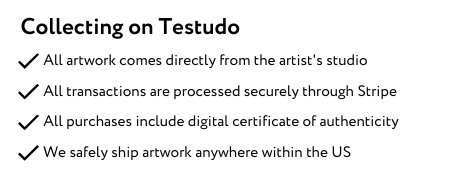 $2,200
Please login to purchase.
Paul Anagnostopoulos
Paul Anagnostopoulos (b. 1991 Merrick, NY) is an artist working in acrylic and oil painting. He graduated Summa Cum Laude from New York University in 2013 with his BFA. He interned at the Peggy Guggenheim Collection in Venice, Italy during the 2013 Biennale. Paul has completed 10 acclaimed artist residencies in the states and abroad, most notably the Vermont Studio Center (Johnson, VT), the Wassaic Project (Wassaic, NY), and the Association of Icelandic Visual Artists (Reykjavík, Iceland). He presented solo exhibitions at the Leslie-Lohman Project Space (New York, NY), GoggleWorks Center for the Arts (Reading, Pennsylvania), and 405_Gallery (online). Paul's work is in the collection of the Museum of Modern Art Archives and Library, the Leslie-Lohman Museum of Art, Rhode Island School of Design, and Yale University. His work has been featured in Artnet News, VICE, and Friend of the Artist. Paul is currently pursuing his MFA at Hunter College in New York, NY.
View Artist Profile
Questions about the artwork, purchasing, or shipping?
More from Paul Anagnostopoulos