#107
Acid-free comic book backing board, alcohol based ink, polypropylene bag, toploader, found adhesive paper, mixed media
2022
11" x 8"
Steward

Private Collection
"My approach here began with the sticker paper. It divides the board into quarters, nearly. The lines started with awkward confidence, but this sat unresolved for a short while. I returned with the thinner lines in greater number, and found a place for yellow in this piece. It has a powerful presence to me in its expression and density."
- Michael Bussell
---
Building a contemporary art collection is a lifelong journey that is made more accessible with Testudo. Whether you are just learning about art collecting or have already started your collection, we invite you to talk with us!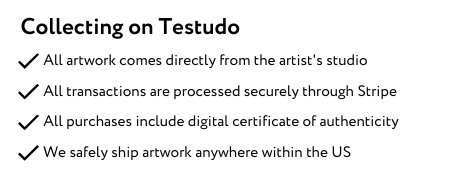 $1,200
Sold on July 13, 2023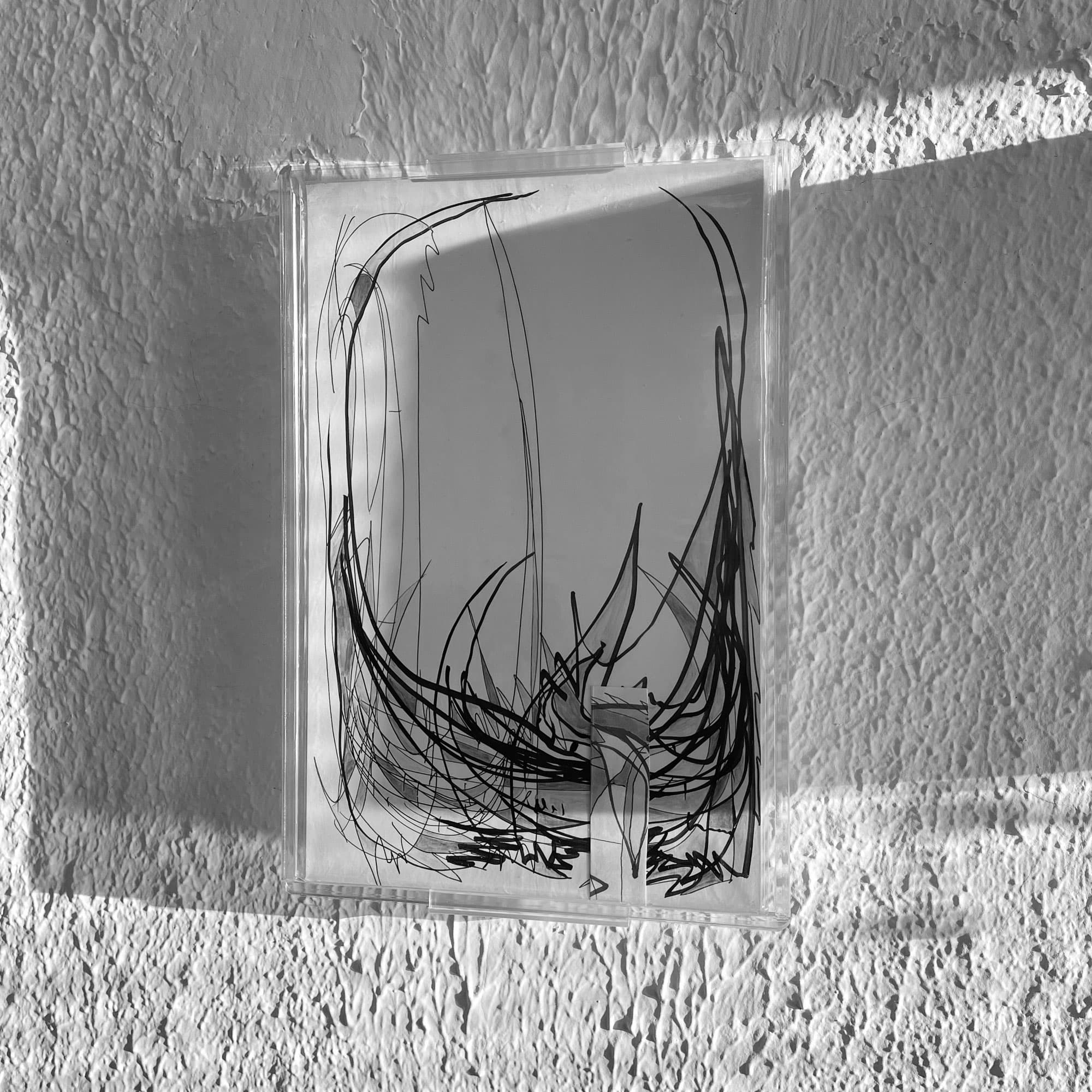 Michael Bussell
Born in Wilmette, IL; based in Baltimore, MD

Michael Bussell makes mixed-media drawings that track how characters—and the values and meanings that we associate with them—mutate and proliferate through contemporary culture. In this series on comic book backing board, Bussell renders the face of Gengar from the Pokémon franchise. He begins with linework, creating cells that the artist then fills in with grays or pops of color that animate the cartoonish persona. Bussell uses ink, a material to which he gravitates because of its permanence: "The only kind of erasure that's possible is a kind of further distortion, or more commonly, obfuscation with another element [... such as] covering it with paper or sticker paper."

Represented with expressive graphic marks, the Gengar figure in Bussell's hands appears to resolve and then dissolve again before the viewer's eyes. The artist's lines dramatically shift in density, from thin delicate strands to thick blunt strokes. Such depictions gesture in style to Pokémon trading cards, video games, and manga as well as graphic novels, graffiti, and fan art at large.

The artist sometimes adds a matte paper on top of the backing board, and often places each composition in a polypropylene bag. He then inserts it into a toploader—a plastic sleeve that typically houses comic books—that acts as a frame. The glossy and reflective nature of these pieces make them resemble stained glass, as writer Anastasios Karnazes has noted. Across this body of work that ranges widely despite its uniformity, Gengar's expressions are ever transforming. This series echoes how entertainment and media is perpetually metamorphosing our physical and virtual experiences.
View Artist Profile
Questions about the artwork, purchasing, or shipping?
More from Michael Bussell