ON THE GRID
Collage, laser-engraved plywood, acrylic paint, cloth ribbon, plexi, MDF
2023
23" x 23"
"This is my most recent return to the series of quilt collages, but this time I brought it into my ongoing experiments with responding to frames. In this case I had the frame prepared and designed and then created the quilt pattern in response to the frame design."

- Mikey Mosher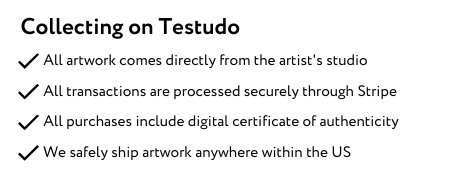 $1,500
Please login to purchase.
Mikey Mosher
​Born in Falmouth, MA; based in Chicago, IL

A collector of knickknacks and magazine clippings, Mikey Mosher makes mixed-media collages and wall sculptures that display American contradictions and detachments. Raised in coastal Massachusetts, Mosher took note of the faith-based historical events that occurred in and shaped New England—inspiring him to pursue comparative religious studies before continuing his advanced training in art. His practice exposes the tangles of religion, capitalism, and systems of power while tendering cathartic avenues for play and physicality.

Mosher stockpiles source material ranging from pieces of sea glass, feathers, plastic pigs, shells, fake hands, and dominos to pictures of fingerprints, houses on fire, bird fountains, dice, pennies, and the earth. He arranges such imagery and items either within hand-cut collages in constructed frames or wood armatures that he sands, lasercuts, and paints. Crafting each highly detailed work is laborious. In both his process and output, Mosher prioritizes touch as a means of alleviating societal alienation and digital disembodiment.

Mosher's wall works recall relics and altarpieces on the one hand, and cabinets of curiosities and childhood toys on the other. Each art object holds the viewer's attention and provokes a visceral, emotional response. With his oeuvre, Mosher addresses the "pervasive loss of tactility in American culture" while probing the discrepancies and consistencies between spirituality, indoctrination, idolatry, and consumerism.

View Artist Profile
Questions about the artwork, purchasing, or shipping?