our mother's eyes
Oil pastel on panel
2023
14" x 11"
"our mother's eyes is a piece from the series 'Smoking in the Garden,' which repurposes elements from my mother's family folklore to highlight the transformative potential of oral narratives in healing trauma. The drawing uses abstraction and figuration to capture the magical ancestral tale, conjuring a power that can be both restrictive and regenerative."

- Kim Garcia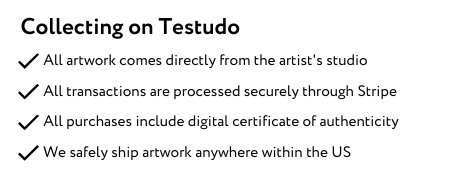 $1,200
Please login to purchase.
Kim Garcia
Kim Garcia (b. 1989. San Diego, CA) is an artist working in sculpture, drawing, and painting. Her practice explores social dynamics and residual trauma from interpersonal relationships, community structures, and memory. Kim comes from a background in creating collaborative community projects that often employ alternative spaces to explore studio art practices, site-specific collaboration, and museum and exhibition research. She is the founder of The Cold Read, an online critique group and artist collective that engages gestures of care and support through writing. And is one of the co-founders of after hours gallery, an art gallery in Los Angeles that hosts seasonal two-person exhibitions. She has most recently shown her work at Phase Gallery, Peripheral Space, DXIX Projects, Human Resources, DAC Gallery, Torrance Art Museum, CICA Museum (Korea), and Museum of Contemporary Art San Diego. Kim is based in Los Angeles and received her BA from UC San Diego and her MFA from UC Irvine.

View Artist Profile
Questions about the artwork, purchasing, or shipping?