Part of the Reason
Vitreous enamel on copper, stainless steel
2019
52" x 37"
Steward

Original Artist

Image Credit

Shark Senesac
"Each section of this work is cut from copper sheet then fired in a kiln at 1450 degrees. The fired glass enamel has a rich depth and translucency that catches the light. The sections then become jewel-like when seen from different angles."

- J.C. Fontanive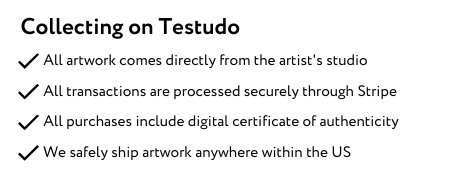 $10,500
Please login to purchase.
J.C. Fontanive
J. C. Fontanive was born and grew up in Cleveland, Ohio and received his BA from Syracuse University, and an MA from The Royal College of Art, London. His work has been shown at Museum of Contemporary Art Detroit, The Museum of Contemporary Art Jacksonville, Monash University Museum of Art, The Oliver Ranch Foundation, Columbus Metropolitan Library, The Centro Cultural Banco do Brasil, Gulbenkian Foundation, Tyler Museum of Art, Museum Meermanno Huis van het Boek, The Hague, The Nassau Museum of Art, Limerick City Gallery of Art, Ireland, The Center for Book Arts, The Contemporary Art Society, London, among others. Fontanive won the 2018 Brooke and Hap Stein Emerging Artist Prize, MOCA Jacksonville and The Desmond Preston Drawing Prize, The Royal College of Art, and has also been awarded the residency at The Marble House Project, VT. Fontanive lives and works in New York, NY.

View Artist Profile
Questions about the artwork, purchasing, or shipping?