Pin Drop
Glue, wood, nails, chair fabric, acrylic, stitching, dowel, other things
2020
10" x 17" x 2"
"An arc and small circle in a conversation, or a predicament. Something larger and something smaller. Something smaller and then something smaller still. A red circle, a gold dot from the head of a nail. A curved red rectangle stitched from red rectangles. I walked into an unused office space and cut the red fabric off the chairs."
- Jamey Hart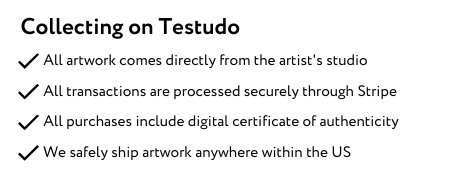 $1,900
Please login to purchase.
Jamey Hart
Jamey Hart (b.1992, Erie, PA) is an artist currently living and working outside of Boston, MA. His practice focuses on casting everyday experiences into the shadow of discrete objects. He received his Bachelor of Fine Arts in Painting from Cleveland Institute of Art in 2014 and his Masters in Fine Arts in Painting from the University of Houston in 2021. His work has been included in publications such as New American Paintings, Reciprocal Magazine, ArtMaze Magazine, and Lula Japan. Selected solo exhibitions include "Mere" at Gray Contemporary in Houston, TX, "And" at Automat Gallery in Philadelphia, PA, and "Slow Pace Time" at Front Gallery in Houston, TX. His practice has earned institutional support and recognition from Foundation for Contemporary Arts, Houston Arts Alliance, The Hopper Prize, Vermont Studio Center, and Fieldworks Marfa.

View Artist Profile
Questions about the artwork, purchasing, or shipping?