Poised for Intimacy
Fabric, Wood, Felt, Paper
2018
30" x 34" x 34"
Steward

Original Artist

Image Credit

Susan Stainman
"A sculpture of two chairs hinged together. When open, two participants are guided through a mindful conversation about a momentary utopia. The instructions are contained within a booklet in the pocket of each chair."
- Susan Stainman

This artwork's dimension are (H)30" x (W)34" x (D)34" when it is closed with varying width when opened. As noted above, this piece includes instructions for activating the artwork in the pockets of each chair.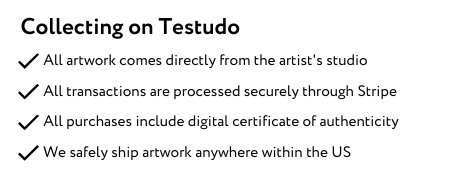 $3,500
Please login to purchase.
Susan Stainman
Susan Stainman is an interdisciplinary artist, focusing in sculpture, installation, and social practice. She is a graduate of Brown University with a degree in American Studies and the Slade School of Fine Art in London for Sculpture. Her current artwork stems from her decade-long Buddhist meditation practice and work as a meditation teacher merging with her sculptural education. She has had solo exhibitions at AIR, Point of Contact, Lock Haven University and Black and Graze in New York City. Her group exhibition history ranges from Smack Mellon in Brooklyn to SUNY Potsdam and Studio 44 in Stockholm, Sweden. She received a fellowship from A.I.R. Gallery in 2013 and has been a New York Artist with the gallery since 2014. She has attended residencies at Atlantic Center for the Arts, Jentel Foundation, Virginia Center for the Creative Arts, CAC at Woodside, and Vermont Studio Center. Her work is held in universities and private collections nationally and internationally. Stainman lives and works in Brooklyn, NY.

View Artist Profile
Questions about the artwork, purchasing, or shipping?