SEVEN SCREWS
Ceramic
2022
33" x 13" x 1"
Steward

Original Artist

Image Credit

Myrica von Haselberg
"I mine the internet for industrial surplus objects, and this winter, I found myself collecting images of large chain structures used to hoist large objects. The structures are beautiful woven pieces of metal that were often broken in some places.
This piece came about after a long obsession with those forms and considering how they help something else along and acquire damage in the process. "
- Brit Krohmer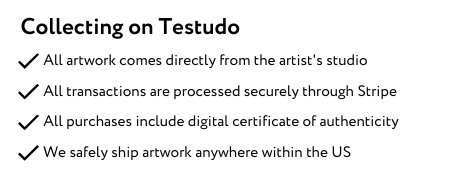 $1,250
Please login to purchase.
Brit Krohmer
b. 1990 Rockford, IL
Brit Krohmer is a Milwaukee-based interdisciplinary artist and educator. Krohmer received her MFA from University of Illinois Urbana-Champaign in 2017. Recent solo exhibitions include The Shed Gallery in New Orleans, Louisiana. Recent group exhibitions include Real Tinsel, in Milwaukee, Wisconsin, Woman Made Gallery, in Chicago, Illinois and The Front, in New Orleans, Louisiana.
View Artist Profile
Questions about the artwork, purchasing, or shipping?