Topiary (Kitchen Window)
Steward

Original Artist

Image Credit

Mario Gallucci/Courtesy of Nationale
"'Topiary' was part of my 2022 exhibition Dissipatio at Nationale. The title for the exhibit was inspired by Guido Morselli's 1973 novel 'Disspatio HG'. It's an odd haunting book in which a narrator (essentially Morselli), finds he is the last person on earth after a failed suicide attempt. He returns to a world with only remnants and shadows of human life—radios and televisions still run programming, power still works in stores and homes, but everyone has disappeared without explanation. While the human world is a specter of its former self, the natural world returns in force. Wild and domesticated animals flourish, re-inhabiting every space once demarcated by humans and household objects take on anthropomorphic presence."

- William Matheson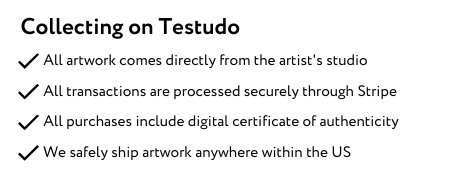 $850
Please login to purchase.
William Matheson
Born in Los Angeles, CA; based in Portland, OR
In his highly textured paintings, William Matheson conjures up contemporary gothic moments that inspire the viewer to free-associate. Often at night, Matheson applies thin layers of oil paint with unusual tools such as rags and glass scrapers as well as brushes. He works on jute, panel, and canvas—materials that can have unique bumps and facets. The combination of such techniques and media produces rough surfaces that lend a physicality to each composition. Matheson invites the viewer to take a careful look at each crater, accretion, and gap between marks.
With acidic colors and fields of black pigment, Matheson renders spectral figures and uncanny objects in claustrophobic spaces such as car interiors and his own studio. The artist uses window panes, curtains, shadows, and stacks of ephemera to frame or intersect his scenes. Such compositional devices make these works resemble postwar geometric abstractions; yet Matheson also draws inspiration from the late Gothic and early Renaissance painting canons. The artist materializes the hazy memories, surreal images, and fleeting experiences that haunt ordinary life.
View Artist Profile
Questions about the artwork, purchasing, or shipping?
More from William Matheson