Visitor (1)
"This was one of my first explorations with Jute/burlap as a painting surface. My process often involves repetitions of thin layers and washes to build up an image, and jute behaves very differently than canvas—it leaves gaps, faults and holes which gives the resulting image a very different energy—sort of ruddy and coarse."
- William Matheson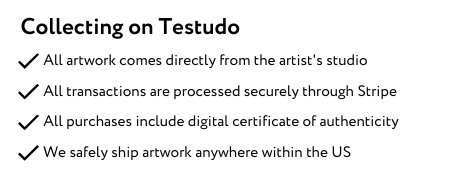 $950
Please login to purchase.
William Matheson
Born in Los Angeles, CA; based in Portland, OR
In his highly textured paintings, William Matheson conjures up contemporary gothic moments that inspire the viewer to free-associate. Often at night, Matheson applies thin layers of oil paint with unusual tools such as rags and glass scrapers as well as brushes. He works on jute, panel, and canvas—materials that can have unique bumps and facets. The combination of such techniques and media produces rough surfaces that lend a physicality to each composition. Matheson invites the viewer to take a careful look at each crater, accretion, and gap between marks.
With acidic colors and fields of black pigment, Matheson renders spectral figures and uncanny objects in claustrophobic spaces such as car interiors and his own studio. The artist uses window panes, curtains, shadows, and stacks of ephemera to frame or intersect his scenes. Such compositional devices make these works resemble postwar geometric abstractions; yet Matheson also draws inspiration from the late Gothic and early Renaissance painting canons. The artist materializes the hazy memories, surreal images, and fleeting experiences that haunt ordinary life.
View Artist Profile
Questions about the artwork, purchasing, or shipping?
More from William Matheson