Winged Migration
Oil on Canvas
2020
72" x 60"
Steward

Original Artist

Image Credit

Emile Askey
"In the fifth grade I got the flu and couldn't leave my bed for several days. My mother set up a DVD player for me next to my bed and one of the movies she put on was a documentary about geese migrating to avoid freezing winter temperatures. This work is based on the disorienting experience of watching that film through a feverish haze."

- Katita Miller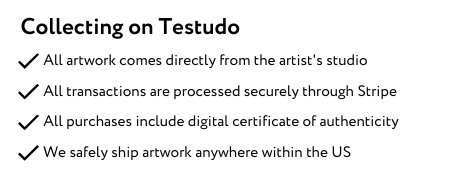 $5,000
Please login to purchase.
Katita Miller
​Katita Miller (b. 1994, Santa Fe, NM) is an artist currently living and working in New York, NY where she recently completed the MFA program at Hunter College. She grew up primarily in Fort Worth, TX and graduated in 2016 from Wake Forest University in Winston-Salem, NC with a B.A. in Studio Art and Spanish.

View Artist Profile
Questions about the artwork, purchasing, or shipping?