Words Have Weight
Acrylic on canvas, found fabric, pastels, polyester filling, and hand carved wood
2022
96" x 72" x 72"
Steward

Original Artist

Image Credit

Matt Sherman
"This piece was inspired by bird watching walls in the woods and children's playgrounds. From bird watching walls along certain hiking trails, you are able to observe the birds at a distance that doesn't disrupt them. It feels similar to how children invent games for themselves, peeking through to find one another on the other side or finding a distant viewpoint that allows them to cheer on their friend. Both function as a welcoming landscape where you can decide how you interact."

- Kelsey Tynik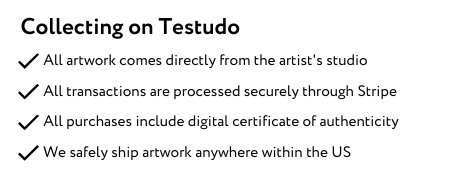 $5,000
Please login to purchase.
Kelsey Tynik
Kelsey Tynik is an interdisciplinary sculptor who has exhibited in New York, Connecticut, Arkansas, Texas, and California. She most recently exhibited at Collar Works (NY), Hesse Flatow (NY), Ely Center of Contemporary Art (CT), and JEFF (TX). She has been an artist-in-residence at Mass MoCA, Arts, Letters, Numbers, ChaNorth, and Vermont Studio Center. Her work has been featured in Hyperallergic, Artforum, create! Magazine, The Coastal Post, and I Like Your Work.

View Artist Profile
Questions about the artwork, purchasing, or shipping?