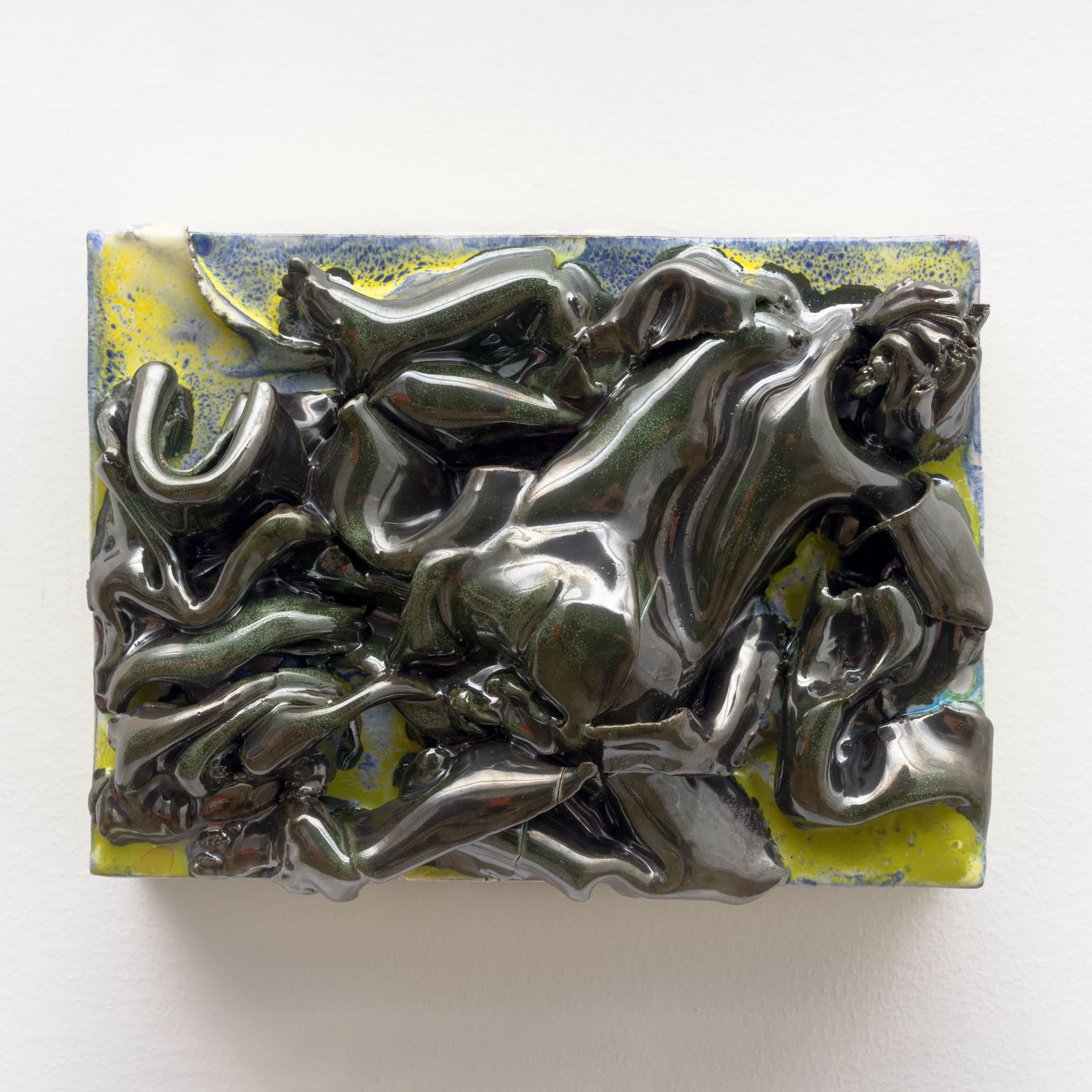 Artist Profile
Jinsik Yoo
Born in Daejon, South Korea; based in Philadelphia, PA and Brooklyn, NY
Jinsik Yoo constructs intricate ceramic sculptures that obscure the body. As a queer artist raised in a conservative environment in South Korea, Yoo conflates figuration and abstraction in his work—moving fluidly between concealing and exposing the human subject. The artist shapes clay into bent and wavy pieces that he assembles and manipulates into various forms. Yoo then glazes or paints the resulting objects with bright pastel hues contrasted with stark areas of white and black. These ambiguous sculptures come close to resembling body parts yet ultimately evade direct representation. They instead evoke human feelings and gestures.
For example, riffing on the art-historical motif that particularly arose in Impressionist painting, Yoo's series of nude sunbathers morph into the sandy beaches on which they laze. These ceramic scenes convey the emotional transition from repression to liberation that the artist experienced upon relocating from South Korea to the United States. Across his practice, Yoo experiments with erasure and insertion to capture the complexity and ambiguity of the human experience.

CV
Jinsik Yoo received an MFA in Ceramics from Alfred University after earning a BFA in Communications and Graphic Design from Konkuk University. The artist serves as Adjunct Professor of Ceramics at New York University and was awarded an NCECA Emerging Artists Fellowship (2021). Yoo's work has been included in exhibitions at organizations such as the Cincinnati Art Academy, OH (2023); Jane Hartsook Gallery, New York, NY (2022); The Clay Studio, Philadelphia, PA (2020); and the Wellsville Creative Art Center, NY (2020). His ceramic sculptures have been acquired by institutions including the Alfred Ceramic Art Museum, NY and the Museum of Modern Art of Medellin, Colombia.

---
​Artist Statement

I make figurative and abstract forms that function as records of the present. Through the manipulation of clay, I create abstracted versions of the human form. Bent, wavy clay slabs are layered, implying bodily gestures and representing a wide array of emotional states. The abstracted elements of my clay figures create voids, allowing for many viewpoints, interpretations, and differing perspectives. In these forms, I capture a realistic portrayal of what it means to be a layered, complex individual.

I see and understand people as huge entities beyond their physical appearance. Valuable identifiers like feelings, ideals, beliefs, and complex narratives from life experiences inform who we are. There is so much beneath the surface of the form. For a long time, I suppressed my queer identity out of fear, so much so that it began to feel insignificant. Through my engagement with the human figure, I have been able to give meaning to that suppressed side of myself.

Installed on a pedestal and placed under lights, the abstract human figure becomes an object to be looked at. The figure is only a stand-in for the actual being, existing as an aesthetic tool for the restoration of a complex, broad humanity. My sculptures can exist as the last piece of the puzzle that doesn't seem to fit anywhere, instead advancing towards its own category.

Ambiguity or uncertainty can generate unease. In my creative process, my animal nature invents categories based on a supposed clarity of language and sustains the belief that all information can be neatly classified. This methodology can be very convenient and also violent at the same time. I see the various conflicts, discriminations, and hatred that our generation is experiencing as a result of this process of endless categorization. Language will never be a suitable tool for explaining uncertainty as it relies on certainty and security for the economic benefit of the majority. For this reason, I believe art can play a more expansive role.

Ambiguity is often unexplainable using only written language, and for that reason I want to record it as art and commemorate it. In my work, I hope to position ambiguity positively. A true look at my own weaknesses, and imperfections can be very uncomfortable, but ultimately necessary for the expansion of my creative practice.