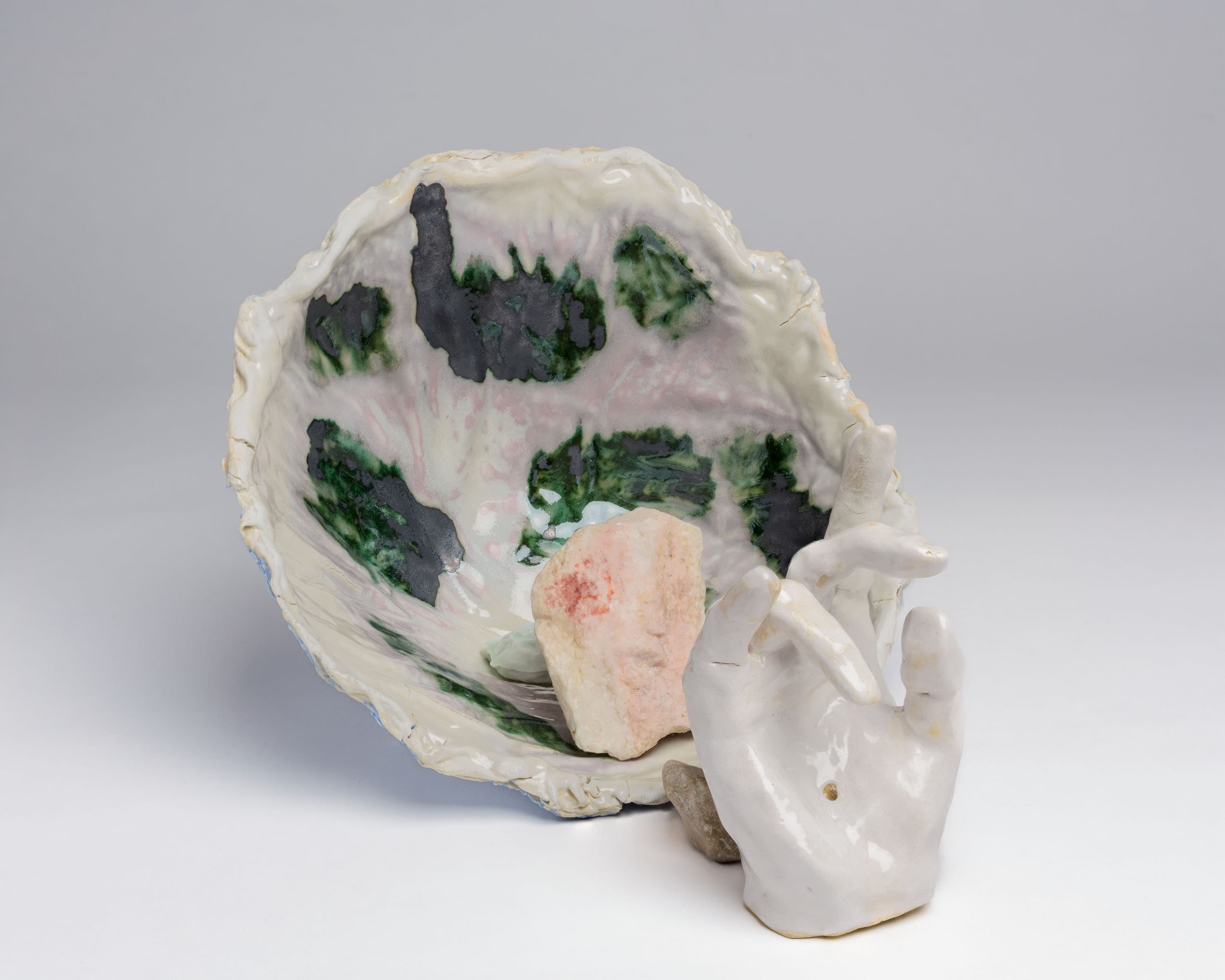 Artist Profile
Lili Chin
Lili Chin is an artist based in Brooklyn, NY. Combining installation, video and sculpture, her practice focuses on nature and architecture to explore rituals in time, bridging contemporary and ancient ideas that investigate themes of memory, duration and spirituality. Having grown up in the Pacific Northwest USA and Singapore, her diverse background shapes her ephemeral impression of the world through raw materials and film to reveal a fragile search for the quotidian sublime.

Selected international exhibitions venues featuring her installations, sculpture and artwork include the He Xiangning Art Museum, Shenzhen, Collar Works, NY, The Drawing Center, NY, STPI Print Center, Singapore, and various other venues in Beijing, Shanghai, Mexico City, Ecuador and the Orkney Islands. Her films have screened at various international venues, including Anthology Film Archives, 601 Art Space, Microscope Gallery, Millenium, Oxford Digital Festival, Edinburgh Film Festival, NY Underground Film Festival and more.

She has attended numerous residencies, including MacDowell, Skowhegan School of Painting and Sculpture, the Swatch Art Peace Hotel, The Studios at Mass MoCA, Weir Art Farm, Akiysoshidai International Art Village, Japan. Forthcoming residencies include The Visual Studies Workshop in Rochester and Hospitalfield in Arborath, Scotland. She holds an MFA from the University of California, San Diego and a BFA from Pratt Institute.

CV
EDUCATION
2010 Skowhegan School of Painting and Sculpture, Skowhegan ME
2010 University of California at San Diego, La Jolla, CA, MFA
2002 Pratt Institute, Brooklyn, NY, BFA
SOLO & TWO PERSON EXHIBITIONS
2018 Transfigured Elements, Ely Center of Contemporary Art, New Haven, CT
2018 YES Series, Microscope Gallery, Queens, NYC
2015 Closed Paradise, Abrazo Interno Gallery, Clemente Soto Velez, NYC
2013 Sphere of Exchange, Little Victories, Shanghai, CN
2013 Natural Resources, Swatch Art Peace Hotel, Shanghai, CN
2013 Pail of Air, Bazaar Compatible Project Space, Shanghai, CN
2012 Akedah, Weir Art Farm, Nod Hill Refuge, Wilton, CT
2011 Wind Reflection, All Things Projects, New York City, NY
2010 Nocturne Etudes, UCSD Visual Art Gallery, La Jolla, CA
2009 Containers of Suspension and Gravity, UCSD, La Jolla, CA
GROUP EXHIBITIONS
2021 'Faculty Exhibition', Rhode Island School of Design, Providence, RI
2021 'Viewing Program' curated by Lisa Sigal, The Drawing Center, NYC
2020 'Flat Files 2020', curated by Jes Cannon Collar Works, Troy, NY
2020 'Food Matters', Cyrus M Running Gallery, Concordia College, Moorehead, MN
2020 'So Close', Side x Side Contemporary, Pullman, WA (online exhibition)
2020 'Framed: Landscape & Architecture' Black Box Gallery, Portland, OR,
2020 'Printmakers Assembly', STPI Creative Workshop and Gallery, Singapore
2019 'Transcendent Fragments', Outpost Artists Resources, Queens, NYC
2019 Artist Showcase, Greenwich House Pottery, NYC, NY
2018 Open Door, The Clemente, NYC, NY
2018 Bronx River Art Center Benefit Auction, Bronx, NY
2018 'Silence Breakers', Ely Center of Contemporary Art, New Haven, CT
2017 Filmmakers' Coop Annual Auction, Next to Nothing Gallery, NYC
2017 'Personals', a small objects sculpture show, Skowhegan Art, NYC
2017 Open Studios, Clemente Soto Velez, NYC
2016 ØY Festival, curated by Jonathan Ford, Papa Westray, Orkney, United Kingdom
2016 Lost and Found, Abrazo Interno Gallery, Clemente Soto Velez, NYC
2015 Cure the Night, curated by Bradley Eros, Microscope Gallery, New York
2014 Double Vision, He Xiangning Art Museum, Shenzhen, CN
2014 Song, M Art Center, Shanghai, CN
2014 Joh-wa, a benefit for North Korea, All Things Projects, New York City
2014 African Heritage Social Justice, Laguardia Community College, Long Island City, NY
2014 Fanzine, curated by Frederic Sanchez, L'éclair.fr, an online 'zine
2013 Pursuing Perfection, curated by Thomas C. Chung, Bloom Art Space, Shanghai, CN
2013 Collective Show with HKJB, Mexico City, Mexico
2012 Triangle, curated by Adam Tyson, New York, NY
2012 GO Open Studios, for the Brooklyn Museum, Brooklyn NY
2011 The Wrong Miracle, Gallery Nominimo, Equador
2010 SK10.2' Tompkins Projects, Brooklyn, NY
2010 SK10' Skowhegan, ME
2009 Extremely shorts, Aurora Picture Show, Austin, TX
2009 The Dark Tower, Curated by Cauleen Smith, Compact Space, Los Angeles, CA
SELECTED FILMS IN GROUP SCREENINGS
2018 Laelaps, Lunarfest18, Ely Center of Contemporary Art, New Haven, CT
2015 Cure the Night, Microscope Gallery, NYC
2014 This is not the Sun, 601 Artspace, NYC
2009 Portrait of Shanghai, Redhook Cine Soiree, NYC
2007 Plymouth Church, Platform China, Beijing, China
2007 Portrait of Shanghai, Collective Unconscious, NYC
2006 Portrait of Shanghai, Anthology Film Archives, NYC
2006 Portrait of Shanghai, Millenium, NYC
2006 Portrait of Shanghai, Oxford Digital Festival, United Kingdom
2006 May Mad Gab, Monkeytown, NYC
2004 Untitled Space #1, NY Underground Film Festival, NYC
SELECTED AUDIO PROJECTS
2011 Opening Seen, Edinburgh Film Festival
2008 Opening Seen, Neighborhood Public Radio, Whitney Biennial
GRANTS/ HONORS/ AWARDS
2021 RISD Glass 'Hot Nights'
2021 Skowhegan Alumni Residency Fellowship
2021 The Drawing Center, NYC, Viewing Program 2021
2021 CCSU Faculty Development Grant
2016 CUNY PSC Grant
2015 CCSU Faculty Development Grant
2015 Mayer Foundation Emergency Grant
2013 CCSU Faculty Development grant, New Britain, CT
2010 Russell Grant, University of California, San Diego
2008 Education Fellowship, University of California, San Diego
2001 Presidential Merit Scholar, Pratt Institute, New York
RESIDENCIES
2023 Akiyoshidai Artist Village, Yamaguchi, Japan
2022 Hospitalfield, Arbroath, Scotland
2022 Visual Studies Workshop, Rochester, NY
2021 Watershed Center for Ceramic Arts, Newcastle ME
2021 Sitka Center for Art and Ecology, Lincoln, OR
2020 MacDowell, Peterborough, NH
2017 The Studios at Mass MoCA Artist Residency, North Adams, MA
2016 Clemente Soto Velez Cultural Center, Rotating Studio program, NYC
2013 Swatch Art Peace Hotel, Shanghai, CN
2013 Platte Clove Artist in Residence, Arkville, NY
2012 Weir Art Farm Residency, Weir, CT
2012 Experimental Television Center Residency, Owego, NY
COLLECTIONS
'A Pail of Air' Swatch art Peace Hotel, Shanghai, CN
'Looking Glass' He Xiangning Art Museum, Shenzhen, CN
'Creative Evolution: Life Together' The Clemente NYC
'Istoria leaf' The MacDowell Colony, NH
---
Artist Statement:
My art practice originates with collections of fragile and historic objects shaped by a desire to salvage and reconstruct significance from vanishing sites and systems. I distill meaning from ancient rituals, nomadism and personal memory, gleaning objects and media to carve out fresh relationships with disappearing traditions. My process is conceptual and intuitive, diversely incorporating film, drawing, sculpture and installation. My objects and films become activated in an intuitive arrangement of chance situations as I experiment with invented artifacts and organic matter to yield unpredictable encounters. My work initiates a fluid dialogue with unseen energies to evoke psychological, sensual and social perceptions inspired by nature.
Interview:
What is your background and how does it inform your work?
My work has accumulated over many years. And it's the result of making work in a variety of spaces. I have a background traveling a lot and I live in multiple cities, such as New York, Singapore, Oregon, San Diego, Maine. So I've really adapted my lifestyle to incorporate making in a more pluralistic way.
How would you describe your practice?

I'm interested in incorporating elements into my practice, and creating an environment in which matter can change its state. It's really when the work is going through a process of change that I get very attracted to their states and different aspects of the construction. I like to fold these elements back into the work. Especially when working with glass, you have a record of the glass in motion. You're looking at a stable property expressed in an unstable state. Which is kind of an anomaly and it's perplexing, it's unexpected.

I think water's really fascinating because it's able to go from solid to liquid to gas. And fire is an element that I've worked with across three different materials lately - metal, glass, and ceramic. And when you put these materials under fire, they either harden or they melt. And then they change their state, which is really fascinating to me. I think that fire is really an element that can purify. It's an element that can change the material state of an object, in a way that can refine the object. The heat is also a real expression of power, I think on a spiritual level.

Sometimes my works have to be fired over 2000 degrees in order for them to reach the environment that's going to enable them to be exposed to the atmosphere that will change its state. And I think that there's something very attractive about seeing materials change their state and bearing witness to the process of a material in transition. And therefore when matter changes its state, as an artist, as an audience, you are a spectator to the instability. You're witnessing the expression of a material flux from one property to another.

I've also been really interested in how to extract water from a rock, and that question led me to generate a new body of work.
Can you speak about the aspect of memory within your work?
The veil between art and daily life is really thin. It's pretty much one thing. And the objects that I make are embedded with memories. For example, in Ipoh Marble Shell, there's a rock that's included in the piece that actually came from my maternal grandfather. So there's a lot of personal historical significance. There's another piece that I made where I brought the stick to the glass shop, and the stick was originally in an artwork that was associated with my paternal grandfather. I was not aware of the grandfather connections until recently. I become amazed when the work reveals itself to me as part of an ongoing conversation.

Sometimes these natural objects and found objects that I collect, may have historical significance. It may have been someone who gave me this object that was important to me. It may be associated with a place that's important to me. And my response to it won't necessarily be nostalgic, but as time passes, it accumulates a sense of history in my personal archive and in my studio.

I'm interested in histories that have become invisible; in stories that have vanished. I'm interested in the ancient past and how the contemporary moment can actually speak to the origin of time and primitive societies. And I think that when we can connect to the past through art, we can overcome some of the discrepancies that we have, the issues that we have today. Whether it's dealing with race or even climate change, if we return to the baseline, and recall fundamental questions of what it is to be human and how we are all connected when looking through the lens of history and archeology, we can become aware of how fragile we are and begin to cherish and love values that have been forgotten.

There's an act of preservation and conservation that goes into my work. There is an interest in the past and the history of my own act of making that is expressed. At the same time, I hope my work makes a connection with the origins of time and primitive aspects of creativity. This is why I'm attracted to clay, and more recently metal and glass. Sometimes I get really interested in ideas that are rooted in mythology, ritual and biblical stories.

How do you approach working with different mediums?
My work is very 'contingent', things are balanced, propped, really thin, and sometimes paradoxical. I am excited when the process of a material is expressed. You see a lot of melting, layering, pouring, cracking in my work. Gestures expressed during the making come forth, and oftentimes, when I get invested in working with a new material, I approach it from a child's viewpoint. I get very fascinated with all the tools that are involved in making the work.

For example when casting a stick in metal, I used a waste mold. You wouldn't actually keep the mold at all, it's not practical to transport it back home to your studio. But I'll look at tools or instruments used during the process and I'll be very attracted to the way they look physically and also how they are a record of their experiences. And I'll just bring it back to the studio without any expectation of using it, but it'll be sitting there and as a result of its dormant state being in this environment, it has a potential for being used in the future. And so when the time seems right, I'll just pull it from the shelf and I'll recontextualize it.

I'm not trained as a potter. I'm not trained as a smith or working with metal. I enter into these kinds of crafts-making techniques from the side door. Not having formal training affords me a kind of openness that encourages me to be as playful and adventurous as possible.
Who and what are some of your influences?
I really love contemporary art history, but I also like to look at ancient work at the same time. I have the privilege of living in New York so I'll often go to the Met and look at their collection.

I really like to look at ancient pottery from the Ancient Near East. I also really appreciate Neolithic pottery. I was researching neolithic vessels from ancient China and actually found similarities across cultures. There's a spiral symbol that frequently appeared in Neolithic pottery from China that was reminiscent of pottery that I would see from New Mexico.

I went to Israel before and I was really fascinated with some of the sites, archeological ruins and desert landscape.

In contemporary sculpture, there's a sculptor named Medardo Rosso, who's an Italian sculptor. He made figurative busts. And what's fascinating to me is that even though he worked in a figurative tradition, he actually had his own bronze foundry and worked a lot with wax and bronze. And it was really because he had his own foundry, that his work kind of looks like it's sometimes melting. The figure would almost have a veil over its face. So the presence would almost feel like an appearance rather than actually specifically there. And he was able to achieve these techniques because he had the bronze foundry in his studio. So he was really very close to the process of the making and able to stop and say, "Okay, this is a mistake." I want to bring that into my practice.

I am also a big fan of Marisa Merz. Her work was inspired by Byzantine art, and there is an aspect of devotion in her art making that is playful, uncanny and tender. As a mother, an artist, a wife to another famous artist, her work is touching. There is a splendor in her work that radiates and she is a major influence to me.

Other artists I've been interested in include Franz West, an Austrian sculptor. He made a lot of these adaptive works, so the objects would interact with the physical body. I too am interested in how the body interacts with sculpture, objects and images.

Oftentimes I'll look at dance and I'll do drawings based off of dances or some of the figurative pieces would be inspired by dance movements. There's a dancer named Simone Forti that I took a class with, and actually the piece, Yvonne, was inspired by some of the dance gestures in Yvonne Rainer's choreographic pieces.

I also like the Renaissance. The gesture of the hand in Ipoh Marble Shell is from the Renaissance. There's a series of oratory gestures that were quite prevalent at the time that they would use as references for frescoes and paintings.

Another painter that I like is Piero Della Francesca. I really love his work. And I love Eva Hesse.
What are you working on now?
I've been working a lot with ceramics and I will continue to work with ceramics, but what I have leftover in my studio that I've been meaning to get to are frescoes. So my next step is to work with some frescoes that I had prepared in Maine.