Published October 27, 2022
12 Best Gifts for Art Lovers in 2022
We've found all the best gifts for art lovers for the 2022 holiday season.

With the holidays here again, we know that some of the hardest gift recipients to shop for are art lovers. While you can always consider purchasing art for them as a gift, especially from us at Testudo, we wanted to also provide ideas on other gifts for art lovers at a variety of price points. These gifts range from stocking stuffers under $20 to bigger ticket pieces of decor. Of course, art lovers tend to appreciate books, and we certainly included some of our favorite recently published books that make perfect gifts as well.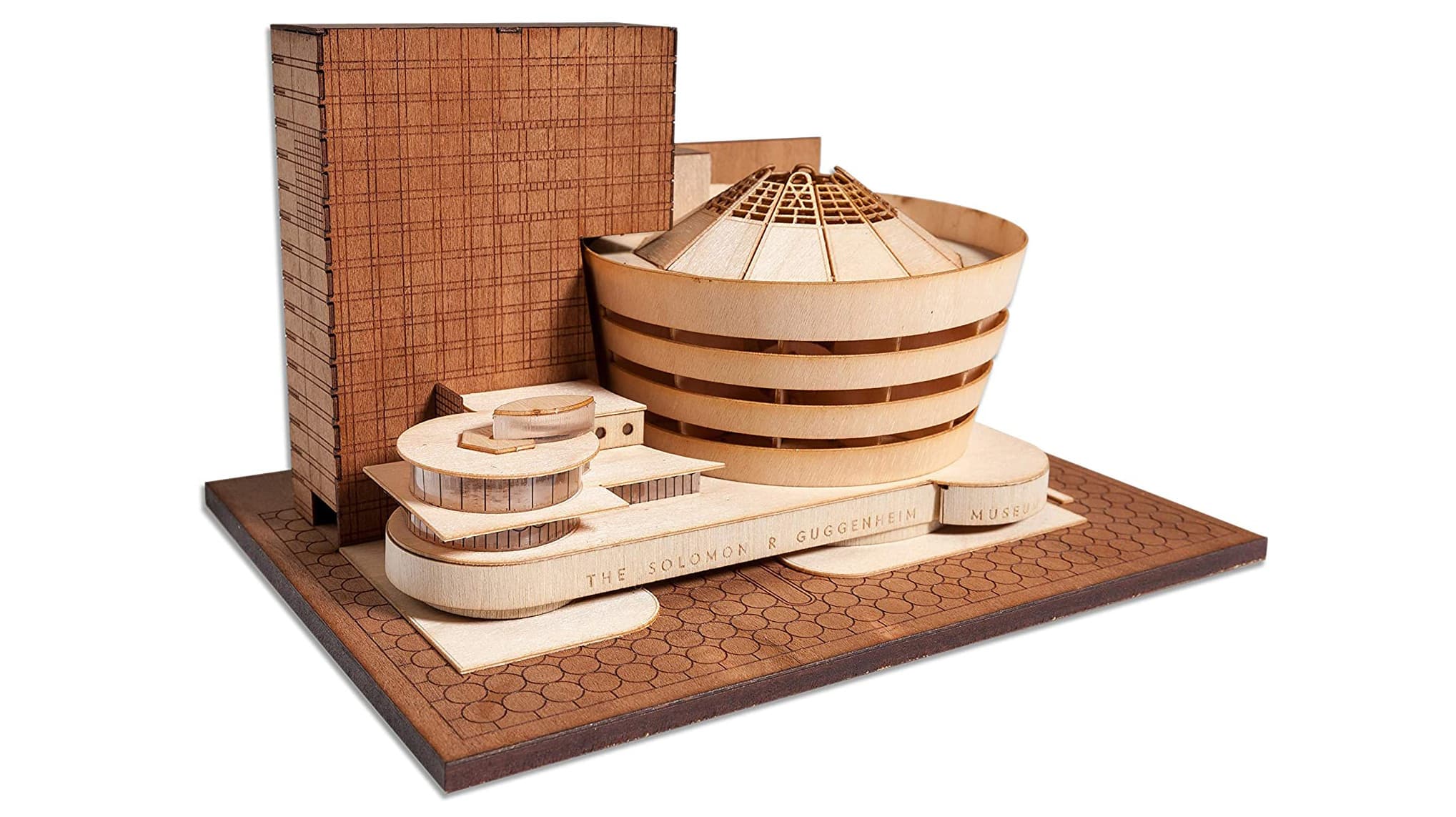 The Guggenheim Museum in Manhattan is beloved as an icon of both art and architecture: art for its extensive collection and exciting exhibitions - and architecture for its classic Frank Lloyd Wright design. This model is constructed of fine wood components and takes about four hours to complete. The effort to build is well-worth the reward for the art lover, as the finished model looks beautiful displayed and was faithfully recreated with the blessing of the Frank Lloyd Wright Foundation. This ensures the recipient never forgets the beautiful gift you sent them.

This history makes an incredible gift for art lovers fascinated by the mechanics of the art world. The new book by Hugh Eakin tells the story of how two men, an art dealer and a director of MoMA, set out to make Picasso a superstar in the United States. Taking place during the outbreak of World War II, the ambitions of these art lovers not only achieved their goal for Picasso but also helped create New York as the center of the art world. Not to mention that they also saved dozens of iconic twentieth century artworks from the Nazis.

If you seek gifts for art lovers who have an interest in the bauhaus movement, Alexander Calder, or Piet Mondrian, look no further. Flensted, a European company, has created this playful mobile. Designed and crafted in Denmark, it's perfect for adding life and movement to any room. The piece is also is perfectly balanced to ensure that it is in constant motion. This mobile also comes fully assembled, ready to hang.

Museum Memberships: The Perfect Gift
One of our absolute favorite gifts for art lovers is a membership to a museum in their community. Memberships at premier institutions can be rather affordable - an individual membership at the Whitney is $90, which includes admission to the museum for an entire year. Memberships to museums are particularly great gifts because they allow the recipients to come and go to their favorite museums at their leisure. One of our favorite new museums, ICA SF, even has membership options to their 901 Club that start at just $9.01 per year! This gift is also incredibly convenient - most museums make it incredibly easy to gift memberships to others.

With the cold, gray days of winter looming, there's no better gift for art lovers than a Lego set to help pass the time. While Starry Night is one of the most enduring artworks of all time, Lego has playfully recreated it into a 3D, 2,316 piece set that is great for gifting. The builder will appreciate the absolute depth of blue tones and clever techniques the makers utilized to recreate Van Gogh's genius.

One of the most exciting artist monographs published in 2022, this beautifully designed tome chronicles the life and career of El Anatsui, the Ghanian-born artist who is world-renowned for his shape-shifting sculptures. Written by major curators, Okwui Enwezor and Chika Okeke-Agulu, this is so much richer than your typical monograph. The essays that chart his career development and the art historical context of his work are fascinating and illuminating. An essential gift for art lovers.

Art lovers typically have a high appreciation for the intersection of form and function. Sitting squarely in this intersection is the Alessi Kettle, the perfect gift. First released in 1985, this tea kettle was created by architect and designer Michael Graves. The piece features a wide base to allow water to boil faster and a small bird on the spout that whistles when the water is ready. A perennial favorite as a gift since its debut, this functional kitchen tool is also considered an icon of late 20th century design and holds a permanent home in the collection of MoMA.

This puzzle is the perfect gift for celebrating the continued legacy of Faith Ringgold, who just this year had a splendid retrospective at the New Museum. Tar Beach 2 is a part of the permanent collection at the Philadelphia Museum of Art and is one of Ringgold's best known quilt works. This piece depicts the dreams of a young Black girl, based on Ringgold's own memories growing up in Harlem. The mix of images, text, and pattern make it a compelling, challenging puzzle and is the perfect gift for any art lover.

For over 30 years, the Metropolitan Museum in New York has released an annual snowflake ornament inspired by works in their collection. These make great gifts in part because they're highly collectible - many patrons never miss a year! A perfect gift to start a new collection for the art lover. This year's edition incorporates a pattern from 1883 by Christopher Dresser, a designer of silver, ceramics, glass, furniture and textile patterns. If you're looking to spend more, it's also available in the more premium sterling silver edition, which serves as a very special gift.

Perfect as a quick gift for art lovers, this small book includes some of the most important quotes from renowned artist Keith Haring. Pulled together from Haring's journals and interviews, these quotes include his musings on a variety of topics and showcase his deep engagement with not only the world of art but also activism, AIDS, and publicity.


A visual feast, this newly-released book is filled with profiles of 107 contemporary artists and a great gift to discover talented artists making work today. One of the most exciting elements of PRIME is that the featured artists were nominated by an international roster of curators and art professionals, which ensures that the book offers a necessary global perspective. This one's the perfect gift for that person who's always on the cutting edge.

This book is a fantastic collection of works from the Studio Museum in Harlem, an incredibly important institution for artists of African descent. Showcasing works in their permanent collection from Kerry James Marshall, Lorna Simpson, and more. The book traces the museum's history through 125 works in all media from the 1930s to the present. While the museum is currently closed as they construct their new permanent home, this book is a fantastic gift that serves as a reminder of their legacy and important work.

---
Finding the perfect gift is no easy feat, but finding a great gift for art lovers can be even more challenging. Art lovers are typically associated with having discerning taste, which can make the idea of getting them a gift quite intimidating. We hope you enjoyed this gift guide's variety of prices and ideas. Happy gifting!