Published October 25, 2023
Shared Histories: Benny & Cristian on Following Your Instincts and Building a Collection
In this latest interview from our Living With Art series, Benny–an artist and former creative director, and Cristian–an art lover with a background in tech, share their unconventional path into the world of contemporary art.
When Benny Or and Cristian Shoemaker first met, they bonded over a shared love of art. The couple's art collecting journey began organically, but it wasn't until recently that they started to consider themselves "collectors." Following their instincts and curiosities, the couple has since grown a collection focused on supporting BIPOC emerging artists and celebrating the beauty of queer love.
Driven not only by a love for aesthetics but also by a deep connection to the narratives woven into each piece, the couple's collection has evolved into a reflection of their identities, shared values, and the celebration of diverse voices. A mix of prints, photography, sculpture, and more, their collection is a testament to their shared experiences, underscoring the profound impact of art on their daily lives.
Through their art-filled home in Brooklyn, Benny and Cristian have cultivated an environment that inspires creativity and serves as a regular reminder of the beauty in the world. Join us as we explore the stories, inspirations, and shared vision behind their unique art collection.
We asked Benny & Cristian to highlight four works from their deeply personal collection. Continue below for more.
Ed Clark, Untitled C, 1997
Benny: I first discovered Ed Clark's work at the Mnuchin Gallery a few years ago, and the exhibition left me buzzing with inspiration. I recall learning about his pioneering use of the round canvas, breaking out of the square confines of painting, and how Donald Judd used to host exhibitions of Ed Clark's work in his apartment because the galleries in New York wouldn't show him. Ed Clark was an unsung hero, under-recognized because of the color of his skin.

At the time of the exhibition, I was also beginning to explore a plaster scraping technique in my own practice, so I learned a lot from looking at his sweeping landscapes of color. The fact that I was discovering his work at that moment felt kindred and timely.
Cristian: I was also immediately sold on Ed Clark's work the moment I saw it. Benny was hosting an event at the International Fine Art Print Fair, and before we arrived, he mentioned that there was a print by Ed Clark that he wanted to see. After browsing all the booths, talking to gallerists, and learning about printmaking and its complexities, we reached the end of the fair but still hadn't seen it.

At that point, Benny said, it's okay, we can go, but feeling determined, I responded, "It has to be here. Let's do another round." After tracking down Dolan/Maxwell's booth, we found it tucked behind a corner, leaning against the wall. Its vibrant colors drew us both in, and we immediately fell in love with the quality of the print.

This was five days after his death [in 2019], so there was a sense of urgency that his work would soon be out of reach. To our surprise, it was affordable when I asked for the price. One of the things that stood out to us was that this work was a printer's proof for a publication that never went out, which made it feel all the more special. We decided to go home and sleep on it. I emailed the gallery the next day and said, "Let's do it," beginning our joint adventure as collectors.
Benny: I used to have this misconception that printing means mass production, akin to a movie poster, and thus being less valuable or impactful.
But, after a tour of Two Palms Press in Soho before attending the fair, I learned about the variety of techniques artists deploy in printmaking, realizing that prints, while editioned, are standalone works of art. Ed was there when this print was made; he was there when it was pulled and signed. Prints can be very personal, and the fact that it is a print doesn't make it less remarkable than a work on canvas. With this in mind, prints can offer a more accessible way of collecting.
Anthony Cudahy, Lean Mirrored (with Redon Flowers), 2021
Benny: Anthony Cudahy and I connected over social media after seeing his show at 1969 Gallery in early 2021, and our online conversations quickly evolved into a visit to his Brooklyn studio. Studio visits are great because they allow you to step into the mind of an artist you admire. And, of course, I had to bring Cristian along. After a stimulating conversation, getting to know each other, and learning about his practice, we asked about pricing and availability. While expected, our hearts sank a little when we realized it was out of range. We would've killed to live with any of the works we saw in the room.
Cristian: Asking about price points with artists can seem awkward, but it doesn't have to be. Before becoming a collector, I found that a scary question to ask, but you get over it and realize it doesn't need to be intimidating.
Learning most of Anthony's work was out of our price range was unfortunate. But out of the corner of my eye, I saw half of a print sitting there, and I said, "What is that? Can we buy that?" That's when Anthony told us about his upcoming print release for Art for Change.
Benny: Art for Change is a great organization that produces museum-quality prints by leading and emerging contemporary artists, with portions of the proceeds going towards a charity of the artist's choosing. Not only is it an accessible way to live with work by artists who might be out of reach, but also an opportunity to contribute to causes they believe in. On top of that, a select number of the prints are further embellished by the artist's hand, making it uniquely one of a kind. Everyone wins.
Cristian: Beyond relating to the work as a queer individual, I also saw myself in his creative process when he elaborated on his technique of painting wet on wet and how it required him to work fast and not overthink. I'm not an artist; I work in tech, but I could relate to the anxiety of not having the time to make something perfect.
When the prints were released, we already knew we'd invest in one. It was then a matter of which hand-embellished work we wanted. Even though it's easy for me to question myself and think, "I'm not an art expert," I know what I want to look at in my home, and I can weigh in just as heavily.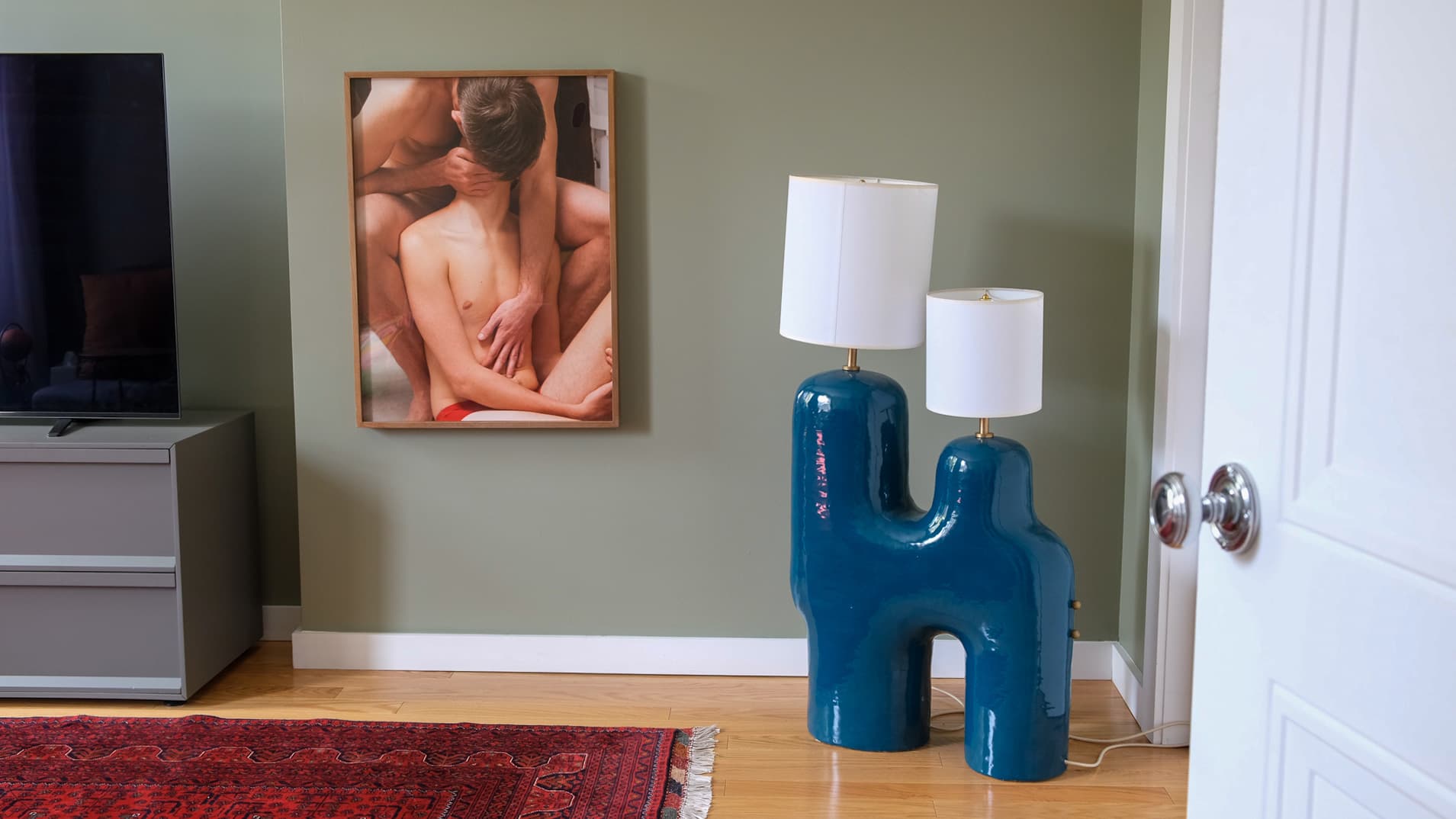 Paul Mpagi Sepuya, Model Study (_2020255), 2017
Benny: The story of how this image by Paul Mpagi Sepuya serendipitously ended up in our living room is long and romantic. I first saw this work at the Guggenheim at a Mapplethorpe show in 2019. In it, the curators paired the artist's work with contemporary pieces by artists exploring identity through portraiture. The tenderness of the image entranced me, and I could not stop thinking about it long after I left the museum.
Almost a year later, while working with our friend, the incredible movement photographer Nir Arieli, who kindly agreed to photograph us for our wedding photos, the only reference image I had in mind was this image by Paul. Its stillness continued to linger in my mind, and I wanted Nir to capture us that way.
After our wedding came and went, I still could not stop thinking about the image and decided to email the artist's studio on a whim. I told them about my discovery of the work at the Guggenheim and was curious to learn more about it. To my surprise, they responded that, as luck would have it, they just got the work back from the museum and connected us with Document Gallery where we found out it was available and affordable. So, it was this crazy moment where my obsession met opportunity and good fortune that this object that once hung on the walls of the Guggenheim was now in my living room, capturing not only my love for art but the nuance of my marriage.
Cristian: People sometimes automatically assume that it's a photo of us, which is funny because you don't have to look too closely to see that it's not. But in some ways, we are in the photo. There is something in it that is us.
The image of the two queer bodies embracing is sensual but not sexual. Themes that I had a difficult relationship with when I was younger, growing up in a conservative household. It was not okay to celebrate the male body. And now, when I look at it every day, I get to admire and share its beauty free of judgment.
Benny: We also intentionally hung this piece a little bit lower. I wanted the work to be shown how we typically experience the room: on the couch, watching TV, spending time together, or playing with our dogs on the rug. When you lower your perspective and suddenly see these bodies holding each other next to Anthony's print; there's this sort of community, this room of queer joy in quiet solace. The figures in the art keep us company even when we're alone.
Dominique Fung, Midnight Catch, 2020
Benny: Midnight Catch by Dominique Fung has a unique and special place in my heart because it's tied to a specific moment when I realized I could give myself permission to be an artist. The work is a print of a painting I saw at Dominique's show curated by Kathy Huang at Jeffrey Deitch. At the time, I was a full-time production designer and creative director for live entertainment, moonlighting as an art influencer covering the New York City art scene. And while I've always been curious about exploring my own art practice, it never occurred to me that my voice and identity were valued enough for me to succeed as a contemporary artist.
Reading into Dominique's background, growing up in Canada and coming from an immigrant household, I thought to myself: "Here is this woman doing incredible things, making incredible art, being recognized for her work in New York City, coming from a very similar history as I did." And for the first time, I could see myself in those shoes.
It's incredibly gratifying to discover work that fundamentally connects with your identity–not just in the past, but who you can be and what your future might entail. When I got home, I told Cristian, "You have to go see the show! You have to experience this."
Cristian: When Benny invites me to see a show, and he's willing to go back and see it again with me, I know it means something to him. I could feel his connection to Dominique. Seduced by her use of color and surrealist figures, needless to say, I immediately also shared his excitement for the work. Midnight Catch, particularly for us, was a standout. In it, Dominique questions, if your family comes from generations of fishermen, do you somehow inherit the qualities of fishermen within your body, within your history? I could see why Benny was so drawn to the work just as he was beginning to rekindle his Asian identity amidst the myriad of anti-Asian sentiments and violence due to misinformation about the origins of COVID. I watched him change during that period, exploring a newfound interest in Chinese culture, and it was incredible to see how Dominique inspired him to love himself against what was happening in the world. This work captured all of that so beautifully.
While the work was sold and frankly out of reach, when we found out that there was a print of it available, I decided to buy it for Benny for his birthday. I emailed the gallery without telling him. I did it all by myself. We often make decisions together, but I surprised him this time. I forget how I told him, but his first words were, "I was really hoping you would buy it."
Benny: It did not come without hints! But truthfully, even when we learned about the edition, I wasn't sure about it - we were still getting used to the idea of prints, and it felt like a lot to spend on one. For us, it was a significant investment. So we kept discussing it, but personally, I just couldn't pull the trigger.
Cristian: But I think that's the point, right? Again, we always ruminate. There's always some reason to pull the trigger, and it's instinctual. And now that we've lived with the piece in our home, shown prominently in our kitchen, I love it even more. I stare at it every time I cook. And that's instinct right? While Benny curated and found it, it's as if he left it to me to decide whether we should buy it or not.
---
Building a contemporary art collection is a lifelong journey that is made more accessible with Testudo. Whether you are just learning about art collecting or have already started your collection, we invite you to talk with us!
​