Published September 26, 2022
Honing Your Eye for Talented Artists
The process of identifying talent in art is very subjective. When you think about the biggest names in modern art— figures like Van Gogh or Georgia O'Keeffe —their talent may seem unquestioned. Who could possibly doubt the talent of these pioneering artists? But just like many other celebrated artists who have come before and after, these well-known figures began their careers with a number of challenges and critics. Hilma af Klint, the Swedish artist now widely-credited with being the first artist to explore purely abstract compositions, received no recognition for her talent until the late 1980s, 40 years after her death! Such a delay in recognition isn't necessarily the norm for all artists, but it's a good example of some of the many challenges artists must face as they commit to their own professional path.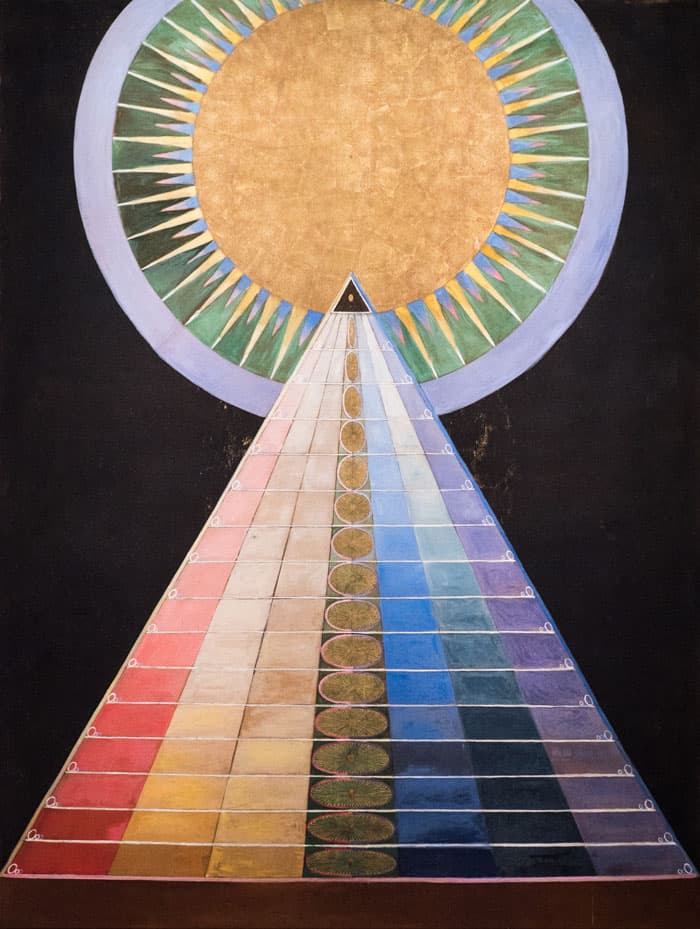 Getting Started
For a new collector, evaluating talent often feels overwhelming. However, there are ways of thinking that can increase your confidence. The evaluation process becomes more approachable when informed by multiple components, such as their artistic output and their career choices. While identifying talent can be challenging and there aren't necessarily correct answers, we've compiled these helpful tips we use to evaluate artistic talent in our curation of Testudo.

To start, the more art you see, the easier it becomes to tell who is making truly original work. With a deeper knowledge, you'll have a clearer understanding of how an individual artist's work relates to (and differs from!) other artists working from a similar perspective. As we detail in our Guide to Getting Started in Contemporary Art, there are a number of easy ways to increase the amount of art you experience. To assist your ability to distinguish true original talent, we highly recommend starting with attending Biennial shows. These shows at major institutions act as surveys of important artists working today and create the opportunity to see art being made globally, ensuring your horizons are not just based in the area you live.

Questions to Ask Yourself
When you begin looking at an artist's work, we recommend that you start with their earliest work and move chronologically to the more recent pieces. By starting with their earliest output, you can understand the initial intentions of their practice. What concepts did they start their career exploring? How did those themes look in their earliest works? With these questions in mind, you can begin to see more recent work and understand the evolution. As you progress forward in time, you'll want to evaluate how the artwork has evolved: can you see growth in terms of how they explore the central themes and their formal techniques?

For traditional artistic practices (think painting or sculpture), there are more questions you can ask yourself as you look at their work:

Has the style of their work changed over time?
Does it feel as though they are pushing the limits of the visual language they were initially working with?
Can you think of other artists who make work in similar styles? Does it seem as though this artist has carved out their niche within this style - or does it seem more like they are simply following an already accepted style?
Is there a thread you can follow when you view their work and read information about their practice (artist statement, interviews, essays)? Or is there a disconnect between their intentions and how the work comes across?

We use these questions as a helpful framework when we select artists to feature on our site.

Navigating a Career
One final way to evaluate an artist's talent is to look at how they have navigated their career. This is a particularly important consideration for curators, gallerists, and other artists. Navigating your career as an emerging artist can be very difficult, but these industry insiders often have respect and admiration for artists who build their careers without intentionally following broad art trends, playing into market speculation, and not saying yes to every offer that comes their way. Many artists take great care to ensure their work is only showcased in the right context - with platforms, galleries, and other artists they respect. Although these aspects of an artist's career are not specifically about the work they create, they are the first reference points many people will use to determine if this artist is navigating their career consideration and intent. This is a helpful way to think about artistic talent and get inside the mindset of participants in the art industry.

Conclusion
An artist's practice is a lifelong pursuit that is constantly developing. The work an artist makes early in their career will likely be different from their output when they reach mid-career status. You can often see this in retrospective exhibitions, where an artist's lifelong output is showcased to celebrate its evolution. While there is no standard definition of artistic talent, we believe anyone can use these tools to help understand the range of talent artists have. At Testudo, our team uses this framework and our curatorial eye to ensure we feature incredibly talented artists, each providing unique work and perspective to our audience of collectors.