Published March 13, 2023
Iterating to Make the Unexpected: A Conversation with Allan Rosenbaum
Allan Rosenbaum is a studio artist and former Professor at Virginia Commonwealth University. Rosenbaum's practice is materially based and utilizes a range of analogue processes to investigate intersections between craft, painting and sculpture. Allan has received Individual Artist Fellowships from the Virginia Commission for the Arts in both Craft and Sculpture, three early career project grants from the Wisconsin Arts Board and he is a Fellow of the Virginia Center for Creative Art.

His work has been exhibited nationally and internationally and is represented in public collections including the Renwick Gallery of the Smithsonian American Art Museum, the Taipei Yingge Ceramics Museum, the City Museum of Varazdan, Croatia, Arkansas Museum of Fine Arts, Madison Art Center in Wisconsin, the Museum of Arts and Sciences in Macon, GA, the Montgomery Museum of Fine Art and the Mobile Museum of Art in Alabama, the City of Richmond Public Art Commission, and the Kamm Teapot Foundation.

Allan and I talked about the bold and rewarding transition from figuration to abstraction, the joy of the hunt for fabric with diverse histories and geographies, and the fortitude to maintain a decades long studio practice. This conversation has been edited for length and clarity.

---
I'd love to start by hearing more about your early work.
AR: I started making figurative sculpture, and I wanted to make the figures big, but all ceramics have this problem that they have to get fired in a kiln. So in order to make them big, I started building with sections that were segmented, and I unstacked those sections to put into the kiln. One day, as I was getting ready to load the kiln, I had this piece all taken apart. As I put pieces in, I noticed there's a head and a torso that weren't connected. And I said, 'that's a lot more interesting than what I've been doing with the whole figure.' So I started moving towards fragments, and once I moved to fragments, it opened up a whole world of possibilities. That's where I really embraced surrealism. I would look for fragments that had some meaning to me personally but that you wouldn't think about going together. I would take an object from a domestic environment, for instance - a blender or a toaster or telephone - and I might put that in place of the head. There was this union of the body and these familiar forms from domestic environments. It was a chance meeting. These things wouldn't go together, but you put them together, and it evokes some interpretation by the viewer. I was really not interested in spelling out a specific narrative.
I have a lot of trust in my viewers, and everyone brings something to the table. Their experiences are going to affect the way they interpret it. I don't want to control that too much. I want to leave a lot of that open, because I found a lot of interesting interpretations for the work that I would never have considered. I see myself using prompts to get people to interact, to think, to interpret, and to complete the work.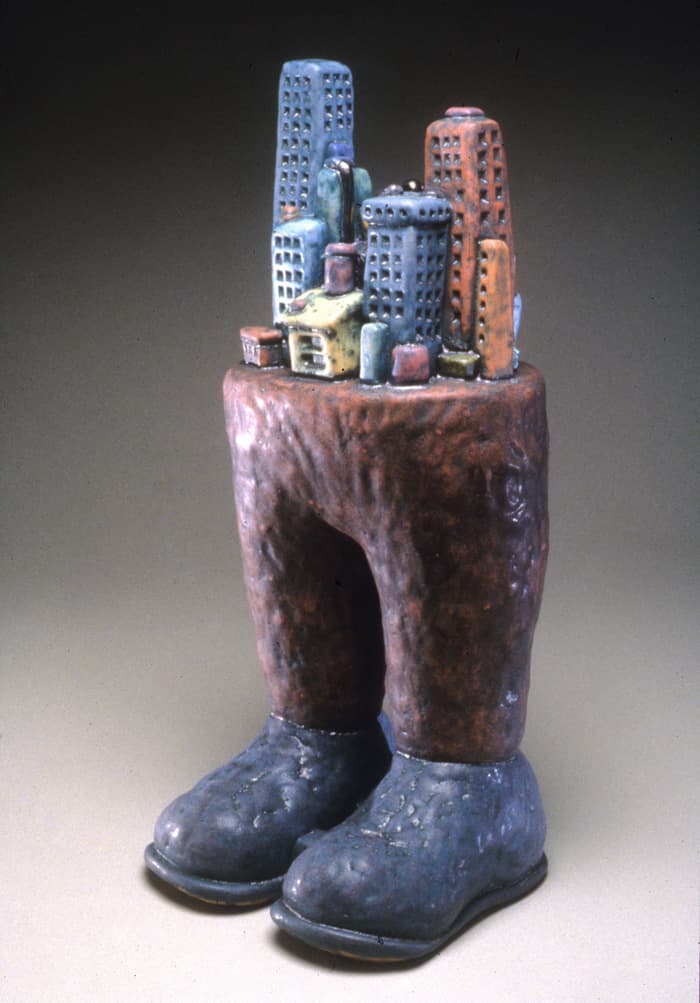 Do you think it's unusual as an artist that you're excited by different interpretations of the work?
AR: I think a lot of people do really control a narrative, and a lot of work has become more focused on a theme or an idea: some is political, some deals with identity. For me, it's really about curiosity. I'm making the thing because I want to see it. I hope when I present it to someone else that they start to become curious and bring their own thoughts to the table.


In addition to your studio practice in ceramics, you also taught ceramics at VCU for 26 years. Did the students impact your studio practice?
AR: Oh, in many different ways. It's always really interesting to be working at the very beginning of a process where you don't know what the rules are and you make mistakes all the time. You're not afraid to try anything because you don't know what works or doesn't work - that's what students do. And I found that to be really refreshing all the time and surprising. It's something that I really tried to keep with me. It's hard when you're an artist - you learn how to make things work and be successful and then you want to repeat those successes. Trying to work like you don't know what you're doing is difficult, but that's when you're most free to come up with the unexpected. I want to be surprised in my studio, and I want to surprise viewers. On Instagram, you start to see a lot of work that looks the same. Some of it doesn't, but I gravitate to work that I'm not familiar with.
How has the advent of the internet affected your practice?
AR: You can see so much work on Instagram. It's like a huge education. When I started out, people had their 35 millimeter slides. I taught in a really good art school, and we would have a guy take pictures of shows in New York and send slides to the library. As a faculty member, I could check out a slide, take it to a slide projector, and project it in a room to students. If they were at the lecture they saw it, and if they skipped the lecture, they didn't see it.
When I started working as an artist, technical information was mostly guarded and shared only on a limited basis. Access to visual information was restricted-you could visit shows or read about art and artists in journals, attend workshops, or occasionally visit studios. Most everything you would see was filtered by editors, curators, or gallerists. Now things are so much more free ranging and democratic…you can see work from anywhere by anyone, and at various stages in the working process. Technical information is readily available on YouTube with artists sharing personal techniques or even through recordings of their workshops. It's a different world now with many different opportunities and challenges.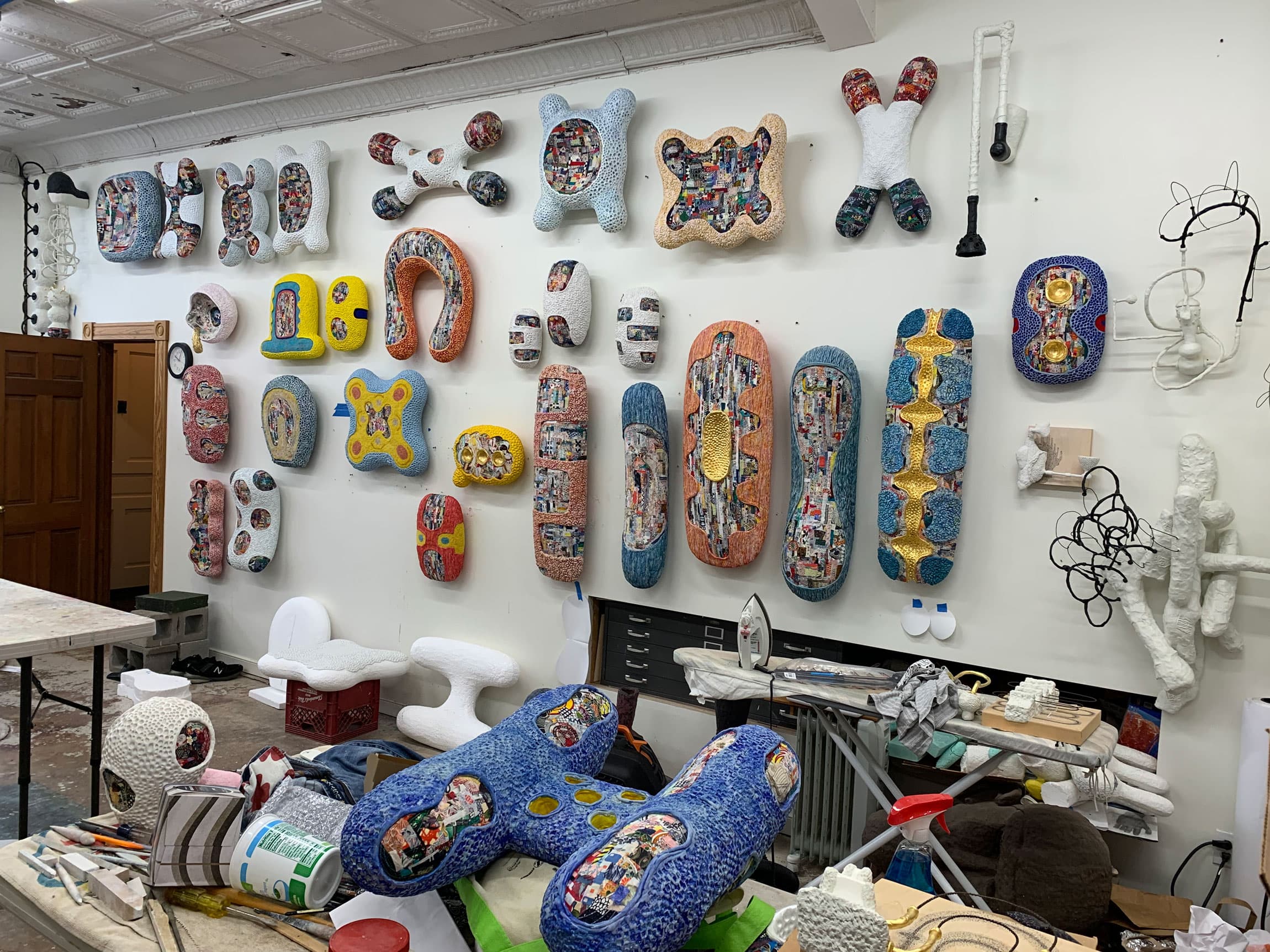 When did your work shift towards its current form?
AR: About fifteen years ago, I began to experiment with a range of materials and began a slow transformation of my studio practice. Along with changes in materials, I moved from representation to abstraction and from making work for the pedestal to making wall sculptures. The work has gone through many changes, but my approach to making is informed by my early work in ceramics.
Can you describe some of the materials and techniques you use in your current work?
AR: I use an evolving array of materials and processes in my work.

Some of the materials that I use are personal. Like the neckties that I inherited from my father and the scraps from family sewing projects. I commingle my personal materials with a collection of fabric and textiles that I have assembled from diverse histories and geographies. I believe that the combination of old and new fabrics from local and global sources serves as a metaphor for interconnectedness. I routinely search the internet and estate sales for fabric and textiles, and sometimes friends make fabric donations. I find a lot of material in closets and sewing baskets. I'm drawn to material that has been abandoned or fallen out of favor. I'm especially interested in textiles that have been touched and used. Repurposing materials sometimes feels almost like a collaboration, like when I try to find a use for quilt pieces or patches that were never finished. I'm really intent on bringing together materials from different times and places and in trying to make connections between the patterns. Can I find a way to place scrap from a feed sack from the 1930's next to a fragment of a vintage kimono, necktie, or something even more contemporary?

Craft is very important to me. I use analog processes exclusively and very few power tools. I'm really in favor of slowness and spending time with the work. I want to work in a way that can't be replicated by a computer or a machine. All of the work has a solid core of hand carved polystyrene. I work intuitively to develop a surface of fabric, resin and wool. The resin I use is a clay-like material, and I use traditional ceramics tools and natural materials like shells and bits of rock or wood to develop the surface texture. The resin has a relatively short working time, so I work in sections from back to front, which allows the resin to cure between working sessions. I paint the resin after developing the surface. The fabric areas are built up in layers in a process that is a cross between collage and mâché. It's slow work and kind of like solving a puzzle. I carefully cut the materials and place the fragments with tweezers. It's almost like building a painting. I'm looking for relationships between colors and patterns and thinking about how one is laid over the other. There is a lot going on visually in the work, and recently, I have started using wool to create some areas that are a bit quieter. I work with both natural and dyed wool and needle felt directly into the polystyrene surface. I employ a systematic process, but I frequently find that I need to alter the paint surfaces, collage areas and/or felted sections to pull the whole piece together.
What does it take to keep a studio practice going for so long?
AR: Boy, it's hard to keep a practice going. It doesn't always make great financial sense - especially if you're not trying to make work for the market. I was pretty fortunate because I had a teaching career so I was able to keep pushing my work.

I think you have to be stubborn. Or you have some sort of crazy belief in what you're doing, because it can be frustrating a lot of times. You're spending hours and hours making the work and then do people even want to see it? You hope that they do.

I had this one situation where I took a big turn in my work. And at the time I had work that was pretty well recognized, being shown and had galleries representing it. And I said, 'I'm not gonna make that work anymore. I'm gonna be doing this different thing,' and that didn't go over well. The work that I had made had an identity, and people wanted that identity. Those folks said 'it doesn't work for us anymore,' and it was okay, because it was such a dramatic shift for me. I needed some time just to not think about showing it. I needed time to make it and let it grow. I've been doing that for the last 15 years now.
For me, my studio is my identity. I moved into this building that I bought in this neighborhood over 30 years ago. This is my home. This is what I do. It's my identity.
Did you anticipate that the galleries you were working with wouldn't be supportive of the change in your practice?
AR: I was severely disappointed when they weren't interested in it, but I was going through a lot of changes in my practice and I understood we had different concerns. I needed to re-invent myself and wanted to make the studio an adventure again. I come to the studio and try something and say, 'wow, that's so much fun' and 'I don't know what I'm doing, but how do I make this work out?' I just love that problem of trying to make things work out and that was enough to keep me going. I had some faith that it was going to lead somewhere, but I wasn't sure, and it took awhile.

I've worked through a lot of pieces now, and they say that it takes 10,000 hours to really master a discipline. I've spent a lot of hours, and quite a few of those hours include those where I put in a few weeks of work and then say, 'well that didn't work.' Then I have to try something different.

For me, my studio is my identity. I moved into this building that I bought in this neighborhood over 30 years ago. This is my home. This is what I do. It's my identity.
It's quite a leap of faith - to know that the galleries and collectors may not be ready for the changes to your practice but that you are compelled to go there regardless.
AR: Yeah. It takes a lot of faith, and there's a risk that it may never happen.
As your practice changed, you spent some time experimenting with painting but moved away from that output. How do you know how much time is enough to experiment?
AR: I feel that experimenting is always important. I started out as a potter where you're working in series. You can make a dozen pitchers and 25 mugs, so I knew that something is really gained by working through a high volume. Working through these ideas has been a guide for me in my practice. It's not 'make one and people will celebrate it.' You make one, and then you look at the possibilities of what it has to offer. Then you make another one and refine it. You try something different. Make a little shift. You hope by the 10th piece down the road that something is working, but that might take you six months or a year to get to that 10th piece.
Do you have any exhibitions coming up? What are you currently excited about?
AR: I have a solo exhibition planned for November 2023 at IA&A at Hillyer Gallery in Washington DC. I have a residency scheduled for the month of July at the Willapa Bay Artist Residency in Washington State. It's on the coast on this little peninsula called Willapa Bay and it's a month long, which is significantly longer than I've done. And it's small. I mean, I'm gonna try and get a restart on my drawing practice and I'm excited that it's just going to be a different landscape, different food for thought.