Published July 29, 2022
Sculpting Clay To Address Sociopolitical Issues: Karen Jaimes's Studio Spotlight
We stopped by Cornell Creative Arts Center in Kingston, NY to visit Karen and learn more about her process and inspiration. See her practice, read her written interview, and explore her work available on Testudo.
Karen Jaimes is a Latina artist who was raised single-handedly by her Salvadoran mother in downtown Yonkers, NY, which was an impoverished concrete jungle in the 80s and 90s. Many of her peers were first generation students whose parents emigrated to the city due to instability in their homeland. As the daughter of a Civil War refugee, Karen navigated two cultures and languages in a multicultural city. The non-profit art programs at nearby museums, a loving community of matriarchs, and the well-rounded curriculum of Manhattanville College led her to value arts education, social justice, and community outreach. KJ is an artist-activist-educator who sculpts clay to address sociopolitical issues and question the systems in place. The transhistorical and transcultural nature of clay makes it the perfect material for metaphor.

Karen holds a MFA in ceramics from SUNY New Paltz and a BFA from Manhattanville College with a minor in political science. She is an enthusiastic ceramics teacher who enjoys sharing her knowledge of clay's vast properties that span across many fields, including anthropology, geology, and chemistry.

Her sculptures have been exhibited in the Williamsburg Art and Historical Center, the Katonah Museum of Art, the Barrett Art Center and the Dorsky Museum of Art among others.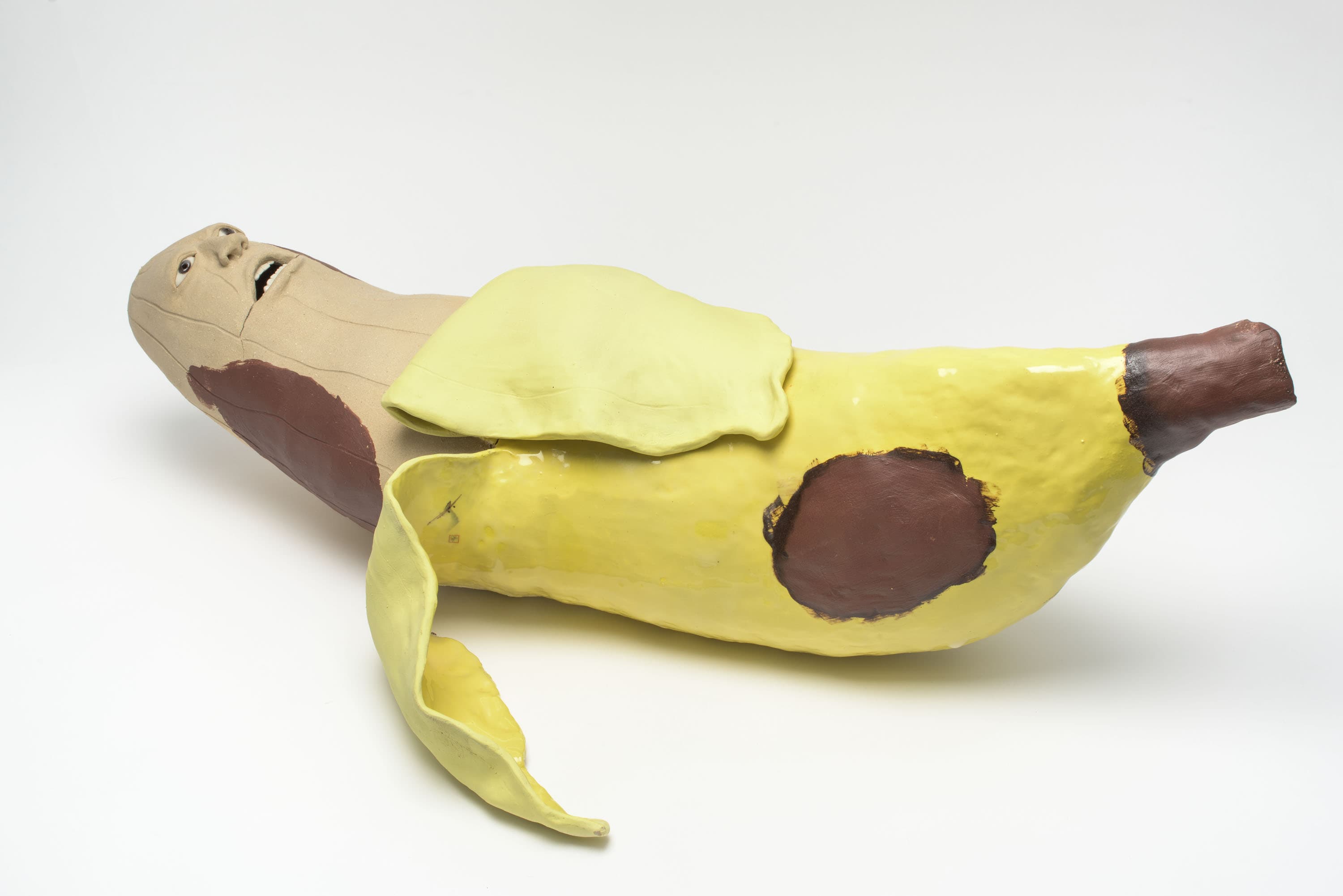 By hybridizing pre-Columbian ceramic forms with iconic contemporary imagery, I revive indigenous practices that connect humans, plants, and animals while adding new Latinx narratives to the conversation. The hybrids assert their autonomy, challenge pervasive Western ideologies, and ask viewers to consider the past, present, and future.
Tell us about your practice.

KJ: My practice stems from a deep-seated desire to reconcile the injustices against BIPOC (black, indigenous, and people of color). I use clay as a visual language to educate viewers about issues that affect these underrepresented populations. The work I make is part of my decolonial practice to keep indigenous knowledge alive as a way to redress the injustice that took place during colonization and continues to affect people today.

What do you hope to accomplish as an artist?
KJ: I'd like my work to serve as a catalyst for positive change for black, indigenous, and all people of color on this lovely continent called Abiayala (the decolonized indigenous name for "North and South America" as a single unified continent). I make art to foster awareness, understanding, and inclusivity of diverse bodies of knowledge in an effort to expand the Western canon. The didactic elements of my ceramic sculptures function to enlighten viewers and inspire a sense of connection with marginalized people and our natural world.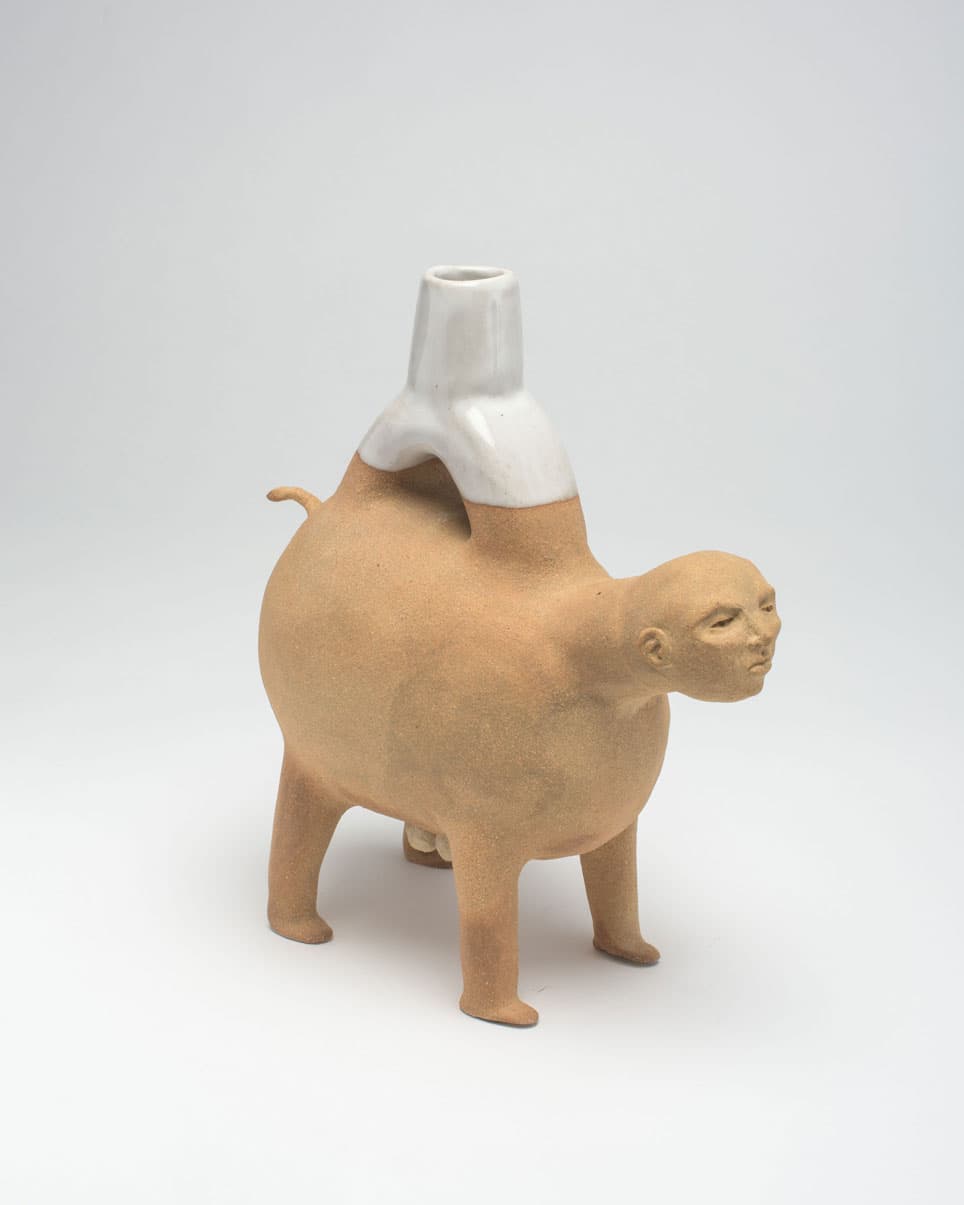 ​Tell us more about the influence of indigenous practices in your work?
KJ: I have always been connected to plants and animals and I am curious about the forms and subject matter depicted in ancient indigenous ceramic cultural objects. I like to imagine and research how the objects were made and used by my ancestors. Art making is in my blood. Clay connects me to the past. My hybridized plant, animal, and human clay forms are a continuation of this ancient visual language, which is a decolonial practice that keeps indigneous knowledge alive. Carolina Rios Lezama explains, "Indigenous knowledges are about a worldview that is cognizant of a deep spiritual connection to animals, plants, water, and other living things, making Indigenous knowledges inherently tied to the Land. The indigenous worldview understands Land in a context of culture and self-determination that is based on reciprocity, which contradicts the eurocentric worldview that emphasizes Land as property."

Modern natives who survived colonization were displaced from their land by corporate institutions. Fewer have access to land because it's so costly. Cities warehouse and stack people, depriving them of land. If everyone had access to a plot of land, to touch the earth with bare toes, to grow food, we would be much healthier and happier.

I think about food and its origins and about the role people and animals play in propagating plants. I research how food is grown, the working conditions of farmers, and the practices of Big Ag. Plants can nourish and heal our bodies if grown organically or poison us if produced with chemicals. The global food network we've created relies on clear-cutting old-growth forests, growing monoculture crops that are sprayed heavily with toxic chemical pesticides and chemical fertilizers. It would be in our best interest to acknowledge sequestered indigenous bodies of knowledge and think about the world in a different way - think about it symbiotically, because we are intrinsically tied to our environment, whether it's healthy or not.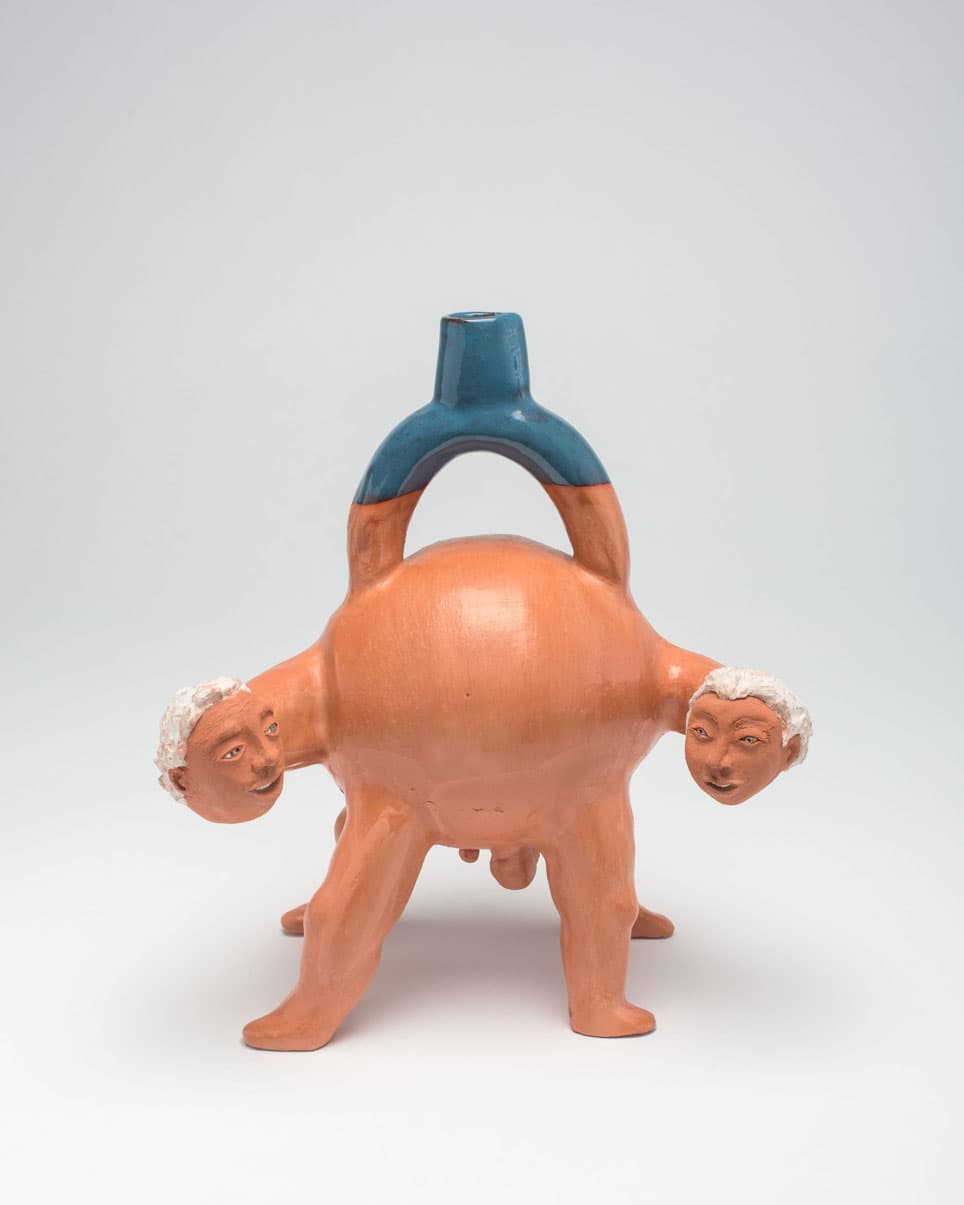 ​Your work references ancient pre-Columbian forms, specifically stirrup spout vessels. Can you tell us about your interest in these forms?

KJ: I became obsessed with the Moche stirrup spout vessels of Peru after visiting the MET and the National Museum of the American Indian. The meticulous detail of the ceramic sculptural forms helped me connect to the past by providing visual clues about their ideology. The vessels depict exquisitely rendered scenes of birth, death, sexuality, and religious practices such as sacrifice and shamanism.

The double spout represents the convergence of life and death. The vessels were a way of connecting the current generation to the past. These objects exist in museums today because they were perfectly preserved in active tomb sites. Spout vessels were buried with deceased rulers and accessed by proceeding rulers, which were activated through shamanic rituals that included singing, dancing, and drinking. The vessels were filled with sacred liquids, such as chicha, made from a fermented corn or Yuca, hallucinogenic plant brews made of chocolate, mushrooms, ayahuasca or blood. The vessel and its liquid contents served as a conduit between the physical realm and the supernatural and it connected the current ruler to their ancestors, which was a rite of passage and affirmation of authority.

Most of the pre-Columbian vessels were looted from graves and eventually brought to museum settings. It's interesting to think about the objects being removed from gravesites, because when they were originally unearthed by the Moche people and proceeding civilizations, they were always returned. The cultural artifacts are tied to a specific place in the world. Traditionally those spout vessels were reserved for the elite. The objects that I create are for the everyday person. I make a variety of spout vessels to honor the underdogs of society; the Latina mother that raises other people's children or the Latina woman who worked at a McDonald's for decades as an undocumented worker to support her family. I started making stirrup spout vessels for family members and friends as a way to tell their stories. This evolved to making vessels for exploited people to embody broader concepts. Recently, I've focused on creating homages to my heroines who made an impact in the world. I sought to honor some of our living legacies, such as Delores Huerta and Sandra Cisneros.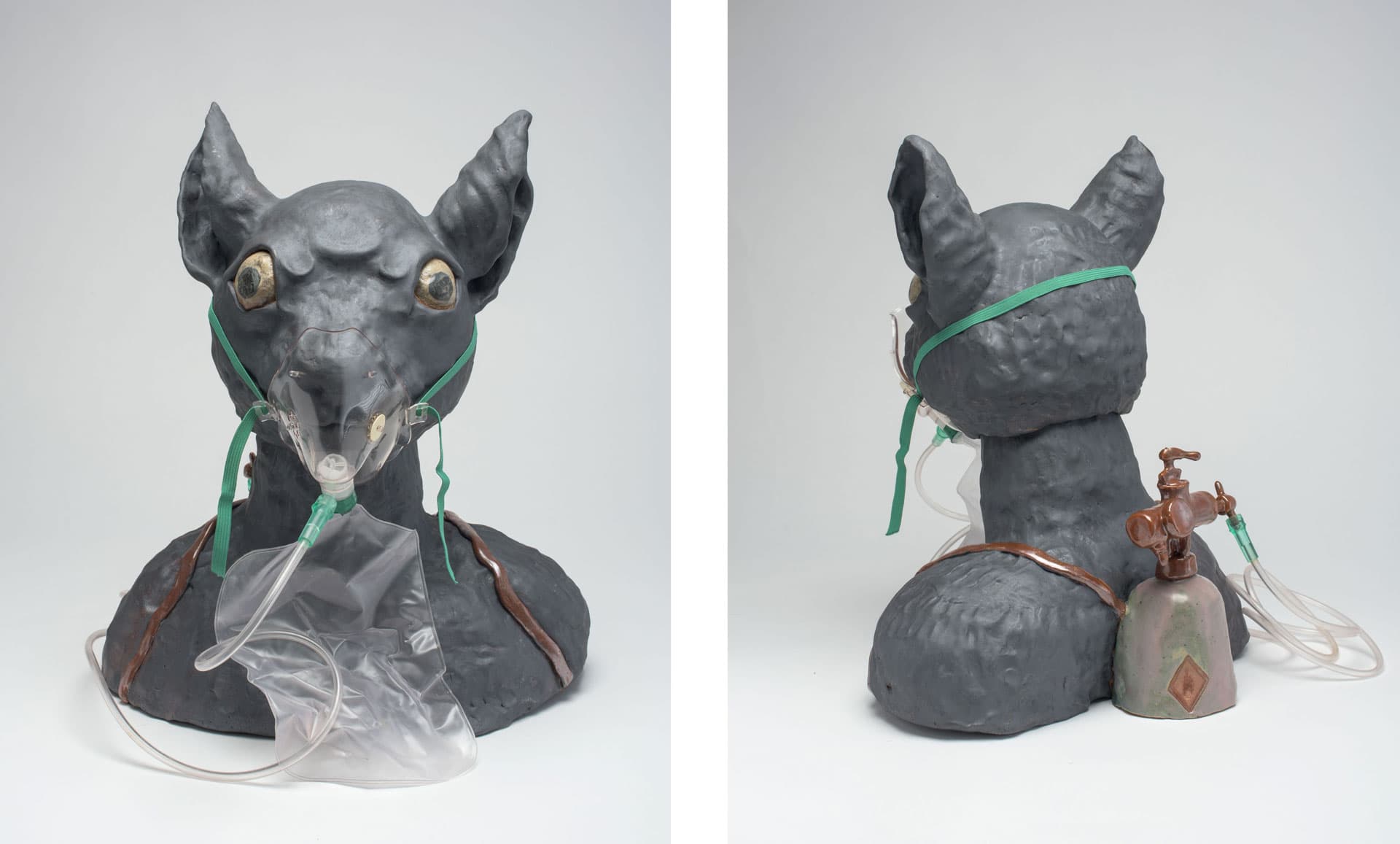 ​How do you employ humor as an element in your work?
Humor helps me address tough issues, while enticing curious viewers. By enlarging fruits or animals and miniaturizing human forms that are hybridized with animals, I can laugh while crying a little inside. Some of my sculptures have grimacing faces or eyes without pupils that are a bit disturbing. The work is meant to elicit empathy and prompt questions about modern agricultural practices and the exploitation of people and land in Abiayala or "Latin America."

Fun, oversized fruit draw folks near where they can spend time observing the objects and discover clues that reveal something serious and dark lurking beneath the surface. Humor makes these ideas more accessible and helps us start uncomfortable conversations, which helps lead to change.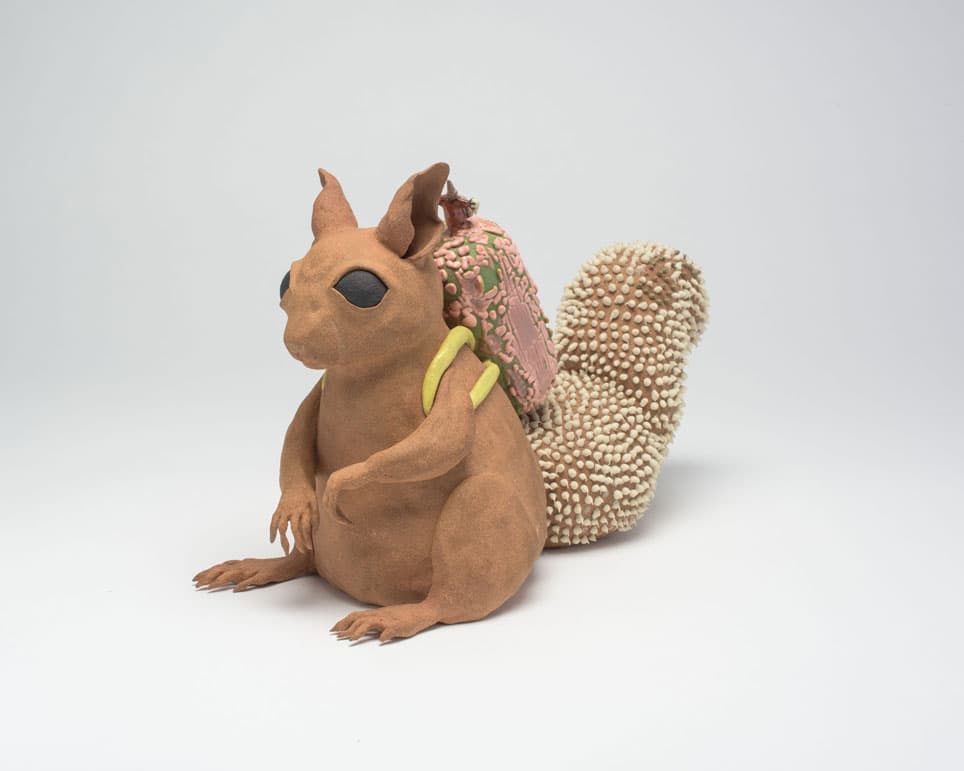 ​Can you tell us about the significance of animals in your work?
KJ: People and animals are exploited and undervalued in our culture. In contrast, pre-Columbian indigenous civilizations revered animals and equated their lives to those of human beings. By anthropomorphizing animals, I'm commenting on how the US treats BIPOC people like animals. When we buy food, we often don't think about the people who grow it.

The idea for 2025 Farmer and similar works came after observing how people were being exposed to toxic chemicals on a strawberry farm in Bakersfield, California in 2014. My cousin and I had driven up the scenic Coastal Highway in my grandpa's 1986 Toyota Camry station wagon from Los Angeles to the Redwood Forest to see the majestic trees. We took a quicker route on Interstate 5 on our way south and traveled through the San Joaquin Valley. I witnessed the gross exploitation of immigrant farmworkers who were hunched over tending to strawberry fields in a toxic environment. The air was completely yellow and smelled of acrid chemicals. We had to roll up our windows to keep the pollution out. It was 98° F and the Latinx workers were completely covered from head to toe – in pants, hoodies, gloves, and bandanas over their noses and mouths. A crop dusting plane blanket sprayed chemicals on the workers in the fields. The workers' clothing was inadequate protection from the chemicals.

This gross, inhumane way of producing food led me to research how food was grown before colonization. American Indians studied their natural world and lived symbiotically with it. They harvested wild native plants - such as acorns and wild strawberries, leaving enough plants for seven generations to come. They made flour from acorns and stored these oak nuts for harsh winter months when food became scarce. I made a connection to squirrels who also store acorns for the harsh winter months. Squirrels are underappreciated farmers who help propagate new trees when they forget to recover their nuts. They became metaphorical stand-ins for the repressed indigenous people of the US during land theft and the indigenous people from Latin America who currently work for Big Ag on stolen land. Squirrels' frantic quest for nuts in the fall reminded me of human nature and our patterns of never-ending work to insure survival. Colonial ideology is ingrained in the institutions that govern our way of life and values wealth at the expense of the natural world and its inhabitants while the humble squirrel and indigenous pre-Columbian people of this continent sought to live symbiotically with it. It's time to take cues from our natural world and its suffering populace and consider indigenous holistic ideologies that can help our planet heal.

2025 Farmer carries an oxygen tank on its back because our air quality is decreasing rapidly every year. Our protective ozone layer is being destroyed by greenhouse gasses produced from intensive agricultural practices. On its tail, I've written UFW in a pale green engobe. UFW stands for United Farm Workers and was co-founded by Dolores Huerta and César Chávez in 1962. Dolores is an incredibly important proponent for labor and immigrant rights in the US. She led the most successful boycott that America has seen to date against the Delano Farm Co, which denied California Latinx immigrant farm workers access to clean water, bathrooms or work breaks, and exposed them to toxic chemical pesticides and fertilizers. I had the opportunity to see and meet her in Sacramento at the NCECA conference in 2022. She's amazing, strong, passionate, and continues her important work at the age of 92.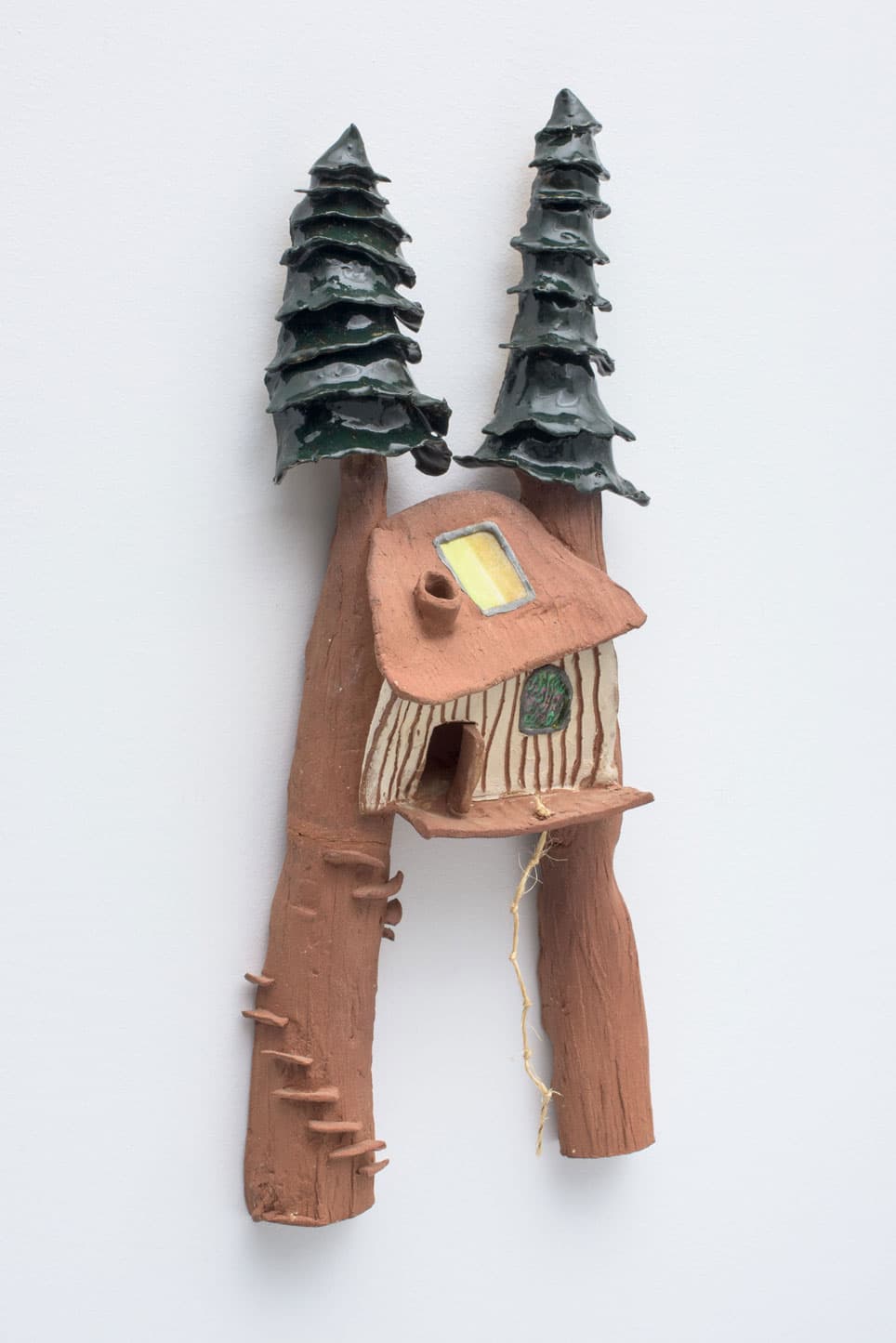 ​How does your work as an educator inform your practice and vice versa?
KJ: Working as an educator allows me to make change on a small scale by sharing my knowledge of indigenous cultures, ideologies, and traditional methods of working with clay. I challenge my students to research a cultural ceramic object they're curious about, find an idea they can relate to and make it relevant today through their own visual language. Their ceramic creations are then used in conversation to teach others about indigenous ideologies that relate to present-day life. This method of bringing the past to life through object-making is part of my practice of using art as political praxis.

How can people engage with the topics you're exploring beyond an exhibition setting? Do you have any resources you'd like to share with the Testudo audience?
KJ: Oftentimes when I have a gallery show, I actually put a stack of books that offer answers to a lot of our environmental, labor, and immigration problems. They run the gamut from science books, like a work by Vandana Shiva called Stolen Harvest which offers some ideas about what we could do in terms of sharing seed, especially heirloom seeds, that aren't genetically modified, to also talking about political policy and how to write your politicians a letter and get involved in that sense. I'm proposing questions, but I'm also leading viewers to the research that I've uncovered and some of the answers that might help us work towards a better future where everyone's included.

To gain a broader understanding of some of the ideas presented, please refer to my published MFA Thesis, Of Flesh and Fruit or these sources below:

Dei, George J. Sefa and Cristina Sherry Jaimungal. ​Indigeneity and Decolonial Resistance: Alternatives to Colonial Thinking and Practice. Gorham: Meyers Education Press, 2018.

Ellwood, Wayne. ​The No-Nonsense Guide to Globalization.​ Oxford, England: New Internationalist, 2001.

Restall, Matthew. Seven Myths of the Spanish Conquest. New York: Oxford University Press, 2003.

Weismantel, Mary. "Pots of Flesh and Blood: Moche Ceramics from Ancient Peru." Studio Potter​ (Archive : 1972-2015), vol. 29, no. 1, Studio Potter, Dec. 2000, pp. 32–35