3-Way
Oil, charcoal, ballpoint pen, and paper on canvas
2021
24" x 20"
"When making this piece I was thinking about how to portray my varying experiences as I navigate in and out of relationships. I thought of myself as the color orange mostly because it's my favorite color and because it's a secondary color. Secondary referring to Sara Ahmed's ideas on what it means to be an 'other', or in this case not primary. Ahmed says that an 'other' is a deviation in both sexuality and from whiteness. The remaining colors that are interacting with orange are the additive primary colors, red, blue, and green, and also the colors that make up light. Using the additive primary colors stems from my affinity to the diagrammatic, which I associate having a relationship to a screen, or technology in general, which uses light. Lastly, the collaged piece of paper is a reminder that ultimately I'm searching for love."

- Michael Cuadrado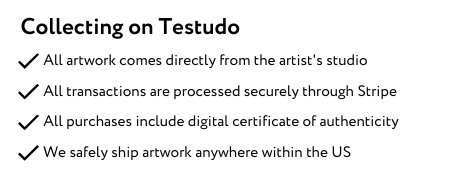 $2,500
Please login to purchase.
Michael Cuadrado
Michael Cuadrado is an artist born in San Juan, Puerto Rico. He received a BFA in Drawing from Pratt Institute and is currently an MFA candidate in Painting & Printmaking at the Yale School of Art.

View Artist Profile
Questions about the artwork, purchasing, or shipping?
More from Michael Cuadrado