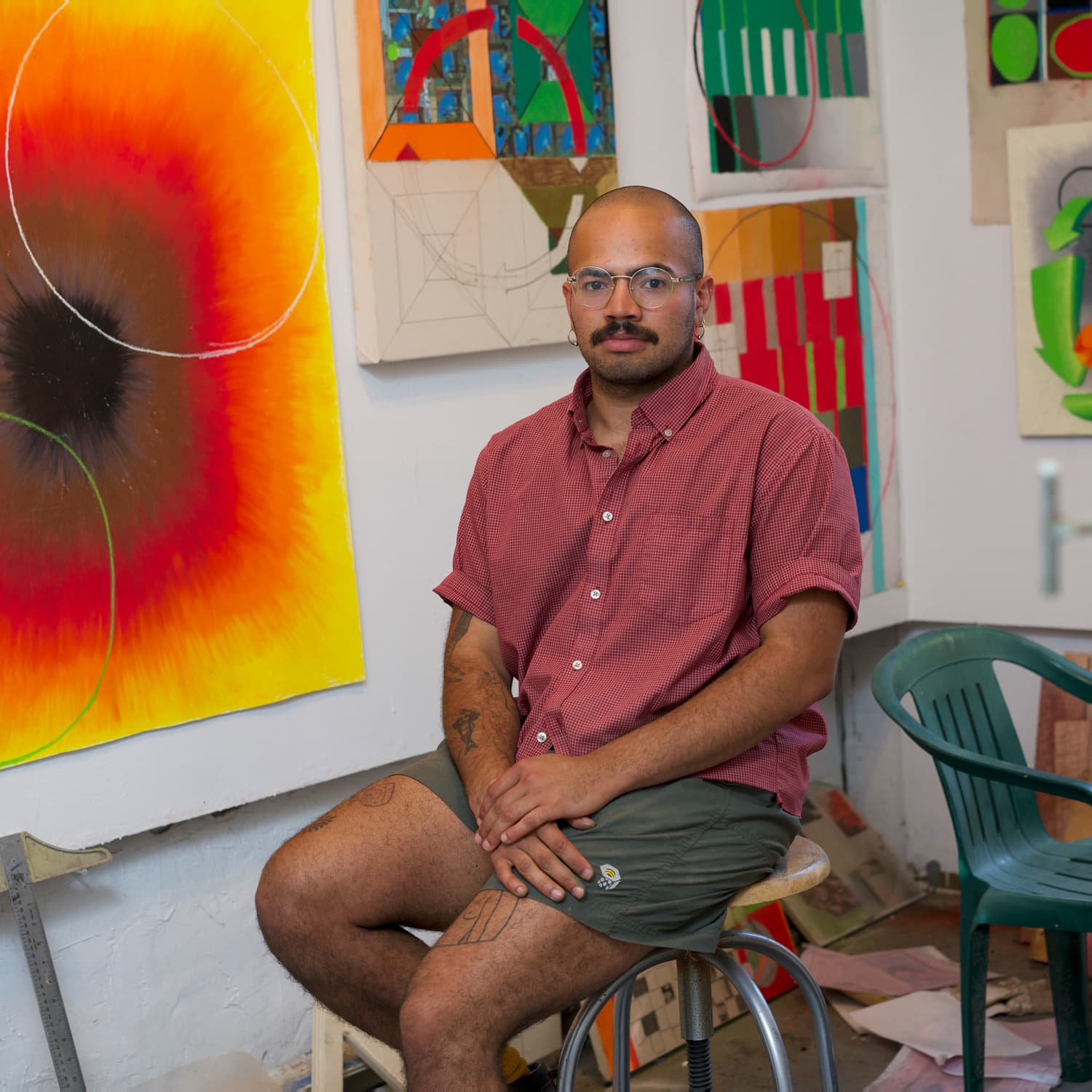 Artist Profile
Michael Cuadrado
Michael Cuadrado makes kaleidoscopic paintings that are replete with symbols and marks in motion. Using a range of media—from oil and acrylic paint to charcoal and chalk pastel to inkjet prints and paper—Cuadrado creates compositions that appear like quirky diagrams with flurries of irregular lines, arrows, circles, and rectangles. Drawing on his experiences moving through the world and relationships as a queer body of color, Cuadrado plays with navigation, orientation, and gravitational pull in his work. He thus explores the "perplexities of romantic love" and "circuit of fraught desires" (in his words).

Wrestling with the Western modern painting canon, Cuadrado reimagines motifs such as the grid through the lens of contemporary theory, particularly Sarah Ahmed's Queer Phenomenology (2006). While 20th-century artists from Piet Mondrian to Donald Judd idealized the grid as rigid and rational, as elevating art beyond figuration and narrative, Cuadrado renders that form as intuitive and expressive, as embracing feeling and story. His method follows that of Agnes Martin (who approached the grid as an Abstract Expressionist despite her association with Minimalism) and Stanley Whitney (who frees the grid from a linear structure). Cuadrado's uneven lines and lost arrows challenge the notion of being direct, which Ahmed defines as "getting straight to the point" and "becoming straight by not deviating at any point." The artist's use of secondary colors (like orange) speaks to Ahmed's idea of what it means to be an other—as one who diverges in terms of race and sexuality.


CV
EDUCATION
2024 MFA Candidate in Painting/Printmaking - Yale School of Art
2018 BFA in Drawing - Pratt Institute
SOLO EXHIBITIONS
2022 Two Slow Dancers, Coco Hunday, Tampa, FL
2021 Young and Plastic, Harkawik, New York, NY
GROUP EXHIBITIONS
2022 The New Earth, Public Works, Chicago, IL
2022 Electric Pink Lemonade, Circle Contemporary, Chicago, IL
2022 2 Meters is 6 Feet, Patient Info, Chicago, IL
2022 The Space Between Us, Co-Prosperity, Chicago, IL
2022 The Pamphlet Show, Patient Info, Chicago, IL
2021 AFTERBURN, Private Practice, Austin, TX
2021 Speech Sounds, Harkawik, New York, NY
2020 Direct Sunlight, LVL3, Chicago, IL
2020 Online Exhibition #63: Hoarders House, Fields Project, New York, NY
RESIDENCIES
2022-2023 BOLT Artist-in-Residence, Chicago Artists Coalition
2020 Ox-Bow School of Art and Artists' Residency, Conversations In Practice: Winter Intensive
2020 The Wassaic Project, Winter Residency
2017 Ox-Bow School of Art and Artists' Residency, Leroy Neiman Foundation Fellowship
---
Artist Statement
Largely influenced by ideas around phenomenology, queer theory, and semiotics, my work is considering the history of painting in order to address topics within sexuality/desire, spirituality, and my complex relationship to Western thinkers and painters. In an attempt to navigate the perplexities of romantic love, I am interested in the use of symbols and colors and their relationship to what we may think of as objective truth. My interest in the history of Western painting comes from a place of both affinity and aversion. It reinforces my fascination with the subject, but also functions as the origin to this circuit of fraught desires.

Much of this developed after a gradual realization of my own disorientation towards my surroundings as a queer body of color exploring the fragility of his sexuality. The reinterpretation of symbols and their relations to color are all in hopes of answering the question: How should we love? though this process might be in vain.