Our Coiled Hearts
Oil paint on canvas
2022
24" x 30"
"Maybe one of the literal depictions, this piece stems from a lecture I heard about blackholes. In the lecture the two physicists were talking about what happens when two smaller blackholes get so close that they're gravitational pulls touch. Once they touch they become one very large blackhole, and after hearing this I thought to myself "how romantic"! Thus came Our Coiled Hearts."

- Michael Cuadrado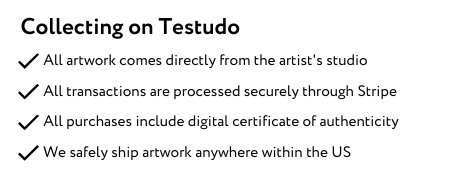 $3,000
Please login to purchase.
Michael Cuadrado
Michael Cuadrado is an artist born in San Juan, Puerto Rico. He received a BFA in Drawing from Pratt Institute and is currently an MFA candidate in Painting & Printmaking at the Yale School of Art.

View Artist Profile
Questions about the artwork, purchasing, or shipping?
More from Michael Cuadrado