Where the World Unfolds
Oil paint and inkjet prints on canvas
2022
20" x 17"
"This piece is similar to Our Coiled Hearts in that it uses the moire pattern in relation to blackholes, except here I start to incorporate collaged images of my shadow. The background and foreground are either grids or cut out circles of images I've taken of my shadow while on a walk, while the middle ground is a color spectrum. The shadow is an idea that has developed rather recently, however I think I am using it similarly to the arrow. The shadow being a symbol, like an arrow is, that could be used during navigation as proof of existence. Sunlight from behind me casts a shadow on the ground I am walking on while I lived in West Michigan."

- Michael Cuadrado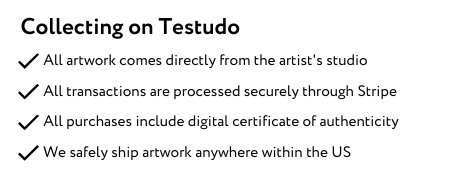 $2,000
Please login to purchase.
Michael Cuadrado
Michael Cuadrado is an artist born in San Juan, Puerto Rico. He received a BFA in Drawing from Pratt Institute and is currently an MFA candidate in Painting & Printmaking at the Yale School of Art.

View Artist Profile
Questions about the artwork, purchasing, or shipping?
More from Michael Cuadrado