Compatibility Chart (#3)
Inkjet prints and oil paint on canvas
2021
24" x 24"
"Similarly to 3-Way, this piece is also a representation of navigation. However, this piece is about navigation between two people who I've assigned the colors orange and red to. I start off loosely dividing up the composition from the outside in, with red and orange being the two main colors, or people. Using red and orange stem from a similar idea to why I use orange in 3-Way. Orange is a secondary color and red is part of how you make orange, also thinking about it in terms of sexuality orange and red could be considered the same sex. The rest of the piece is mostly intuitive, I'm responding to the different colors and shades until I reach the center."
- Michael Cuadrado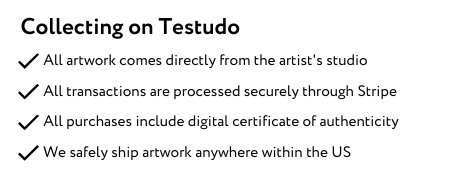 $3,000
Please login to purchase.
Michael Cuadrado
Michael Cuadrado makes kaleidoscopic paintings that are replete with symbols and marks in motion. Using a range of media—from oil and acrylic paint to charcoal and chalk pastel to inkjet prints and paper—Cuadrado creates compositions that appear like quirky diagrams with flurries of irregular lines, arrows, circles, and rectangles. Drawing on his experiences moving through the world and relationships as a queer body of color, Cuadrado plays with navigation, orientation, and gravitational pull in his work. He thus explores the "perplexities of romantic love" and "circuit of fraught desires" (in his words).

Wrestling with the Western modern painting canon, Cuadrado reimagines motifs such as the grid through the lens of contemporary theory, particularly Sarah Ahmed's Queer Phenomenology (2006). While 20th-century artists from Piet Mondrian to Donald Judd idealized the grid as rigid and rational, as elevating art beyond figuration and narrative, Cuadrado renders that form as intuitive and expressive, as embracing feeling and story. His method follows that of Agnes Martin (who approached the grid as an Abstract Expressionist despite her association with Minimalism) and Stanley Whitney (who frees the grid from a linear structure). Cuadrado's uneven lines and lost arrows challenge the notion of being direct, which Ahmed defines as "getting straight to the point" and "becoming straight by not deviating at any point." The artist's use of secondary colors (like orange) speaks to Ahmed's idea of what it means to be an other—as one who diverges in terms of race and sexuality.


View Artist Profile
Questions about the artwork, purchasing, or shipping?
More from Michael Cuadrado