Compatibility Chart (#3)
Inkjet prints and oil paint on canvas
2021
24" x 24"
"Similarly to 3-Way, this piece is also a representation of navigation. However, this piece is about navigation between two people who I've assigned the colors orange and red to. I start off loosely dividing up the composition from the outside in, with red and orange being the two main colors, or people. Using red and orange stem from a similar idea to why I use orange in 3-Way. Orange is a secondary color and red is part of how you make orange, also thinking about it in terms of sexuality orange and red could be considered the same sex. The rest of the piece is mostly intuitive, I'm responding to the different colors and shades until I reach the center."
- Michael Cuadrado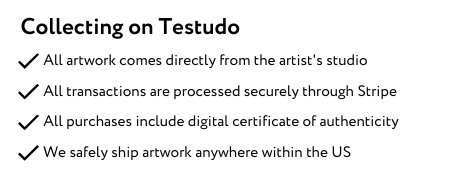 $3,000
Please login to purchase.
Michael Cuadrado
Michael Cuadrado is an artist born in San Juan, Puerto Rico. He received a BFA in Drawing from Pratt Institute and is currently an MFA candidate in Painting & Printmaking at the Yale School of Art.

View Artist Profile
Questions about the artwork, purchasing, or shipping?
More from Michael Cuadrado