Untitled (4 in 1)
Chalk pastel and acrylic paint on canvas
2022
25" x 19"
"4 in 1 is another iteration of my compatibility series. Compatibility of people via colors. Instead of starting from the outside, like I did with Compatibility Chart I started from the center and worked my way out. The title is a riff on John Cage's titles, specifically his piece " 4'33' ". It is a testament to the grid, but to a grid that could hold feelings between 4 colors. I'm interested in Agnes Martin referring to herself as an abstract expressionist as opposed to a minimalist via her dedication to the grid."

- Michael Cuadrado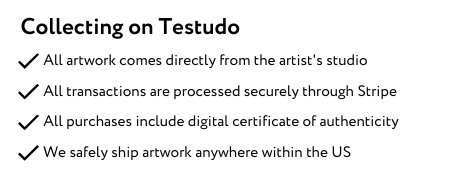 $2,500
Please login to purchase.
Michael Cuadrado
Michael Cuadrado is an artist born in San Juan, Puerto Rico. He received a BFA in Drawing from Pratt Institute and is currently an MFA candidate in Painting & Printmaking at the Yale School of Art.

View Artist Profile
Questions about the artwork, purchasing, or shipping?
More from Michael Cuadrado