Front and Back
Oil paint on canvas
2021
24" x 24"
"This piece also takes from Sara Ahmed's Queer Phenomenology and her ideas on direction. She states that the "etymology of 'direct' relates to 'being straight' or getting 'straight to the point" and how "following a line might be a way of becoming straight, by not deviating at any point." In thinking about this the arrow came to mind. Arrows are typically known for directing/assisting in navigation when one is lost. I thought about what it might look like for someone to rely on directions when dealing with love, except the directions don't actually lead anywhere. The red arrow is endlessly moving in a circle through a hazy yellow film. I was thinking about our broader reliance on 'objective' information (like a map for example) and how one may think that they could find answers to more subjective topics (like love) this way, though maybe you actually can't."
- Michael Cuadrado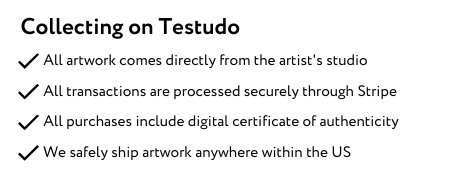 $3,000
Please login to purchase.
Michael Cuadrado
Michael Cuadrado is an artist born in San Juan, Puerto Rico. He received a BFA in Drawing from Pratt Institute and is currently an MFA candidate in Painting & Printmaking at the Yale School of Art.

View Artist Profile
Questions about the artwork, purchasing, or shipping?
More from Michael Cuadrado