Mellow Tail
Blown and hot-sculpted glass
2021
9" x 4" x 3"
Steward

Original Artist

Image Credit

Donny Nie
"This work belongs to an abstract hot-sculpted glass series with figurative metaphors. By crystallizing a spontaneous gestural energy, the objects reject their own ephemerality. These bodily scaled, transparent skeletons of glass trap light to suggest a simultaneous hollow and solid state. Their adorned colors, fluidity, and lustrous materiality command a fragility that nevertheless preserves evidence of their inception. Mellow Tail responds to gravity throughout its body via both light and dense manners. It invites an imagination of a sensation on one's tongue."

- Donny Nie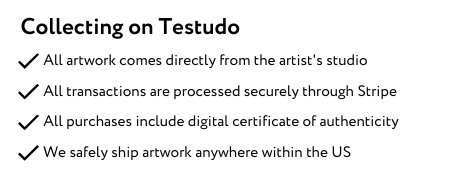 $750
Please login to purchase.
Donny Nie
Donny Nie (b. 1997) is a Chinese-Canadian interdisciplinary artist. She received an MFA from the School of the Art Institute of Chicago, and a BFA from OCAD University. Nie is currently a visiting assistant professor in the College of Visual Arts and Design at University of North Texas.
She has exhibited in Canada, the United States, and China. From large-scale oil painting, monotype, digital projection, to small-scale ceramic and glass form, Nie's interdisciplinary abstractions coalesce to manifest an intuitive, gestalt experience. Her mediums examine proximity as a visual and metaphorical instrument, to simplify or complicate information over different courses of materialities, and eventually inform each other in the same exhibition space.

View Artist Profile
Questions about the artwork, purchasing, or shipping?