Someone's Always Watching
Oil on Canvas
2022
22" x 33"
"Frozen in time, hands clasp and; the intimacy of the unknown couple grows. The bathroom mirror reflects a camera, bearing the question: has the viewer's gaze been invited or is it waiting to be discovered?"

- Kevin Mosca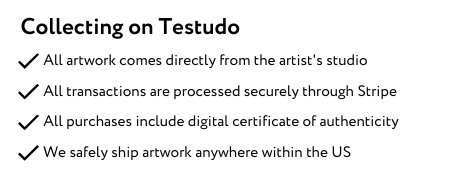 $4,200
Please login to purchase.
Kevin Mosca
Kevin Mosca (b.1993 in Albany, NY) received his Bachelor Of Fine Arts from Maine College of Art. He currently lives and works in upstate New York with his wife Megan Mosca and dog Geezer. Mosca's work has been shown in group exhibitions at galleries including CFCP Gallery, The Magenta Suite, and Grant Wahlquist Gallery.

View Artist Profile
Questions about the artwork, purchasing, or shipping?