Published December 12, 2022
Eyes on Iran: Art as a Conduit for Activism
Unveiled to the public on November 28th, "Eyes on Iran" is a public art installation at the Franklin D. Roosevelt Four Freedoms State Park in New York City. The multi-media project invited eight Iranian artists—Shirin Neshat, Mahvash Mostala, Sheida Soleimani, Aphrodite Désirée Navab, Z, Icy and Sot, Sepideh Mehraban, and Shirin Towfiq—to create site-specific works responding in solidarity to the ongoing protests in Iran that erupted following the tragic death of 22-year-old Mahsa Jina Amini at the hands of Iran's morality police.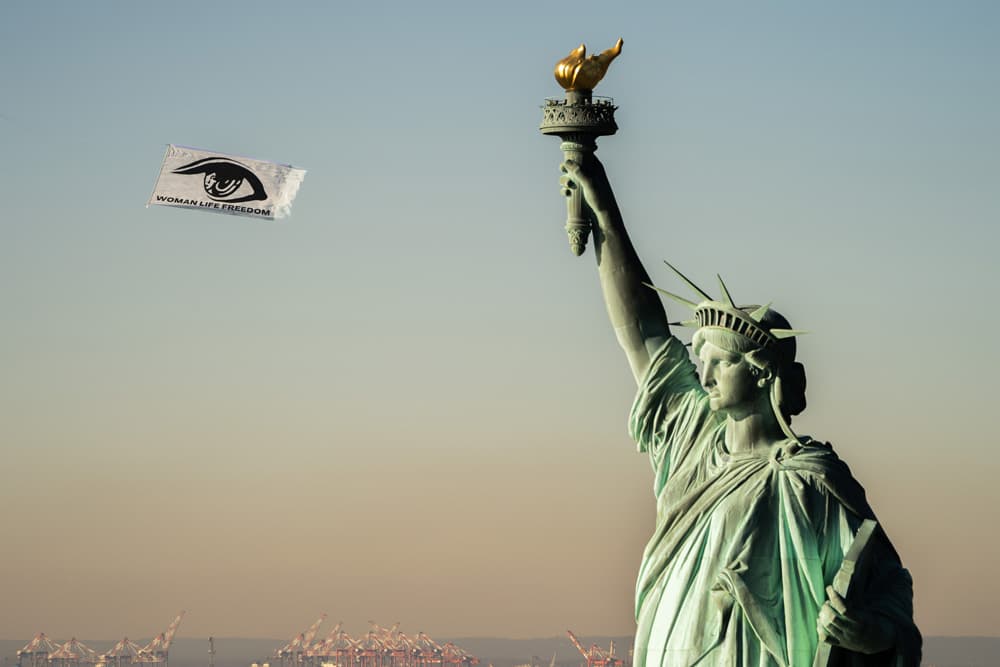 Highlighting Iranian women's fight for freedom, the installations focus on "the power of collective sight". The project features a large-scale reproduction of artist Shirin Neshat's renowned photograph, Offered Eyes (1993). Wheat-pasted onto the park's central steps, the striking work comes from a black and white self-portrait that isolates Neshat's right eye, with inscribed script around her pupil and iris. Known for exploring the relationship between Islam, femininity, and Iran's cultural history, Neshat appropriated quotes from Forough Farrokhzad, the influential Iranian feminist poet and iconoclast, for the calligraphy in Offered Eyes. Cropped and enlarged for this installation, the text is made more legible, powerful, even hypnotic.

"Eyes on Iran" faces the United Nations (UN) Headquarters in Manhattan as an "art activation". Its unveiling was timed to coincide with the UN Women's 16 Days of Activism Against Gender-Based Violence initiative, as well as the anniversary of the 1943 Tehran Conference, which marked the consensus of an Allied military strategy against Nazi Germany, along with a pledge to recognize and maintain Iranian independence.

The project's activation is a partnership between the artist collective For Freedoms, a coalition of Iranian women leaders, and Vital Voices Global Partnership, a non-profit elevating women leaders. This joint effort also seeks to amplify the mission of Woman, Life, Freedom calling for the immediate removal of the Islamic Republic of Iran from the UN Commission on the Status of Women—arguing that the Islamic Republic's "appalling record" on women's rights, along with the rising toll of protesters disqualify the state of its membership. The campaign's petition has over 100,000 signatures, with support from notable international figures in politics, journalism, activism, and art. A November 28th press conference for "Eyes on Iran" included high-profile speakers like Hillary Clinton, Iraqi-American activist Zainab Salbi, and human rights lawyer Gissou Nia along with the participating artists. This level of publicity is perhaps crucial to undertake Woman, Life, Freedom's ambitious and unprecedented mission as its public advocacy hopes to further mobilize civic engagement.

Ahead of the vote to repeal the Islamic Republic's membership on December 14th, additional art activation was staged over the weekend of December 3-4 in both New York City and Miami. Artist Hank Willis Thomas (a co-founder of For Freedoms) collaborated with Mahvash Mostala to create flying billboards around the central theme of "shared vision". Effectively called "Eyes in the Sky", the billboard designs all had the eye motif and contained the words "WOMAN LIFE FREEDOM" as they circled boldly around New York City., after they were first flown above South Beach in Miami as part of this year's Untitled Art fair. Additionally, socially engaged French artist JR facilitated a performance on the Four Freedoms State Park's central plaza featuring over 300 volunteers standing by a large wheat-pasted portrait of Nika Shakarami, the 16-year-old Iranian activist who was killed during the protests in September. As they chanted "Mahsa Amini", the position and movement of the volunteers resembled the flowing of hair, a particularly symbolic site as some of the actions that have come to define the Iran protests have seen women bravely burning their hijabs and even cutting their hair.

The showcase of "Eyes of Iran" in Miami coincided with Miami Art Week to produce an iteration titled For Freedoms Special News Report: EYES ON IRAN. Informed by television news, this presentation included more public programs, where members of the collective broadcasted conversations with feminist artists Michele Pred and Pussy Riot's Nadya Tolokonnikova, and interviewed fairgoers about art and politics, centering the place of artists in public conversations.

Video of Woman Life Freedom, Flying Eyes over New York, by Mahvash Mostala, 2022 with English and Farsi subtitles
The use of visual art in and for activism is not new, neither is the act of artists joining forces, collaborating, and using their platform to amplify pressing issues. "Eyes on Iran" demonstrates the enduring importance of art in mobilizing humanitarian causes, showcasing the ways in which visual, creative responses have the potential to resonate more widely than fast-paced media coverage. Artistic representations and symbols in activism allow for a cause to be recognizable, which is important for rallying people and establishing a further reach. In our global, interconnected age where information is disseminated widely and swiftly, caring for one another—and condemning violence—has never been more crucial.

"Eyes on Iran" is on public view through to January 1, 2023.

​Testudo is always looking for more voices to write with us about the art world. If you'd like to pitch an article, please see our pitch guide for more information!​