Published May 25, 2023
Youth Empowerment, Black Spaces, and the Idea of Genius: An Interview with Curator Anya Wallace
Anya Wallace inhabits many roles, among them curator, scholar and artist. Wallace received a Dual Ph.D. in Art Education and Women's Studies at Penn State University in 2019, following a BA from Agnes Scott College in Studio Art and Spanish. Between her undergraduate and graduate studies, Wallace pursued a formal visual arts education, studying Photography at the Savannah College of Art and Design. She is currently a postdoctoral fellow in Black Feminist Studies at Brandeis University. .
Most recently, Wallace curated the group exhibition, Genius Species, presented by Ten North Group in Opa-locka, Florida. This exhibition considers the "genius" required to live in the world as a Black woman. In a recent conversation, Wallace and I discuss the thinking behind the exhibition, how her curatorial, scholarly, and artistic practices inform each other, and what excites her about Afrofuturism and Black (W)holes.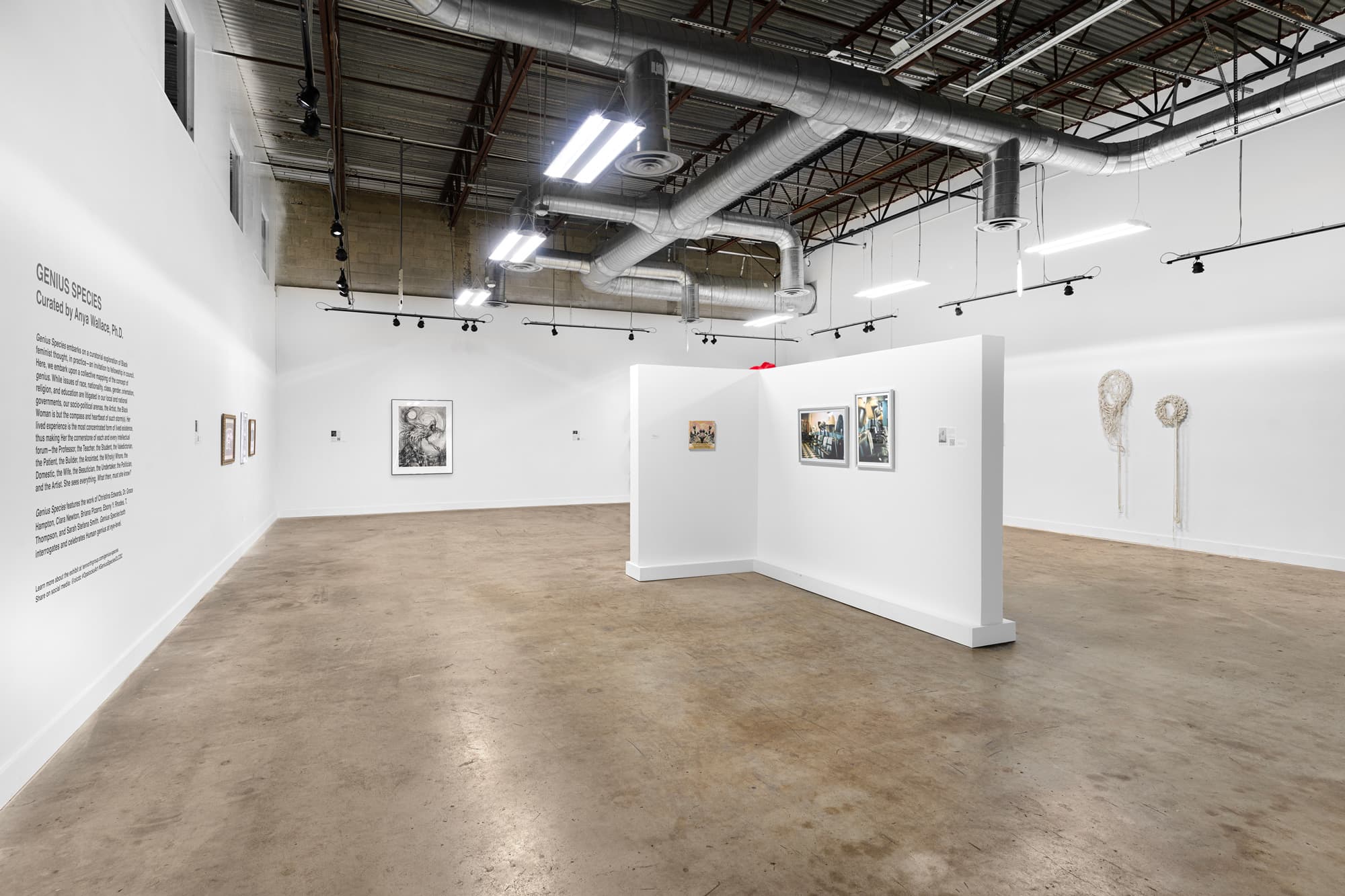 How did your interest in curating exhibitions begin?
AW: My interest in curating began with my work with girls in Girl Scouting. In the beginning of my career and when I was attending the Savannah College of Art and Design, I worked simultaneously for the Girl Scout Council of Savannah. I worked with Black girls in outreach programs and there I began curating art exhibitions to support Girls' showing their work in their communities. This became an integral part of the work I was doing at Girl Scouts, at SCAD, and then my post-graduate intellectual work.
How did you select these particular artists for Genius Species? How did they come together?
AW: I selected artists who I knew cared about craftsmanship in the ways that I do, as well as those who trust my judgment and aesthetics enough to collaborate with me. I also wanted to honor some past collaborations.
In some cases, I chose based on works I had encountered already, like the Phoenix, by Dr. Grace Hampton. And in other cases, I chose based on the artist and what I know they can do, like Ciara Newton, who will always bring show-stopping material. I know these Individuals from academic collaborations, world travels, friendships, love and Sisterhood, and collaborations in art-making over the last decade or more.
Can you describe some of the artworks featured in the exhibition?
AW: The works in the exhibition span mediums such as painting, sculpture, drawing—and emphasize materials—rope, netting, feathers, wood, rubber—as tactics for expression and exploration into issues surrounding race, nationality, class, gender, orientation, religion, and education.
Ciara Newton's sculptural works Redbone Swag and Yellowbone, Redbone, Blackbone, use material and craft to disrupt places of privilege in order to analyze our concepts of labor, capital and beauty. Sarah Stefana Smith presents photography and sculptural works, exploring relational space and place in 2D and 3D formats. Thresholds is a new body of work that uses textile-based sculpture to consider ideas of portals and spaces of trespass in Black cultural experience. T. Thompson's photography—There is Someone in the Chair (1 and 2)—are renderings of curiosities and excavations—a reflection of what she is most committed to in her livingness and witnessing and retelling of Black life.
Dr. Grace Hampton's Phoenix Rising 1 is inspired by the phoenix, which symbolizes rebirth, immortality, self-healing, growth, positive change, and the regenerative nature of the human spirit. Ebony Y. Rhodes' oil pastel works explore the complexity of conformity and how rejection (or acceptance) is always primarily reflection. Christina Edwards' works What if Harriet Had a Twin? and What if Sojourner Had a Twin? are all about visual harmony, balance, and command attention in their physicality and use of negative space. Brianna Pizzaro's work Pink Misgivings uses surrealist techniques to evoke conversations around perceived identity, the natural world and our connection to it and how we construct individual identities.
I know you have a background in youth empowerment programs, can you go into those experiences and how they have impacted your work?
AW: Youth empowerment seems to be the role of service that wanted to attach itself to me since girlhood—babysitting, daycare service, volunteer work—care work. I loved it, yet I wanted to wield what might have been developing into resentment about the automatic association of my time and creative energy as care work that seemed to be perpetually one-sided. This is the only type of work I would get for many years in my young adulthood, and before I embarked upon postgraduate study—schools, libraries, both formal and informal learning environments for youth.
While they were great and educational times for me and for the youth I met and interacted with along the way, I often felt exploited by the nonprofit industrial complex and controlled by stereotypical expectations of Black women's labor (i.e., Mammy). This idea of the nonprofit industrial complex came from a larger reflection in the early 2000s to mid 2000s among people involved in nonprofits, who were all driven by philanthropic desire and the critique arose out of the restrictions and contractions that are created when organizations are dependent on grant money and on the victimhood of the people that they serve.
This environment often felt restricting for me and as a result, my work in youth empowerment rebelliously centered Black youth in ways I hoped they could not be denied. I wanted my work to be entirely focused on Black youth without exploiting their stories. I found that pleasure became a tool for empowerment in my work with Black girls, and art became the vehicle by which to have such complex conversations with and amongst youth. In my research, I ask the following questions to help girls develop answers and their own definitions of pleasure: What looks good? What tastes good? What feels good? Pleasure is decided by the individual who is experiencing it.
I think the experience of pleasure is empowering. Being able to answer one or more of the questions I previously mentioned about pleasure is a state of freedom.
My work with youth began in my years with the Girl Scout Council of Savannah, Georgia, then evolved into my work with the Museum of Contemporary Art North Miami's Women on the Rise! Outreach program for Girls which put me in touch with hundreds of youth and Youth Service organizations throughout Palm Beach, Broward, and Dade Counties. I later created my own focus group and art-learning collective called the Vibrator Project, which was a regular meeting space for intergenerational conversations, art-making, and studying issues in contemporary art with a core group of women participants in Miami. This is the work that inspired my graduate scholarship and study, as well as my artmaking.
Since my work has mainly been dedicated to honoring my own Black girlhood thus far, I think it is and will remain important to engage with youth in my work and the spaces I curate. I believe Black youth spaces especially remain to be the most innovative spaces in space and time. A person who has to go through and survive the experience of being Black gains a lot of knowledge, which goes back to the themes in Genius Species. Where Black youth are gathered, often institutions and nonprofits are able to excel and succeed, both on behalf of Black youth and on the backs of Black youth. The artwork, poetry, music, scientific experimentation, and technology etc. that comes out of these spaces is intricate and contributes to a highly intellectual blueprint for life. They have a wealth of knowledge that often isn't being highlighted, as the language of remediation gets mapped onto them and limits their possibilities. Language like "they are poor," "they are victims," "they lack education" is lucrative. If we don't focus on ways that these Black spaces are innovative, we contribute to the language of deficiency.
What attracted you to working with Ten North Group, especially on this exhibition?
AW: I highly respect Babacar M'bow, who is Senior Advisor to Dr. Willie Logan, Ten North Group's founder. Babacar and I began our work together through youth and museum education during my time at MOCA and have remained friends since.
Upon accepting the invitation and getting better acquainted with Ten North Group, I was reminded by Dr. Logan that he and I had also met once before at NYU's Black Portraitures Conference in Florence, Italy in 2015. He remembered me from a panel presentation I participated on, showing a watercolor series of my artwork called the Naked Church Ladies. Dr. Logan told a beautiful story remembering me, my Mother (my favorite travel companion), and this work when my name came up as a candidate for curating Ten North Group's 2023 Women's History Month exhibition.
I was thrilled to learn what Ten North Group is all about and what they are doing within the Opa Locka community. I was doubly excited to feel called back to Miami in a new way, compared to my previous time working with the Museum of Contemporary Art North Miami. Ten North Group's roots in the community of South Florida feel deep and fortified. The ability to organize and innovate in and around areas of land rights and community development, cultural heritage, wellness rights, and overall uplift is a huge and heavy feat. Ten North group is doing remarkable work and service on behalf of the people of South Florida, and amidst it, they value one of (if not the) most important aspects of community–Art. The organization has an incredible art collection of works by artists from the African diaspora and they hosted an exhibition during Miami Art Basel 2022 titled This Here Place: Africa and the Global Diaspora, which featured some of the most prominent Black artists working today, including Dawoud Bey, Barthélémy Toguo, Mickalene Thomas. Ten North Group engages the community through workshops and youth-centered activities, cultivating lively participation in the arts and centering Opa-Locka as a wonderful destination to experience art of the African Diaspora and more.
The exhibition feels conscientious of the struggles of Black women, but also optimistic, even joyful, at times. How do you balance these two forces?
AW: I believe this to be the genius of navigating life in a Black woman's body. Some of this joy, strength, and optimism is what I hope to convey to those who interact with this show.
It takes extreme balance and care to lead a Black woman's life. It takes extreme balance to lead a life of elegance, a life of truth—it's like walking on a tightrope. I want to stay optimistic about that being a level of free consciousness, freedom that anyone can want and have. The exhibition space and works in conversation create an environment that is playful and restorative while the artists and artworks recognize the trauma that comes with living in Blackness. Each artist in the exhibition is working to put this aesthetic together.
What is the Black (W)hole metaphor?
AW: Simply put, black holes are areas of space, a concentration of matter that attract and trap anything that comes near it, including light. As theorized by Evelyn Hammonds in her 1994 essay "Black (W)holes and the Geometry of Black Female Sexuality," Black (W)holes are Black women. The way we detect black holes, by seeing if a star is orbiting and if it is distorted can be related to Black female sexualities.
In my work, Black W(hole)s are what this existence [Black womanhood] does to space, time, political science, and cultural production. Black Woman as an iteration of Human is a process of becoming whole, a process of skill, endurance, meticulous craftsmanship, artistry—genius. The idea around Black W(hole)s is a way to think about Black female sexuality, how Black girls and women face white supremacy, how the Black woman is human, genius, whole.
Do you see any overlap in the creative effort required to curate an exhibition, put together a class, or make your own artwork
Absolutely. This is a lovely question. I do think I'm a creator everywhere I go.
I recall loving dollhouses when I was a girl. I never had one but loved to play with them when friends had them. I of course love the miniature nature of the material; but I also love the idea of architecture, design, decorating, constant-movement, comfort, ease, and efficiency. So, I try to incorporate many or all of these aspects that appeal to the senses into my artmaking practice, into curating space, and into curating syllabi and curricula. Design is important even as it relates to the classroom environment. The place where we learn is one of the most vulnerable and sacred spaces imaginable.
I also teach curating! And I hope to impart these values in those lessons as well. The curatorial project has become a recurring final project in a class I teach called Black Visibility.
​Testudo is always looking for more voices to write with us about the art world. If you'd like to pitch an article, please see our pitch guide for more information!