Published December 19, 2022
7 New York Shows to Ring in the New Year
While the holidays in New York are often associated with shopping and ice skating under the Christmas tree at Rockefeller Center, several galleries have engaging exhibitions on view that are well worth a visit. Whether you're a New Yorker staying local or a tourist in town on vacation, these seven shows across the city will add a refreshing dash of culture to the holiday season.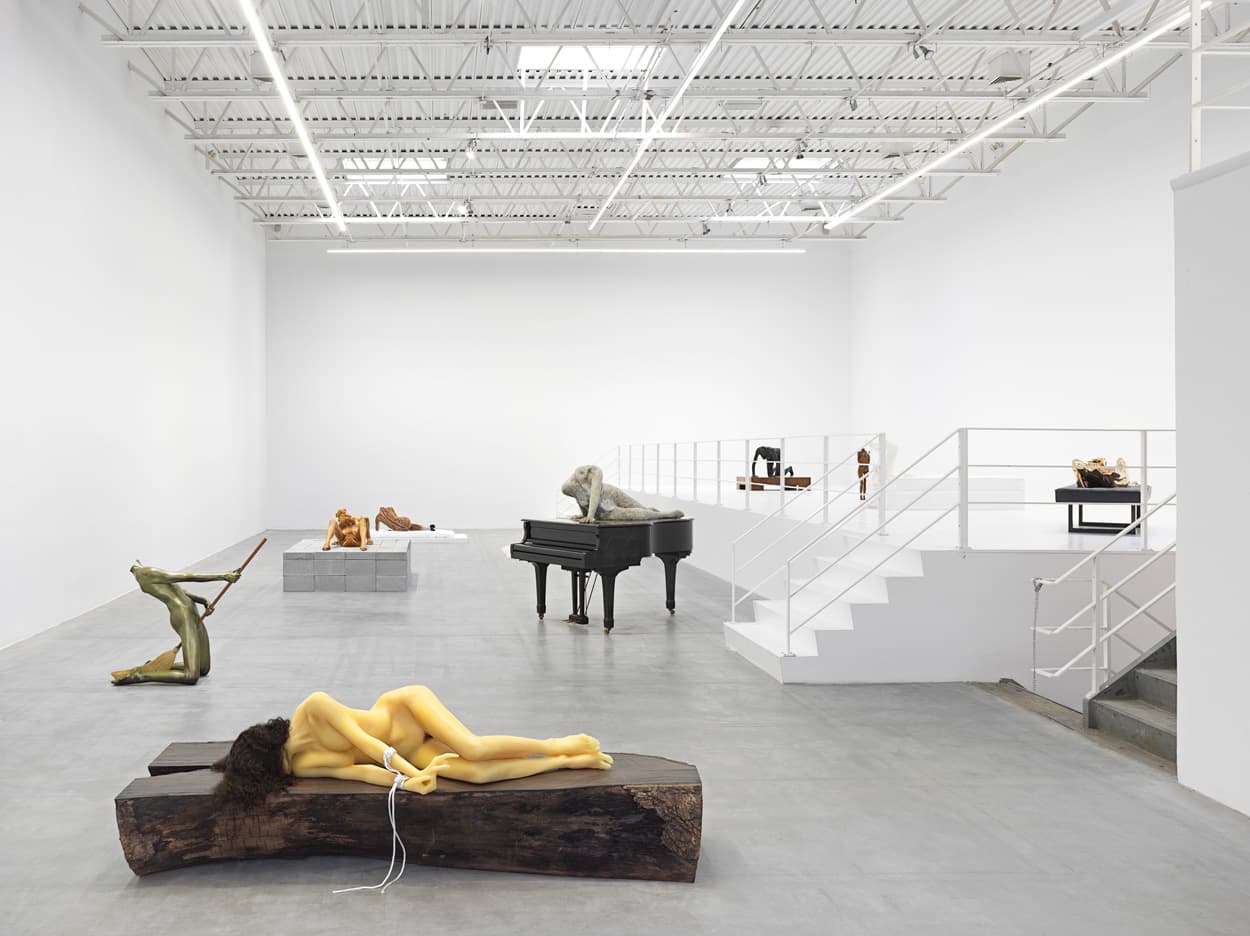 At art world powerhouse Jeffrey Deitch's Wooster Street location in Tribeca is Orgy for Ten People in One Body, a solo show of sculptures by Isabelle Albuquerque. Known for figural works made from molds of her own body in unexpected materials like wax, fur, and wood, Albuquerque seeks to subvert tropes of women from history and mythology, imbuing eroticism and disrupting the male gaze.

Each figure in the show appears like a small narrative scene. Some are using props or positioned on an object like a piano or a stack of bricks. Several props, including a saxophone and a candle, are being used in sexual ways. All of the figures are headless except for the wax sculpture, though the head is obscured by a thick wig of real human hair. The fur figure on the sleek, black piano appears to be slinking towards the viewer as if in the middle of a seductive musical performance. Her body position alludes to the popular reclining woman seen in countless sculptures and paintings throughout art history, many of which were by male artists.

References to mythology and classical stories of interspecies relationships abound in Albuquerque's work. The story of Leda and the Swan is a favorite for the artist, as is the myth of Romulus and Remus, which is alluded to in the wooden figure who is being pleasured by two toy bears. Albuquerque imbues the story with an erotic twist to address the complexities of motherhood and sexuality.

Jeffrey Deitch has been involved with modern and contemporary art since the 1970s. After operating a gallery in New York for over a decade in the early 2000s, he served as director of the Museum of Contemporary Art (MOCA) in Los Angeles before opening his current galleries in New York (2015) and LA (2018).

In Proof of Their Victories, Welsh and Ghanaian artist Anya Paintsil explores identity, culture, and heritage in textile portraits. Using a variety of techniques, including rug-hooking and embroidery, Paintsil focuses on the role of hair and hairstyles to show status and identity and to connect people and cultures by creating a sense of community and shared experience.

Hair is the focal point of each work. In some pieces, synthetic and human hair covers the entire surface as emotive faces peek through. In others, styles and adornments including shells, clips, and combs, reference elements from Paintsil's heritage. One example is the "Tekua" hat. Made of synthetic hair that appears like an elaborate extension of the head, the "Tekua" style is from the Fante people of Southern Ghana, Paintsil's grandfather's ethnic group, and is worn on special occasions like coming-of-age ceremonies.

As is characteristic of the exhibitions at Hannah Traore Gallery, Proof of Their Victories is unlike any other show in New York. Paintsil's materials, techniques, and subjects are refreshing and unique, providing an opportunity to embrace cultures and concepts that many viewers are likely unfamiliar with.

Hannah Traore Gallery is one of the Lower East Side's newest ventures. The gallery is a rising star that has quickly made a name for itself with critically engaging shows that celebrate and uplift artists who have historically been marginalized, overlooked, exploited, and silenced. Hannah Traore officially launched the gallery in January of 2022 and has since firmly established herself with an eye for talent and as a fierce supporter of artists. Traore's accomplishments have landed her on Forbes' 30 Under 30 list for 2023.

For PPOW's third solo show with Anton van Dalen, the gallery is showcasing a rich selection of paintings and works on paper that demonstrate the artist's skilled draftsmanship. The show spans several decades, including large paintings from the late 1980s and color drawings that explore life during the pandemic from 2020.

Throughout his over 60 years working as an artist, van Dalen has used art to engage with social and political issues. Displayed in crisp, sometimes narrative scenes of urban life, the artist has for decades shone a light on critical topics such as war and public health. Included in the show are humorous representations of imagined lives of doves, an interest that began appearing in his work in 1989. In one gouache on matboard, two cartoonish doves are seen standing on human-like legs as they fight one another. In another, the beak of the dove morphs into a hammer, alluding to a job in construction.

Like many of van Dalen's work, these doves serve to address larger societal issues, including capitalism and the daily drudge of modern life. Compared to some of his more overtly critical, cynical works like the scenes of army trucks and combat planes shooting rockets through a burning city in The War Comes Home (1982), these doves are lighthearted and comical. Embracing the connotations of doves as symbols of hope, love, and community, the paintings even imbue a sense of optimism despite the heavy, dark issues addressed.

The exhibition is on view in PPOW's new second floor space just a few doors down from their existing Tribeca location. A staple in the art world for four decades, PPOW has supported some of the biggest names in modern and contemporary art.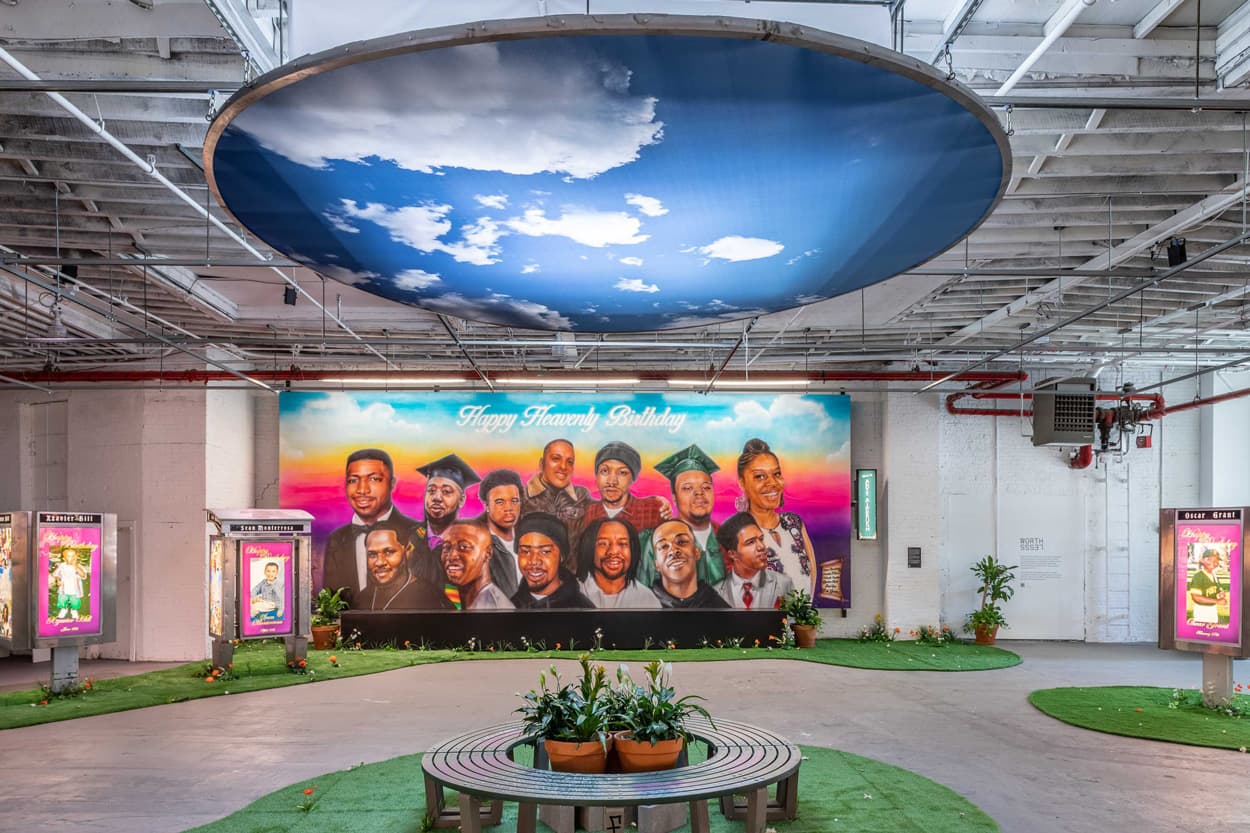 1-800 Happy Birthday, WORTHLESSSTUDIOS, through January 16, 2023
Well worth a visit to the East Williamsburg/Bushwick area is WORTHLESSSTUDIOS, which opened its permanent space in September 2022 with 1-800 Happy Birthday, a groundbreaking exhibition that celebrates the lives of black and brown people who were killed by police violence. Powerful, heartbreaking, and incredibly necessary, the exhibition takes the form of an urban gathering space with benches, a brownstone façade and stoop, and a bodega. The centerpiece of the show is a series of twelve upcycled New York City phone booths that have been transformed into memorials for the individuals being celebrated: Dujuan Armstrong, Sandra Bland, Philando Castile, Stephon Clark, Fred Cox, Eric Garner, Oscar Grant, Xzavier Hill, Donovon Lynch, Sean Monterrosa, Tony Robinson, and Mario Woods.

Each phone booth plays voicemails left by friends, families, and strangers to mark the birthdays of the people whose lives were taken, referred to as celebrants rather than victims. Visitors can purchase items like cards, flowers, and prayer candles from the makeshift bodega to add to the phone booths, with the funds supporting charities the families selected. Visitors can also add voicemails of their own.

The exhibition gives a physical form to a digital project of the same name created by artist and filmmaker Mohammad Gorjestani in 2020. Along with WORTHLESSSTUDIOS' Founder and Artistic Director Neil Hamamoto, curator Klaudia Ofwona Draber, and the families of the celebrants, Gorjestani brought the project into the physical space to encourage community engagement, remember the vibrant lives of each celebrant, and imagine a world where streets can be safe for Black and Brown people. Also included in the show is a living room filled with photos and ephemera of the celebrants and educational resources for visitors to learn and engage.

In addition to the phone booths and living room, a mural by Kenya "Art1 Airbrush" Lawton portraying the celebrants overlooks the sprawling 10,000 square-foot warehouse that WORTHLESSSTUDIOS now calls home. In addition to hosting engaging exhibitions, the nonprofit provides crucial materials, space, resources, and technical support for artists to bring their creative ideas to fruition.

Known for her intimate portraits featuring individuals and small groups engaging in everyday activities and private moments, Patty Horing has a keen ability to tap into the fundamental emotions that make us human. For her third solo show at Anna Zorina Gallery in Chelsea, Horing explores modern masculinity in new paintings and sculptures. Many show an image of man as a father, embracing the role of caregiver. Others show men alone, relaxing in moments of introspection and vulnerability. Horing seeks to celebrate a nuanced idea of masculinity that includes tenderness and care for others.

The men in Horing's works push back against toxic masculinity and reframe the appearance of strength and power. The "good men" in the show demonstrate strength in their vigilance of their children. In one interior scene, a father sits on the ground with his two children, tickling one who smiles giddily as the other lies down and relaxes his head on their father's knee. The father looks tenderly at the child he is holding, gazing with a soft expression as joy spreads across his toddler's face.

While the child's glee is clear, this overtly expressive character is uncommon for Horing. Instead, she excels in portraying subtle emotions, masterfully manipulating her figures' faces to suggest a spectrum of internal feelings. In many ways, her work inspires self reflection and invites the viewer to project their own emotions onto the characters.

Anna Zorina Gallery opened in 2013 to support artists who encourage positivity and view the human experience as something to be celebrated. In June of 2022, the gallery expanded its reach by opening a Los Angeles location.

Reverb, Sikkema Jenkins & Co., through January 28, 2023
In a visually captivating array of colors, textures, and materials, Sikkema Jenkins & Co. has brought together new work by Zipora Fried, Arturo Herrera, Sheila Hicks, and Erin Shirreff in Reverb. Though with completely different approaches to material and medium, the artists in the show all embrace abstraction and color, resulting in a unique opportunity to closely compare the work of four established artists.

Using a wide range of fibers, including synthetic, cotton, linen, wool, and silk, Hicks has been pushing the boundaries of textile art for decades. Included in the show is a stunning new wall sculpture titled Lavender Lianes (2022) that is nearly eight feet long. Embracing the natural beauty of the materials, the work features vertical bands of purple fibers, each with tightly tied portions that create a rhythmic alternation of loose bundles and narrow compressions. The gallery has paired this with Hicks's small, circular sculptures that appear like polka dots on the wall and are made of tightly bundled fibers.

While Hicks explores the creative capacity of textiles, Fried pushes the boundaries of drawing into the realm of sculpture. Reverb contains a stunning example of Fried's large-scale colored pencil drawings. Hanging from the ceiling in the middle of the gallery, the thick paper of All I Thought and Forgot #3 (deep cobalt green) (2016) at first resembles a linen canvas or tapestry. Upon closer inspection, the richly colored surface reveals its delicate materials and the hand of the artist. Fried meticulously covers the surface using colored pencil, an arduous task forever encapsulated in the work.

For over 30 years, Sikkema Jenkins & Co. has been a vibrant fixture of the New York art scene, staging visually and critically engaging exhibitions and supporting both emerging and established artists. The gallery has helped foster the careers of leading names in contemporary art, including Hicks and Kara Walker.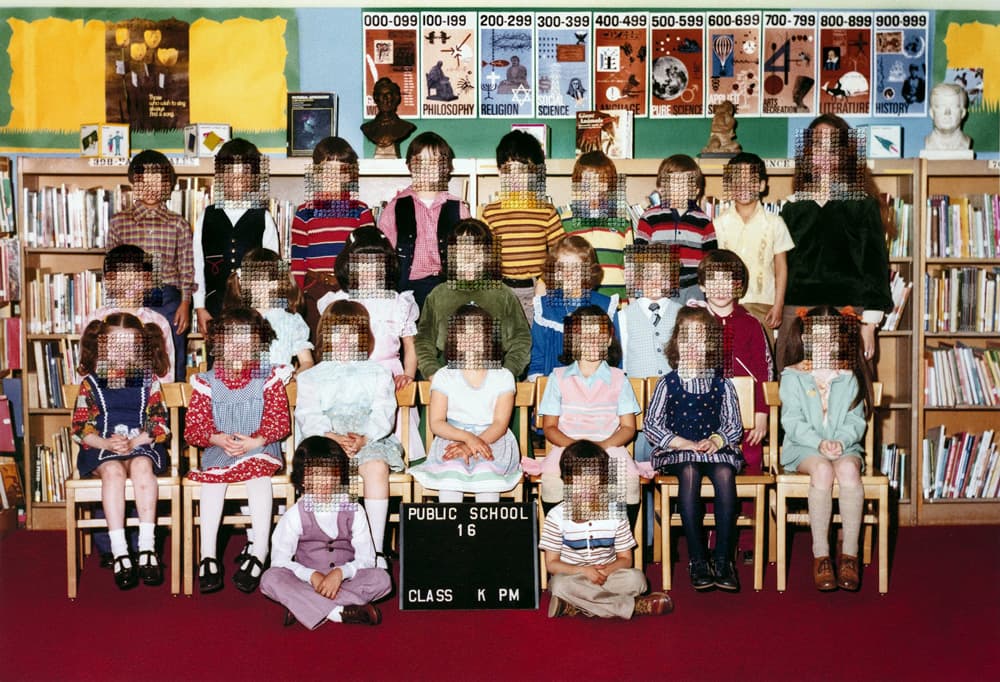 Reconfigurations, Klompching Gallery, through January 21, 2023
In Brooklyn, Klompching Gallery is presenting Reconfigurations, a group show of photography featuring five artists who are, as the name suggests, reconfiguring historical photographs into contemporary works. Each artist takes a different approach to repurpose their original images, some using found photographs to collage and layer source materials, and others adding mixed media to push the boundaries of the discipline.

Included in the show are Samin Ahmadzadeh, Andy Mattern, Diane Meyer, JP Terlizzi, and Vaune Trachtman. Meyer's works are particularly intriguing. Part of her Reunion series, she takes school photos from the 1970s and eerily blurs the faces with hand-sewn embroidery. Obscuring these details points to the power of photography to outlast both memory and the subjects themselves.

Also hand-embellishing vintage photographs is Terlizzi, who takes small images (seven inches by seven inches) of his family and adds thread and microscope slides that protect samples of the artist's own blood. Terlizzi's work seeks to understand identity, family lineage, and heritage, very literally connecting his DNA with images of his ancestors.

Klompching Gallery was founded in 2007 in Dumbo, Brooklyn and has since grown to be a reliable source for emerging and critically acclaimed artists. The gallery specializes in contemporary photography and represents several artists of international renown.


​Testudo is always looking for more voices to write with us about the art world. If you'd like to pitch an article, please see our pitch guide for more information!​