Published September 12, 2022
Highlighting 7 Artists from the Venice Biennale
Since the 1990s, recurring large-scale exhibitions called biennials have proliferated across the world as the dominant venue for global contemporary art. But the first and most influential biennial – the Venice Biennale, founded in 1895 – is over a century older. Unlike most newer biennials, it is partly organized according to a system of national representation: dozens of countries commission artists and curators to present new work in designated buildings. But there is also a central thematic exhibition that is overseen by a single curator.
Both the central exhibition and most of the pavilions are divided between two venues in the Venetian section of Castello: the Giardini, a park, and the Arsenale, a historic shipyard. Attended by artists, curators, historians, collectors, and thousands of other visitors, the Venice Biennale has long been among the most visible and prestigious settings for the latest developments in contemporary art.
The central exhibition of this year's edition, the 59th, is titled The Milk of Dreams after a children's book by the surrealist Leonora Carrington. It is curated by Cecilia Alemani, an Italian curator who directs the art program of New York City's High Line. Notably, over 90 percent of its participants are women or nonbinary.
The show has received largely positive reviews for its synthesis of the art world's recent interests: posthumanism, technology, the natural world, surrealism, and hybrid forms of embodiment. The exhibition was delayed by a year due to the COVID pandemic, and Alemani used the extra time to research historical precursors to the contemporary work, presented in five historical time capsules. Here, we look at seven standout participants in The Milk of Dreams and what's next for them after it closes on November 27.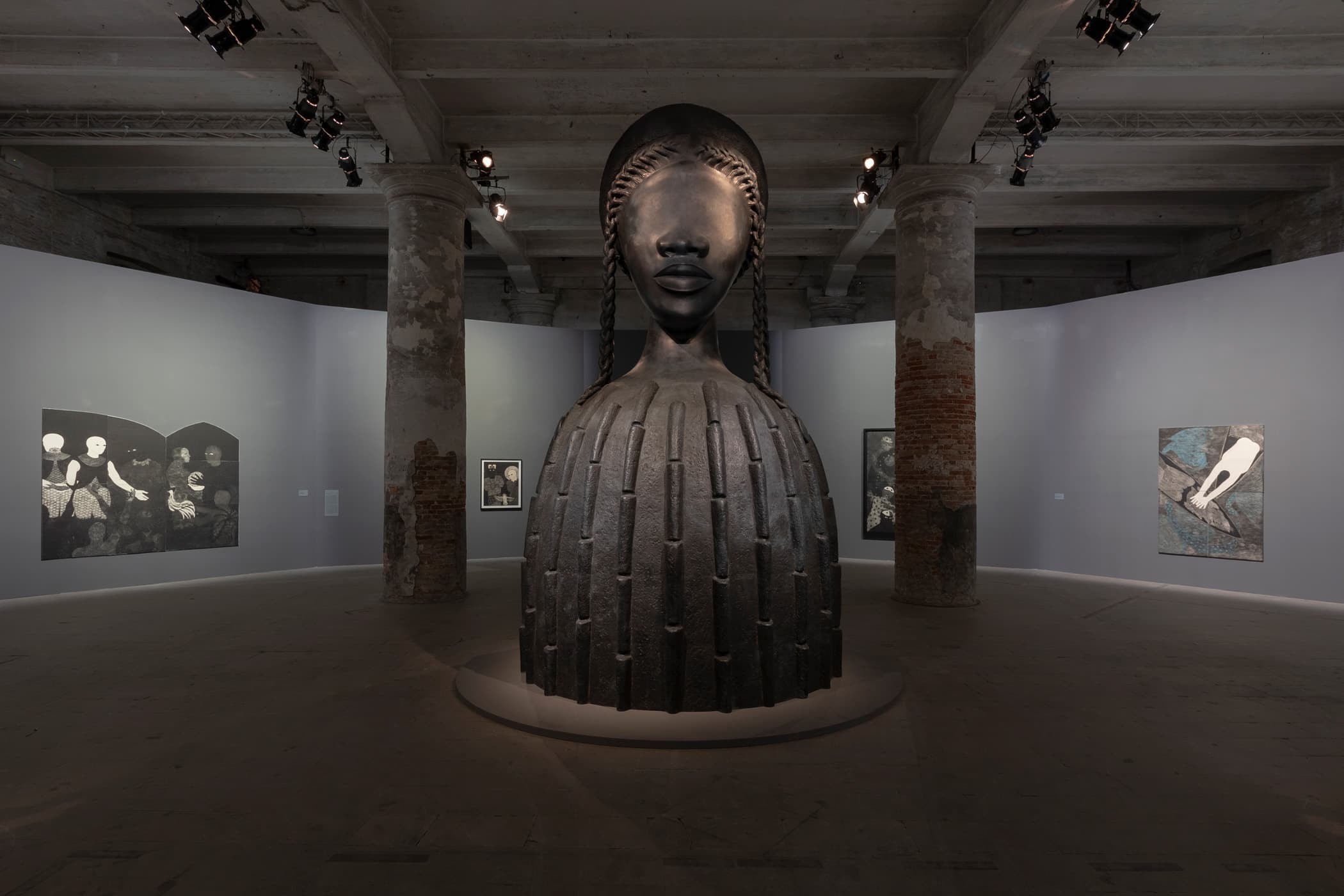 Simone Leigh
Leigh, a Black American artist best known as a sculptor, is represented in The Milk of Dreams by two works. The Arsenale opens with a spectacular pairing of her Brick House – an eyeless female figure blown up to architectural scale and originally commissioned by Alemani for the High Line – and darkly textured prints by the late Cuban artist, Belkis Ayón. Separate from the central exhibition, Leigh is presenting bronzes, ceramics, and a video in the American pavilion in a presentation titled Sovereignty. This new work will return to the U.S. next year for a large-scale survey. It opens at the Institute of Contemporary Art, Boston, in March before traveling to Washington DC and Los Angeles.
Hannah Levy
Levy, a young American artist, makes sculptures that combine membrane-like organic forms with metal hooks, barbs, and talons. They conjure associations of fairy tales, fetish wear, and postminimalism. One of the new pieces she made for Venice is a giant marble peach pit, a reference to the toxic cyanide contained in this stone fruit. After the Biennale, her work will remain on view in a solo exhibition at Berkeley Art Museum that closes in January. She is also participating in this year's Lyon Biennial.
Saodat Ismailova
Ismailova, a Central Asian filmmaker, is the only artist to participate both in the Venice Biennale and another of this year's prominent exhibitions, Documenta 15. In Venice, she is showing Chillahona (2022), a three-channel video installation filmed in underground meditation chambers beneath Tashkent. Behind the installation's seating hangs a piece of white embroidery with designs representing female cosmology. Next year, she will have an exhibition at the Eye Filmmuseum in Amsterdam and participate in the hotly anticipated Sharjah Biennial, "Thinking Historically in the Present."
Delcy Morelos
Morelos is a Colombian artist who draws on Indigenous relationships to land to create artworks and earthen environments. Her work for The Milk of Dreams, titled Earthly Paradise and widely considered a standout, is comprised of blocks of soil that the visitor can walk through. While the installation is visually striking, what's most memorable is its smell: a mixture of earth, tobacco, hay, cassava flour, cacao powder, cloves, and cinnamon. Next year, Morelos will present new work at Dia Art Foundation's Chelsea location, promising to cultivate moments of connection with the "intimate humidity of the earth."
P. Staff
In the Giardini section of the exhibition, Staff presents On Venus (2019), a video installation originally presented at the Serpentine Galleries in London. The strange and unforgettable video combines distorted footage of animal farming facilities, strobing lights, and a poem about life on Venus. Their work will be featured in an upcoming exhibition, Kingdom of the Ill, at the Museion in South Tyrol, and they will have a solo show at Commonwealth & Council in Los Angeles later this year.
Cecilia Vicuña
A painting that Vicuña made of her mother, peering at the viewer through a guitar, is featured on billboards across Venice and on the cover of the catalog for The Milk of Dreams. Vicuña, who (along with Katharina Fritsch) won the Biennale's Golden Lion for Lifetime Achievement award this year, presents several lively paintings in the exhibition, including Leoparda de Ojitos (1976), which shows a leopard dotted with eyes. She also created one of her trademark precarious installations with material – sticks, twine, trash – gathered from the Venetian lagoon. Vicuña has recently received long-overdue attention from art institutions: two major shows of her work have traveled across the U.S. and the globe, and a solo exhibition at New York's Guggenheim Museum closed earlier this month. The next project for Vicuna is a commission for the Tate Modern's massive Turbine Hall, opening October 11.
Bronwyn Katz
Born in 1993, the South African artist Bronwyn Katz is among the youngest participants in The Milk of Dreams. She makes abstract sculptures out of natural and salvaged materials, often metal. Her sculpture in the exhibition, Gõegõe (2021), is made from rusting bedsprings and pot scourers. Katz, who is Khoe Indigenous, references histories of extraction in the piece, which can evoke a space of rest, a raft, and gathering of undersea organisms. After the Biennale closes, Katz's work will remain on view at MAXXI L'Aquila, the new branch of Italy's national museum of contemporary art, until February 2023.

​Testudo is always looking for more voices to write with us about the art world. If you'd like to pitch an article, please see our pitch guide for more information!​