Published August 1, 2022
Emerging Ceramic Artists to Know in 2022
Our favorite ceramic artists on Testudo
While ceramics remains a core component of art history, emerging artists working in ceramics today continue to push the medium in exciting ways. We've compiled a list of our favorite emerging ceramics artists with work available on Testudo and some tips to discover more ceramic artists to follow.
History of Ceramics As Art
Ceramics as a form of artistic expression have been a part of human history for thousands of years. Ceramic art often falls into three categories based on their materials: earthenware, stoneware, and porcelain. Earthenware has a porous body, meaning it hasn't been fired to vitrification and can still be permeated by water. Stoneware is to a temperature where it is vitrified and is frequently glazed. Porcelain is fired at the highest temperature and therefore is the strongest.

Ceramic art is visible in the history of almost every developed culture. Some regions especially prized for ceramics include China, Greece, Japan, and Korea. The Chinese early on developed a process for creating porcelain. When Chinese porcelain was imported to western Europe, ceramic artists struggled desperately to replicate the material. When the artists and craftspeople finally discovered the technique, various companies manufactured European porcelain, causing a public frenzy - owning porcelain tableware and art became obligatory in high society.

While ceramics are frequently used as utilitarian tools like pitchers and flower vases, ceramic arts have flourished as well. One of the first fine artists in the modern era to utilize ceramics in their practice was Paul Gaugin. The post-impressionist is most noted today for his paintings; however, he was also a prolific sculptor. His work as a ceramic artist helped break the long-held idea that ceramics were not fine art, but categorized in the less-prestigious category of "decorative arts."

Pablo Picasso, arguably the most iconic artists of the 20th century, also worked ceramic art into his practice. In his later career, he painted on ceramic vessels and used these as an avenue to explore new themes. This use of the ceramic medium by such a prolific artist helped change the perception of ceramics.

How to Discover New Ceramic Artists
To find the best emerging ceramic artists, it's helpful to start by examining schools with prestigious ceramic programs. Alfred University in upstate New York, Rhode Island School of Design, and Cranbrook Academy in Michigan are three schools noted for their ceramic MFA programs. Many alumni from these schools are currently making art using ceramics today.

Museums also offer a great selection of shows by emerging artists. Many museums work to ensure their exhibitions show many different art mediums. There are even some museums in the US entirely dedicated to ceramics, like the American Museum of Ceramic Art in Pomona, California, and the Alfred Ceramic Art Museum at the aforementioned Alfred University campus.

Testudo is also a valuable resource for discovering emerging ceramic artists. We curate a selection of emerging artists on our platform and unlike other sites, we don't limit our artists to just selling wall art. We are a destination for artist discovery and pride ourselves on showcasing emerging ceramic artists. All the work seen on Testudo of these emerging artists is available for purchase now.

​Emerging Ceramic Artists to Know:​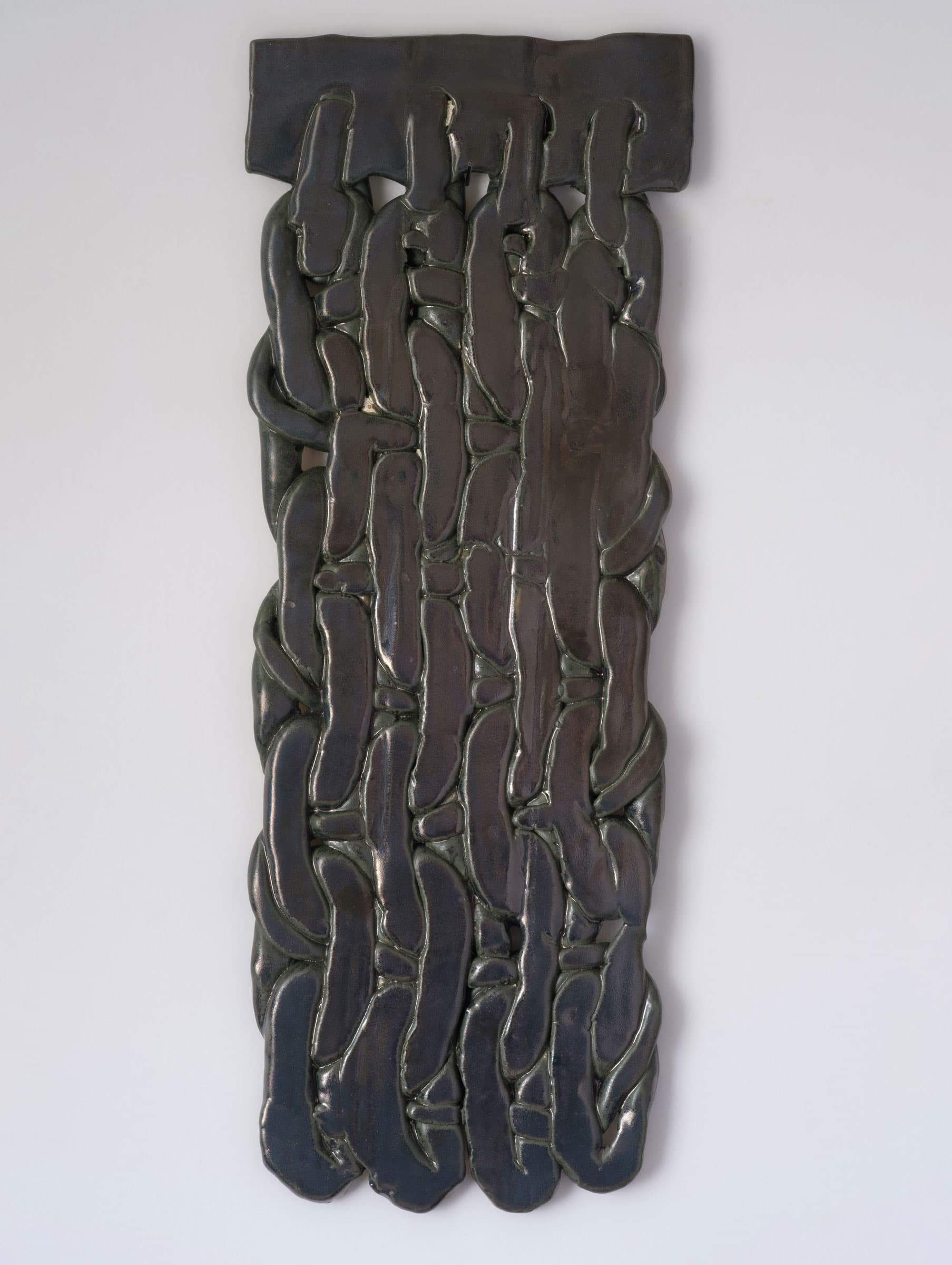 Brit Krohmer

Seven Screws | 2022 | 33" x 13" x 1"
"I mine the internet for industrial surplus objects, and this winter, I found myself collecting images of large chain structures used to hoist large objects. The structures are beautiful woven pieces of metal that were often broken in some places. This piece came about after a long obsession with those forms and considering how they help something else along and acquire damage in the process." - Brit Krohmer
​Brit Krohmer: Brit Krohmer is a Milwaukee-based interdisciplinary artist and educator. Krohmer received her MFA from University of Illinois Urbana-Champaign in 2017. While she works across many mediums, Brit often uses ceramics as part of her practice. Recent solo exhibitions include The Shed Gallery in New Orleans, Louisiana. Recent group exhibitions include Real Tinsel, in Milwaukee, Wisconsin, Woman Made Gallery, in Chicago, Illinois and The Front, in New Orleans, Louisiana.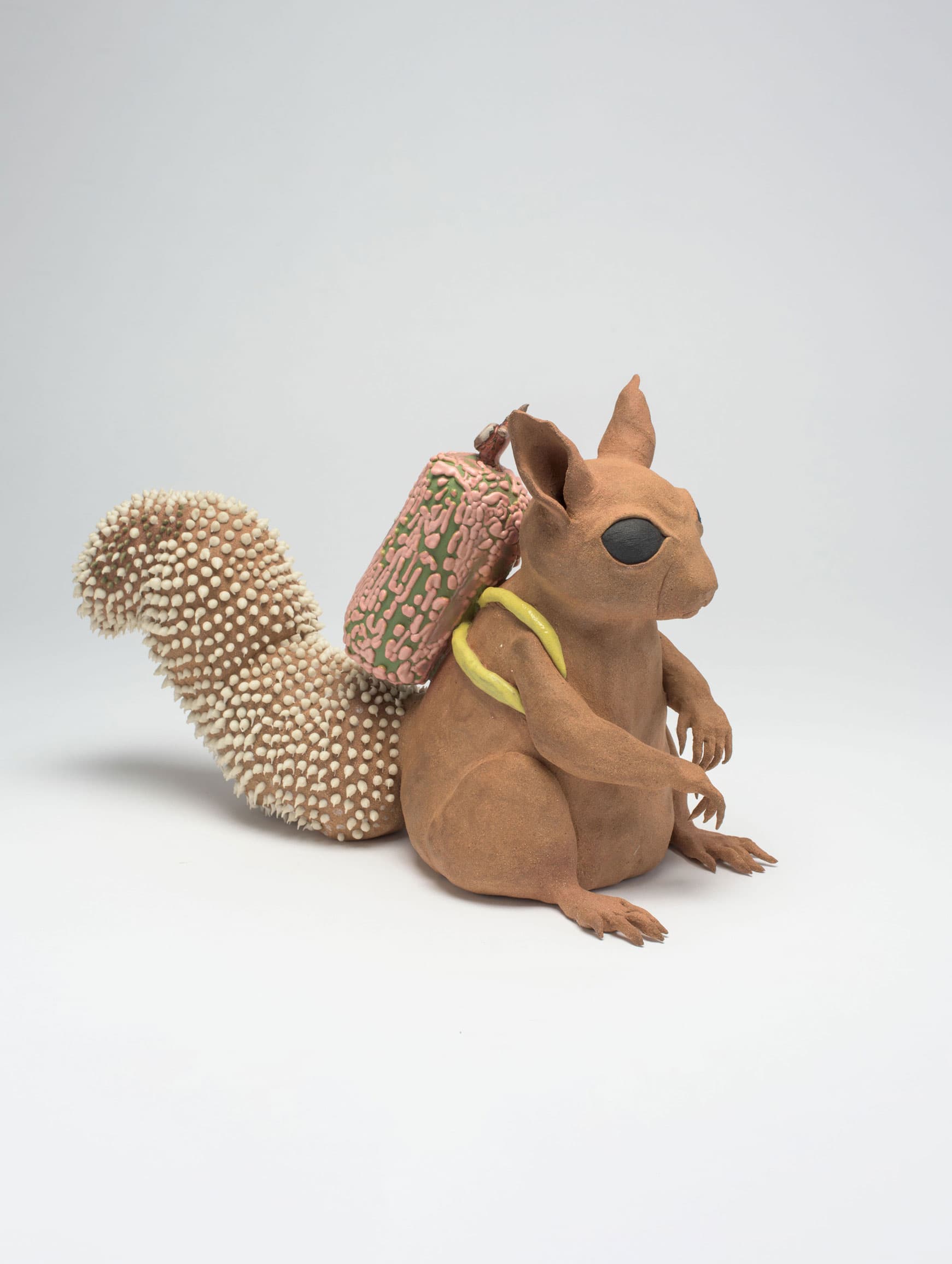 Karen Jaimes
2025 Farmer | 2019 | 8" x 11" x 4"
"Homage to Dolores Huerta and Cesar Chavez, the co-founders of the United Farm Workers (UFW). This little farmer unwittingly propagates the growth of oak trees, which produce oxygen, while our species clear-cuts forests to plant mono-culture crops sprayed with harmful pesticides and fertilizers. The tail fur texture was made by extruding an engobe, a liquid clay material that is part glaze and part slip." - Karen Jaimes
​Karen Jaimes: Karen is an artist, activist, and educator who sculpts clay to address sociopolitical issues and questions the systems in place. The transhistorical and transcultural nature of clay makes it the perfect material for metaphor. Karen holds an MFA in ceramics from SUNY New Paltz and a BFA from Manhattanville College with a minor in political science. She is an enthusiastic ceramics teacher who enjoys sharing her knowledge of clay's vast properties that span across many fields, including anthropology, geology, and chemistry. Her sculptures have been exhibited in the Williamsburg Art and Historical Center, the Katonah Museum of Art, the Barrett Art Center and the Dorsky Museum of Art among others.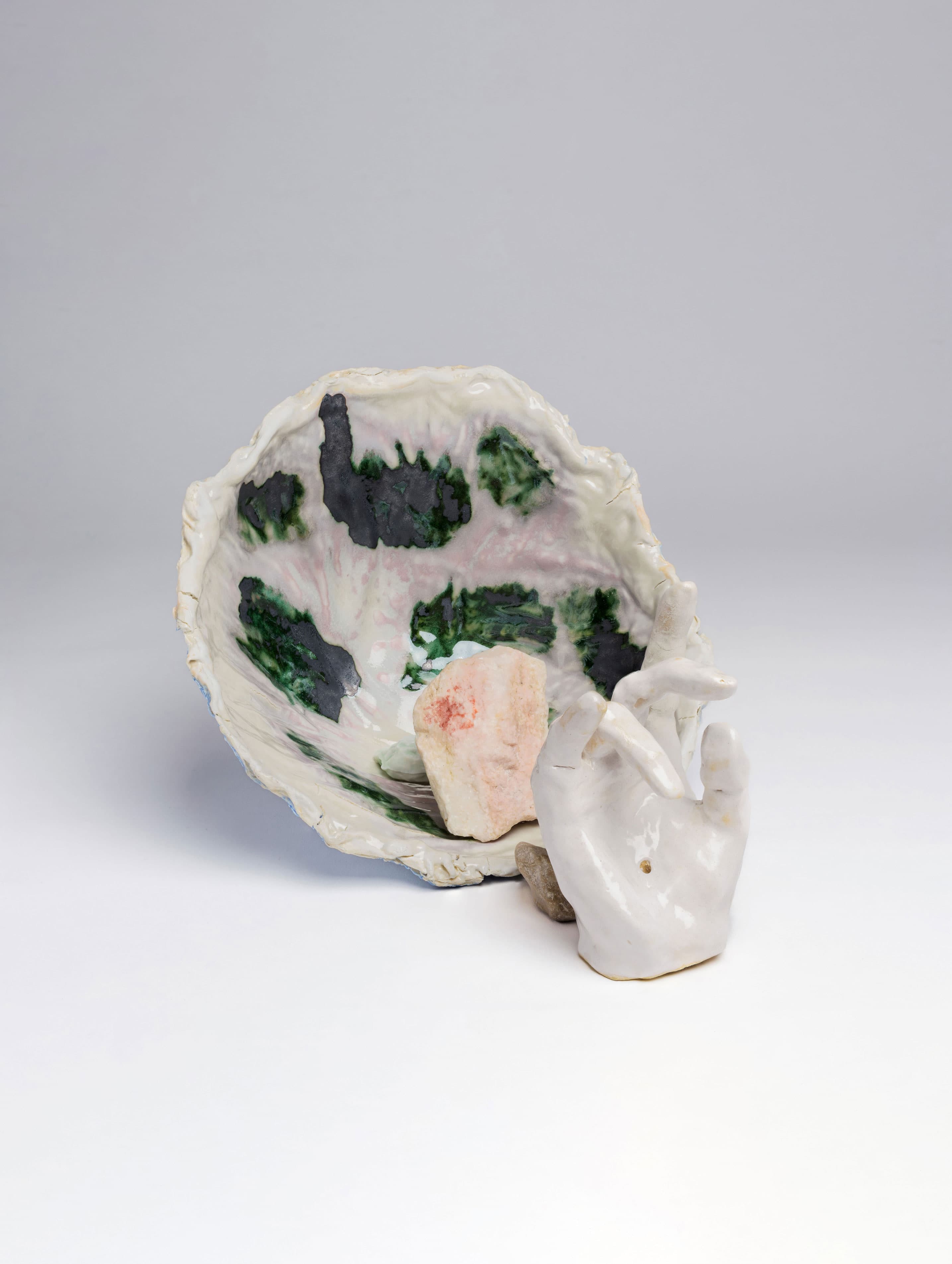 Lili Chin
Ipoh Marble Shell | 2020 | 10" x 10" x 16"
"Ipoh marble shell is part of a series of works that investigate gestural forms arranged with found natural objects. Surrealist methods direct this process driven artwork, which is the result of several years of accumulation and spontaneous arrangement." - Lili Chin

Lili Chin: Lili Chin is an artist based in Brooklyn, NY. Combining installation, video and sculpture, her practice focuses on nature and architecture to explore rituals in time, bridging contemporary and ancient ideas that investigate themes of memory, duration and spirituality. Having grown up in the Pacific Northwest USA and Singapore, her diverse background shapes her ephemeral impression of the world through raw materials and film to reveal a fragile search for the quotidian sublime.

These are just three ceramic artists, there are many emerging artists working around the world today. We hope to feature more as Testudo grows. Join our weekly mailing list to receive the latest updates on new ceramic artists.