Published May 4, 2023
Judd Schiffman's Ceramic Narratives
In its first ever online exhibition, Testudo presents 11 works by Judd Schiffman. Using clay as if it were paint, Schiffman creates ceramic drawings that align closer with sculpture. Building episodic narratives out of intricate clay vignettes, the Providence-based artist acts more like a storyteller. Yet his messages, which are dreamlike, ambiguous, and pull from personal and collective sources, dissolve into something new altogether. In an industry where discourse becomes repetitive and reductive, Schffiman's practice requires its own language to describe. Arranged in an intimate salon style, the exhibition highlights Schiffman's dynamic practice and gives viewers close insight into the themes he explores in his work.


This quality of "not quite" fitting into one formal category is what makes Schiffman's work so enticing. His subjects are also intriguing, resisting logic and drawing the viewer in with legible details that melt into hallucinatory and fantastical narratives. Schiffman touches on a number of themes such as masculinity, fatherhood, family, rites of passage, and moments of transformation, in particular natural transformation like birth and death.

Perhaps the most concrete points of departure for Schiffman's imagery are the ornate narratives of illuminated medieval manuscripts. With small scenes accompanying texts and weaving through the margins, the illustrations that adorn these books are packed with symbolism. From a contemporary standpoint, the marginalia can appear exaggerated, comical, and confusing with unicorns, winged lions, and knights fighting snails. Like Schiffman's work, the imagery of illuminated manuscripts is often contained within an ornate decorative frame.

"The outlines in my work become magnetic for imagery," Schiffman explains. "I start with one thing such as imagery from a medieval bestiary, and then pair it with a bush from a David Hockney painting that becomes a mountain. The beast changes and holds a cell phone on top of the mountain, for example. It's not a conscious thing, but once I start working on something, I gravitate towards the other imagery that I feel needs to go into an outline or a sculpture. I know when I need to make something because I can not stop thinking about it until I get it out of the kiln."

These streams of consciousness appear throughout his practice. In Harvesting the Medicine (2021), Schiffman has depicted a sinister, otherworldly scene with a nude male figure lying in the center of a ring of lit candles. Oversized birds resembling vultures flank the figure and appear to be eating intestines out of his open chest. The central character's face expresses no pain and his hands folded neatly below the gaping hole lend an air of anticipation, as if he's patiently waiting for the vultures to complete their task. As is common with Schiffman's work, the piece is inspired by his dreams and art history, specifically the unsettling painting The Death of Virius (1959) by Ivan Generalic.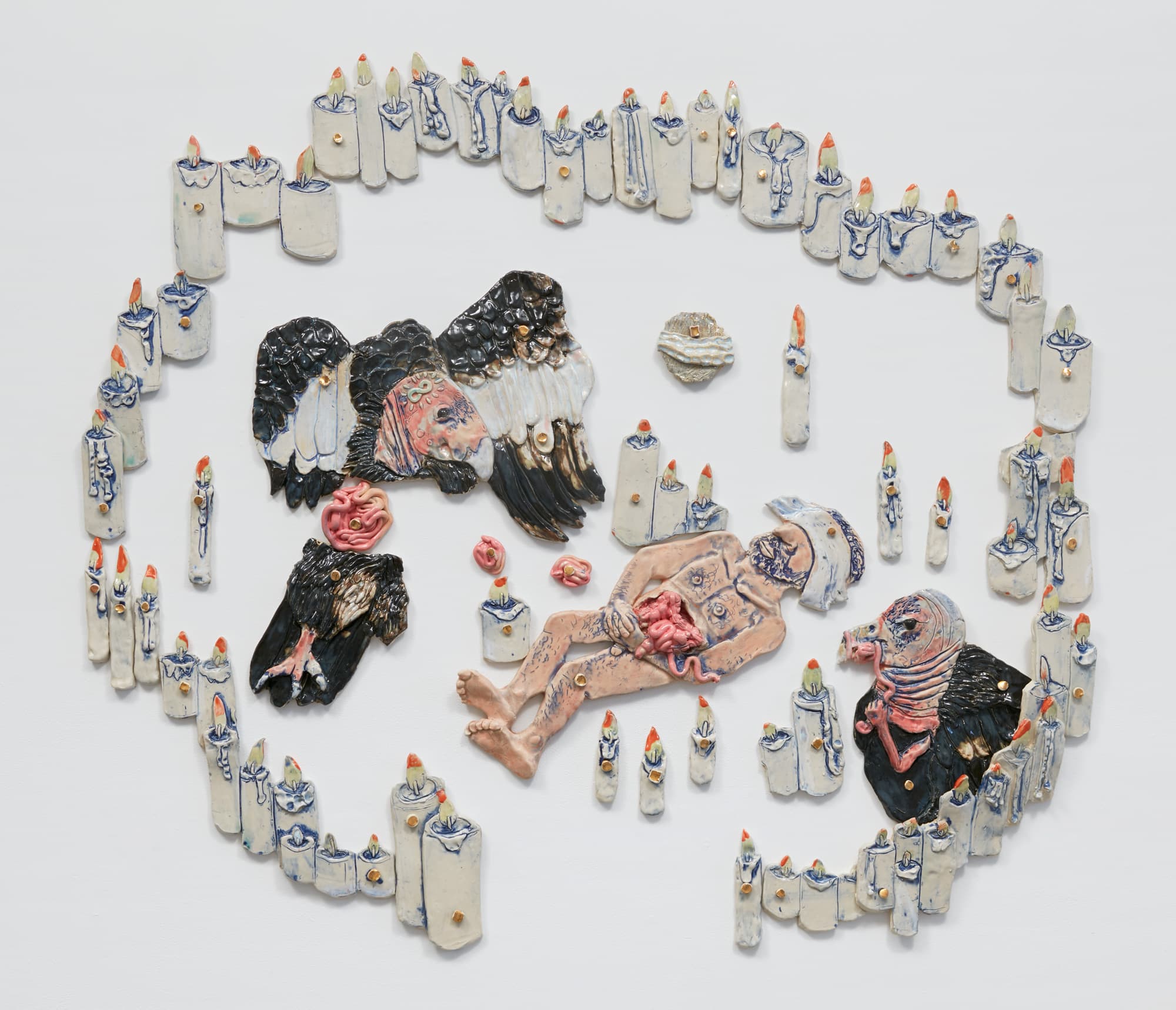 The scene also relates to Schiffman's interest in transformation. "I love the idea of power animals and Shamanic Death, where a person can go through a transformative experience in nature or in dreams and come a little closer to their true sense of self," says Schiffman. "This heavily informs my personal worldview. I think about our bodies being medicine for the earth when we die and become compost, or the earth being medicine for our bodies as we live and eat food, and get to experience all the wildness of being alive."

Other works address global issues, such as NightFeast (2021), which features several bats and a human hand, a reference to one of the posited origins of Covid-19. The hand appears to be reaching towards a flying bat while another looks down from above with an expression of curiosity. Schiffman leaves the overall tone ambiguous. There is no tension or sense of foreboding. Instead, the viewer can freely interpret the interaction and the relationship between man and nature.

"I believe in nature as a living thing that has the power to heal and which benefits from human love," he says. "I think that the messiness of life is where the beauty is and through my work I find hope for human beings to wake up to our true nature. Nothing will ever be perfect, but being able to search within one's own stickiness, wounds, and history allows for something more balanced to emerge. My hope is that my work prompts the viewer to engage in self-discovery, self-reflection and contemplation about their inner nature, and their relationship with the earth."

This relationship is further explored in Haven for Our Ship (2021), in which a bird cage seems to comprise the torso of a human figure. Two arms wrap around the cage in a protective embrace as birds sit on the perches within. An open-mouthed snake appears to threaten this tranquil scene, but the figure retains its grasp. Schiffman based the imagery on a dream he had about protecting innocent creatures, again raising questions of the role of humanity in the greater natural world.

Throughout his work, Schiffman continues to do just that: raise questions. He gives the viewer visual cues, yet his compositions are poetic rather than didactic. Answers may lie within the work, but Schiffman leaves that process of discovery up to the viewer.

Be sure to check out our first solo exhibition, Judd Schiffman, on view now through May 31, 2023. Click here to view the exhibition.​
​Testudo is always looking for more voices to write with us about the art world. If you'd like to pitch an article, please see our pitch guide for more information!